11street Coupons for November 2017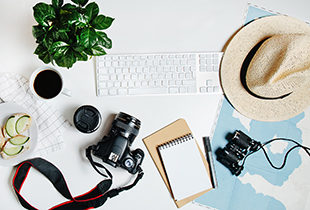 Ends 21 Jan: 88% Off Ang Pow Coupons Up For Grabs at Gong Xi Wang Wang!
11street T&Cs apply.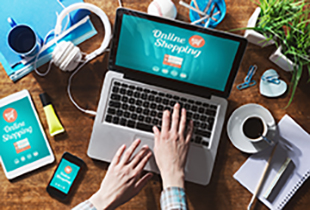 Shocking Deals! Get Free Shipping When You Spend More Than RM29!
T&Cs apply.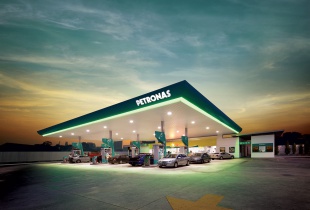 RM4.65 for RM5 PETRONAS Fuel Voucher (valid at selected KL, Selangor and Putrajaya stations)
Minimum purchase of 2 E-vouchers at a single transaction. 30 maximum purchase limit. The E-Voucher(s) must be redeemed within 1 month of purchase. E-voucher(s) are redeemable at any PETRONAS stations in Kuala Lumpur, Selangor and Putrajaya for purchase of fuel (PETRONAS Primax 95 or PETRONAS Primax 97 only). E-Voucher(s) must be presented to the PETRONAS station cashier for verification.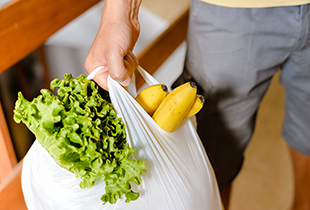 Mart 11: Get Extra Savings With Store Cart Coupon
Must Buy Home Electronics: Up to 87% off
Daily Shocking Deals: Lowest Price Guaranteed!
If you've purchased a product on 11street but found it selling cheaper elsewhere, 11street will give you 110% back on the difference in 11street credits. See 11street for full T&Cs.
Shocking 11: Everything at RM11
Nestle Official Store: Discount up to 59% off
Laneige Malaysia Official Store: Discount Up to 50% off
Competitive prices all year round + Free shipping available for selected products
From 10 Nov 2017 12.00am onwards, Cashback capped at RM40 for every order. Initial Cashback may be tracked at the higher amount but will be re-calculated at order level. Cap is based on the initial order value (Refunds are not taken into account).

If you face any errors (eg. payment rejected, incorrect details entered, etc.) during payment at the checkout page, close that window and click through ShopBack again to 11street before making your purchase.

Cashback eligible only on 11street Desktop and Mobile Website orders, not applicable to 11street Mobile App orders. If you have the 11street Mobile App installed on your mobile device, you may face difficulties in purchasing from the 11street Mobile Website.

New Customer - have not made any purchase with 11street | Existing Customer - have made purchase with 11street
Recent Articles
More about 11street
11street is Malaysia's long-waited for online store
11street Malaysia, an open marketplace operated by Celcom Axiata Bhd (with a trading name of Celcom Planet), is one of the largest e-commerce companies established in Malaysia. It was originally a leading e-commerce company in South Korea, operating under the management of SK Planet Co., Ltd. 11street expanded its operations to Malaysia to grow and expand the e-commerce industry in the country. 11street Malaysia is currently operating from their main office located at Kuala Lumpur Sentral. It has been selling electronics fashion home living sports food drink products and many others in the country since January 2015.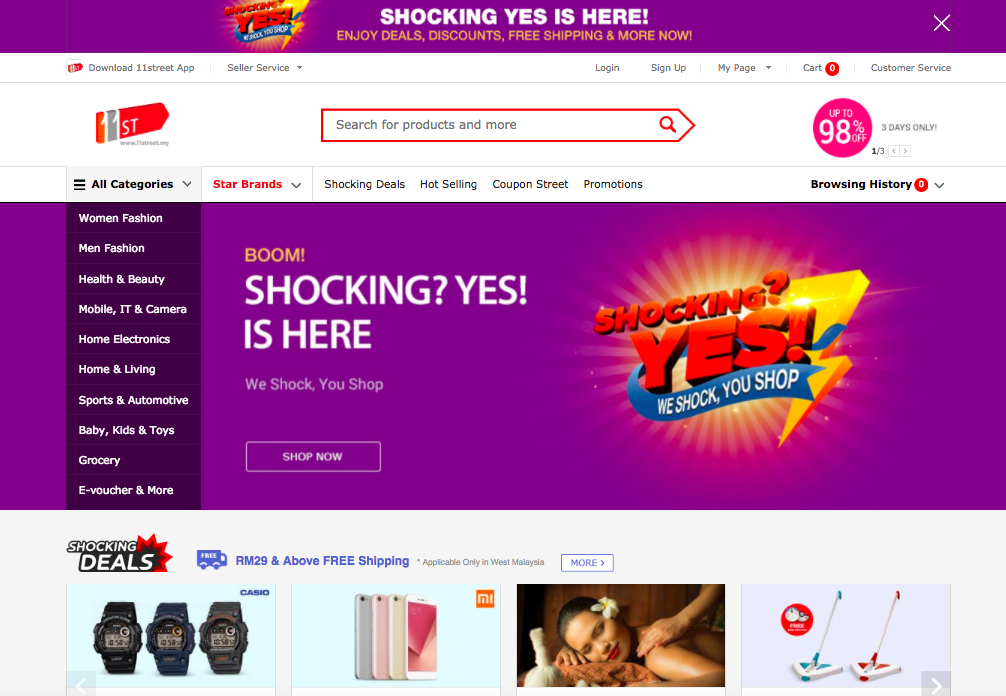 Established under the management of SK Planet, 11street MY has over 400,000 sellers, serving over 30 million customers and with US$6 billion gross merchandising value. 11street has also expanded its operations to Turkey in 2012 and Indonesia in March 2014.
11street Malaysia supports e-commerce businesses and other similar stores
11street Malaysia offers local and global products through 8 categories, such as Fashion, Electronics, Groceries, Health & Beauty, Kids & Baby, Leisure & Sports, Home & Living and Books & Services which includes e-vouchers. They also introduced "Shocking Deals" to offer the lowest price guaranteed for these products, and "Hot Selling" to feature its best selling items. It has also introduced their Seller Zone which claims to be the first e-commerce education center in Malaysia. 11street Malaysia's Seller Zone offers training support and facilities to its sellers. This particular service includes professional photography studios, training centers and a public lounge for networking, relaxation, and refreshment. Some of the 11street partners conducting the training sessions include Malaysia's national ICT agency Multimedia Development Corporate (MDeC) and Google Malaysia.
Shop online on the fun and gamified 11street Malaysia online store!
11street is an online shop everyone has been waiting for. Shopping on the website is as simple as can be, only you get to save big earn more as you spend and come back for more! With the many perks 11street Malaysia has to offer, you will never be disappointed. Here is a quick rundown of a few of the many deals and steals this long-waited for merchant has to offer.
Fast and free delivery: If you want your orders sent to you on a "right here, right now" basis, 11street Malaysia can deliver to your doorstep (within Klang Valley) and within 48 hours from time of successful purchase (provided that the orders are placed before 12 noon on Mondays to Thursdays). The "no shipping fee" promo is also offered for products under the MART11 campaign and brands like Watsons, PetPet, Caring Pharmacy, Nestle, Unilever, and others upon reaching minimum shopping cart price requirement. What's more is that an RM11 credit cashback is guaranteed on late MART11 deliveries. Note that validation and issuance of credit will take a 2-week processing.
Shocking Deals: 11street's Shocking Deal products are bound to be the cheapest in the country. This is what it adheres to on its "Lowest Price Guaranteed" commitment. This specific offer provides 110% guaranteed credit back to purchases found to be cheaper on other online shopping websites. It is a great way to challenge your online shopping skills to see if you can beat their best deals! To qualify for this one of a kind deal, all you need to do is purchase a product under 11street's Shocking Deals section. If you find the exact same product cheaper elsewhere, report it to 11street's Seller Support by sending a screenshot and the link to the product. Once your report is validated, you will get 110% of the difference back in credit!
Hot Selling products: 11street's Hot Selling page highlights the most popular and frequently bought items from the many categories at its online store like Women's Fashion, Men's Fashion, Mobile, IT & Camera, Home Electronics, Home & Living, Sports & Automotive, Health & Beauty, Baby, Kids & Toys, Grocery, E-voucher, and other hobby-related items. Yes, the list is almost endless so be sure to always check the Hot Selling page to find the most popular deals in each category. It's even great for online window shopping!
Hassle-free payment at 11street Malaysia is guaranteed with safe payment methods
Once you are set to close the deal and check out your shopping cart, all you need to do is choose a payment method. Successful payment submission will cue the processing of your order. No need to worry as all payment options you can select from are secure. They include iPay88, Visa Credit or Debit Cards, MasterCard, Celcom AirCash, CIMB Bank bank transfer, Maybank2u, RHBNow, Ambank Online Banking, CIMB Clicks, and Hong Leong Connect.
11street Malaysia coupons offer discount codes, membership benefits, and more payment options!
Drop by 11street's Coupon Street and you'll stumble upon a pool of voucher codes. Coupon Street features your most loved brands' special offers at up to 20% off when the minimum cart size and purchase requirements are met. Getting the discount is as simple as downloading a coupon from 11street and using it within the same day. Yes, 11street coupon codes can be downloaded provided that you have logged in your account.
Another fun thing about 11street is that shopping at its online store is gamified. By online shopping, members are awarded grade status and points depending on the number and amount of purchases made within a 3-month period. Purchasing discounts, shipping, and birthday coupons can also earn members a level up the Benefits grade status. If you want to earn a VVIP badge on 11street, all you have to do is shop more on it.
Points earned while levelling up on Members' Grade Status and from winning 11street contests can be exchanged for credit, coupons, or members-exclusive events participation. Points can be exchanged for coupons (like an RM10 coupon for 1000 points), while Credits basically work like money. You can use your 11street credits to exchange for points. You can even stack your credits with your coupons to get even better deals when shopping on 11street.
Though, there are important points you need to remember when using 11street promo codes. Coupons can be exchanged daily on a first come, first served basis. Coupons are released daily at 11:00am. There are only a limited number of coupons up for daily grabs so always be on a look out! You also need to remember that you can only exchange for one coupon once a day, up to 3 times a month. Coupons can be used again if the order is cancelled (as long as it's still within the validity period). Remember also that coupons cannot be exchanged for points unless the seller is the one who does the order cancellation.
Pay your 11street Malaysia orders with BCARD Points
Another bonus deal 11street offers its customers is its partnership with BCARD. You can collect BPoints on 11street by leaving a review on a product with the BPoints benefit. Just check if it does have the BPoint benefit on the product description so you won't miss out on these savings.
And those BPoints you've earned as part of leaving a review? In partnership with B Infinite, you can start to earn more and save more by registering your BCard in order to use BPoints as payment upon checkout. Conversion rate is 100 BPoints = 1RM. To pay using BPoints at checkout, simply choose BPoints Balance from Other Payment Methods. Then, key in the BPoints amount you wish to use and click Pay Now.
More 11street Malaysia offers come your way when you download the 11street mobile app
11street has an app version available for free download at the AppStore and Google Play Store, and just like the website version, it is gamified. What you can do on the website, you can do within the app too – shop, buy and redeem coupons, earn points and credit, and monitor your Members Grade Status. Event deals and contests are also highlighted by the mobile app version, so there is no way you're missing out on any steal even on the go. And, sometimes, the mobile app offers more! For instance, you can get select products at a cheaper price using the app than the website via the Appy Go Lucky deals.
Other products you can also avail via the 11street app include more than just your resident online store products. If you're looking for the most affordable deals from your favorite restaurant or spa, do not anymore look elsewhere. E-vouchers from your beloved hangout spots around town are available here as well! Even mobile top-ups can be bought at 11street and with matching rebates!
To make steals even more interesting, you can also purchase travel ticket deals at 11street. Believe it or not, amazing discounts parade on the 11street Travel & Ticket section. With the almost endless list of discounted hotel prices, tourist activity tickets, and tourist spot passes, there is no way you're not seeing the beauty of Asia.
Another partnership to bring serious cashback deals is with ShopBack. Shopping at 11street Malaysia via the ShopBack "Get Deal" button gets members of both parties up to 2% cashback. And not only that! ShopBack members also get exclusive deals like free shipping and sale event access, plus more 11street shopping cart coupon codes! All these cash back goodness are yours when you shop at 11street through ShopBack's app.
Score an 11street deal or 11street voucher with ShopBack
ShopBack offers their users exclusive access to 11street discounts. E-commerce is a crowded space with so many players that it can be tough to decide where to shop. Many of these places often offer discounts and sales but, how much of a discount are you really getting? ShopBack ensures that our partners such as 11street will offer the most value to our users. So if you are searching for an 11street coupon code, an 11street promo code or 11street offer, then you have come to the right place.
In fact, with so many different players out there, it can be difficult to decide even where to begin shopping. This makes the process of selecting the best, reputable and most affordable marketplace to be an irksome, tiring and expensive process. Adding on is the many coupon deals and fees to take note of, and shopping might end up to be more of a hassle than a deal.
This is where ShopBack comes in. Make a purchase through the 11street Malaysia merchant page on the ShopBack site and you will not only find ShopBack exclusive 11street coupon code, 11street discount, 11street voucher code and more, you will also get cash back through the ShopBack cash back system which allows you to save even more money while shopping online. With ShopBack, you can score the deals and save more at a glance.
Get 11street cashback deals through ShopBack
If you want to know how you to use an 11street coupon through ShopBack to increase your savings, then be sure to read the following guide to get you started on the way to do your 11street online shopping, while saving money. ShopBack offers cashback for all 11street purchases, giving you more for less!
Login to ShopBack with your existing account or sign-up for a free ShopBack account should you not already be a member.
Navigate to the 11street merchant site.
Choose the 11street discount code or 11street promotion that you want.
Click "Shop Now," and let your browser redirect you back to the 11street seller website
Simply shop as you normally would, and ensure that you apply any relevant 11street vouchers or codes
Rest assured that your cashback will build up in your ShopBack account.
It's that simple to save while using an 11street promotion. No really, that is all you have to do. With ShopBack's cashback system, there are no hoops to jump through, no worries that it's a false deal or a scam. ShopBack assures all that our users get access to the best 11street Malaysia coupons on the internet with plenty of 11street coupon code. ShopBack features the safest transaction systems available so, have a peace of mind while you increase your savings and, get more while spending less. Saving money with ShopBack's cashback system is elementary and you should jump on board as soon as you can.
Score more 11street voucher codes when you stick around and stay connected
Subscribe to 11street Malaysia's newsletters. You can get personalized coupon codes and first dibs on up and coming offers that at times are timed. Getting the updates straight to your inbox will keep you from missing out on any good deal.
Follow 11street Malaysia on social media to get a daily dose of 11street wins. They hold contests exclusive to their followers and hold countdowns to members-only events in their accounts! So, uncover more absolutely shocking deals, and follow 11street on YouTube, 11street on Google+, 11street Facebook, 11street Twitter, and 11street Instagram!
Get speedy and quality assistance from 11street Malaysia's Customer Service team
Remember that you can always reach out to 11street via their social media accounts. They are just one direct message or tweet away. For a more detailed approach to your concerns and queries, you can always reach out their customer support team through their hotline at 03 2720 0000 from 8am to 8pm of Mondays to Fridays and 9am to 6pm of Saturdays and Sundays.
If you find drafting emails easier, you can choose to send your personal electronic messages to hello@11street.my (for customers) or seller@11street.my (for sellers).
As for readily available answers to your 11street Malaysia questions, you can always refer to their Frequently Asked Questions (FAQs) page. There you can browse through questions and answers relating to membership, orders, payment, delivery, cancellations, refunds, returns, exchanges, points, credits, and your personal 11street account. On the same page, you will also find the Email Enquiry tab which allows you to send your concerns using a template; it also allows you to attach documents should need to show proof or reference.
If you have interest on creative juices, you are always welcome to read through 11street's blog posts. It is your official source of 11street Malaysia information, news, and articles. All content is shared by the site's editorial team. It covers all aspects of 11street happenings and modern daily lives to keep you informed and entertained while shopping and earning deals at 11street Malaysia.
Look out for 11street Black Friday Sale
11street Black Friday Sale is an event that many customers anticipate every year. Expect to see major discounts off various categories on this special day. More information will be provided through 11street social media channels, so stay tuned!
More exciting deals with ShopBack
Are you looking for more deals? Be sure to head over to ShopBack's store directory page for a list of all available merchants for your convenience. Like their exclusive 11street promotions and discounts, ShopBack offers amazing exclusive cashback opportunities and promo vouchers for all its merchants.
From great merchants like the ever popular Foodpanda to the wonderful Deliveroo, you can find all these and more at ShopBack. To enjoy cashback while you shop, remember to make your transactions through the ShopBack mobile app. ShopBack is dedicated to delivering the best shopping and saving experience to all our loyal customers, while making the process easy, quick, and reliable.