AirAsiaGo Malaysia Promotions, Promo Codes & Offers
Last Minute Holiday Deals
Get the best last minute deals with AirAsiaGo. Hotel only prices are for the stated travel period, based on twin share and include taxes and fees. See AirAsiaGo for full T&Cs.
Seoul Hotels: <40% OFF
Promos and discounts online on AirAsiaGo. Limited time only. See merchant site for more T&Cs.
Bangkok hotels: save <60% OFF
Promos and discounts online on AirAsiaGo. Limited time only. See merchant site for more T&Cs.
Penang hotels: save <40% OFF
Promos and discounts online on AirAsiaGo. Limited time only. See merchant site for more T&Cs.
Up to 25% off for Flights + Hotel
Promos and discounts online on AirAsiaGo. See merchant site for more T&Cs.
Upsized Cashback: Tracked at usual rates. Cashback will be adjusted within 60 days after travel has been completed.

For more details: www.shopback.my/terms-and-conditions
Recent Articles
More about AirAsiaGo
Get the cheapest quality flights with AirAsiaGo promotions!
If you are a loyal fan of AirAsia flights, you'll absolutely love AirAsiaGo. This third party booking site functions just like any other comparison booking website, but with a twist – it weeds out all the AirAsiaGo promotions to show you the best of AirAsia flights! A perfect fit for passengers whose choice budget airline is our born-and-bred Malaysian airline, the AirAsiaGo promo deals give you the cheapest flights to all destinations, while maintaining the quality that you prize. And with additional AirAsiaGo promo codes and voucher codes, your savings just keep on growing! The AirAsiaGo.com promotions are all-inclusive, displaying in detail the different timings of flights, as well as details like stopovers, baggage allowance, and even flight ratings. And if you think the AirAsiaGo layout looks a little familiar, it's because AirAsiaGo is tied up with travel giant Expedia! So now you can use the AirAsiaGo voucher codes to book your flights in peace, knowing that the AirAsiaGo.com promotions you just snagged are 100% valid and trustworthy.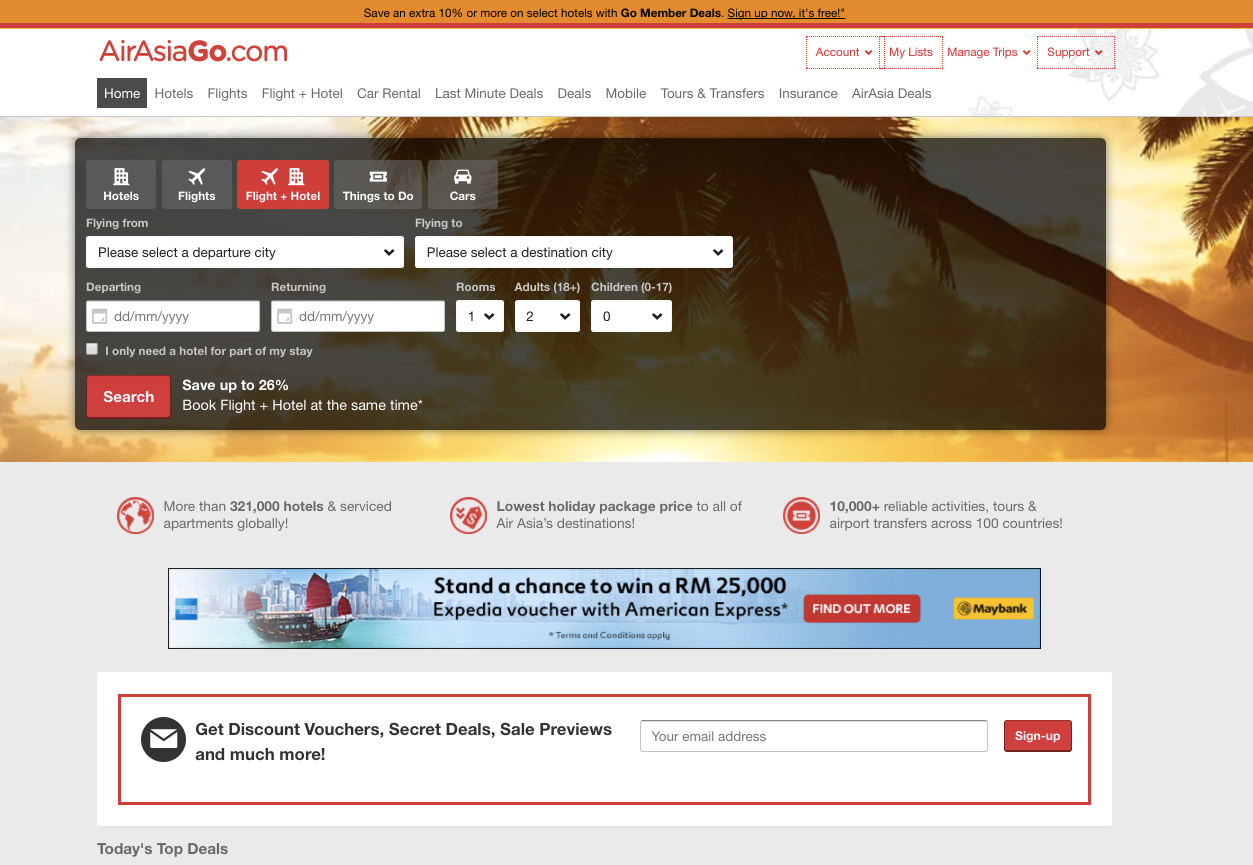 Need a hotel? AirAsiaGo has got you covered
Apart from just showing you the best AirAsia flights available for your preferred date, time, and destination, AirAsiaGo also offers top-notch services to find you the cheapest hotels for your trip. With over 510, 000 partnering hotels worldwide, you'll be sure to find something from the AirAsiaGo promotions that suits your needs and fancies.
If you're looking for even greater savings, try the package deals combining your flight and your hotel. Convenient and fuss-free, you'll get to enjoy the convenience of having someone else do all the researching and planning for you, while still paying the best promo prices! Simply key in the active AirAsiaGo promo code into checkout and get even more out of your booking. And just like Expedia, AirAsiaGo offers free cancellation for most of its hotels!
Cash in on the AirAsiaGo promo codes even when you're on the move – with the AirAsiaGo app!
Too busy to constantly check your laptop for the best AirAsiaGo promo prices? The AirAsiaGo Hotels & Flights mobile app is your key to booking your hotel or AirAsia flight, when you're on the go. With real-time itineraries and notifications, it's a handy app to have so that you're always updated on the latest AirAsiaGo promotions and promo codes. Even better, you get to save up to 40% with all the amazing AirAsiaGo Mobile Exclusive hotel deals – available only to those booking through the app.
Booking through an app certainly doesn't make it any less comprehensive. The AirAsiaGo app lets you default to your current location for fast, on-the-go booking; view genuine reviews of hotels; sort flights and hotels by price, deals, or reviews; and even book within 30 seconds flat! Time won't ever be an obstacle between you and the perfect affordable holiday again.
ShopBack Malaysia gives you even more AirAsiaGo.com promotions
If you like the organization of all your favourite deals and offers in one place, you'll be glad to know that ShopBack Malaysia has curated a handy list of all the current active AirAsiaGo voucher codes and AirAsiaGo promo codes. On top of all that, we're even giving you up to 8% cashback! That's 1% cashback for flights, and 8% cashback for all hotels!
After browsing the AirAsiaGo voucher codes shown, just click on your desired one to be redirected to AirAsiaGo.com, make your purchase, and the savings and cashback will come sailing into your account in just 48 hours. Booking a holiday has truly never been this hassle-free!
Stay connected for all AirAsiaGo voucher codes!
Looking for sneaky exclusive AirAsiaGo voucher codes or promo codes? Just follow them on Facebook and Twitter for all the latest updates and news on upcoming AirAsiaGo promotions and offers, and you won't miss out.
And if you need to fly somewhere further out than just Southeast Asia or Australia, check out Expedia and Agoda for great promo deals and value prices on flights and hotels! You can't go wrong with first-class booking sites.