ShopBack 4th Birthday Sale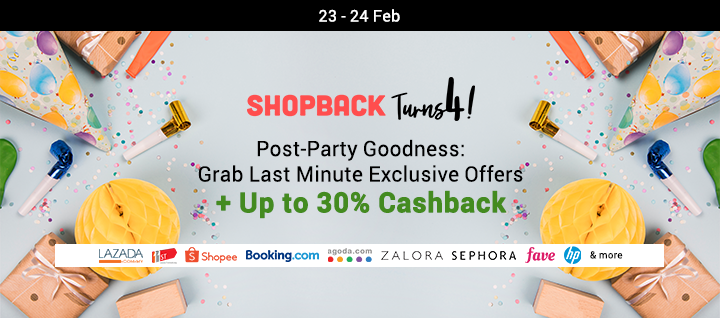 🔥 Hot Deals 🔥
Exclusive Birthday Deals You Can't Miss!
🛍️ Marketplace & Lifestyle 🛍️
Find your favourite products at competitive prices!
🛫 Travel 🛫
Satisfy your wanderlust
👗 Fashion & Beauty 👗
Look your most fabulous
🍔 Food & Groceries 🍔
Eating in or dining out?
⚡ Internet & Services ⚡
The latest high-speed internet plans for uninterrupted entertainment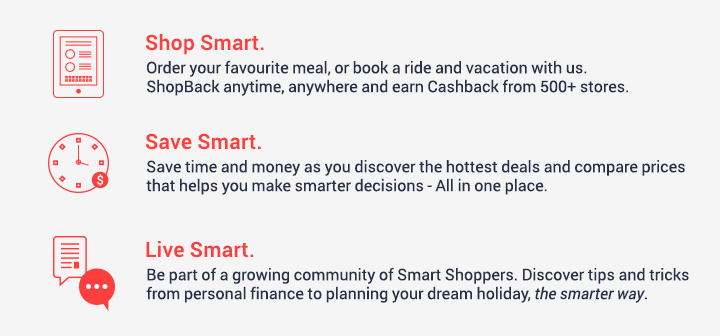 ShopBack Birthday Sale Gives More Treats of Smarter Shopping!
ShopBack turns 4! Join us in celebrating ShopBack's fourth birthday this February as we bring to you exclusive deals and epic cashback. There is over RM30K Birthday Giveaway 4 You to be won when you make a purchase from any of our merchants between 20 and 22 February. 3 winners will be selected and each person will walk away with RM10K shopping spree at selected merchants. This ShopBack anniversary sales only comes by once a year so seize your chance to save even as you shop!
From now until 22 Feb, there's also a daily RM100 giveaway on Facebook! For example on 12 Feb, all you had to do to stand a chance to win RM100 was to comment on the post with a picture to prove that you are born in February and share the post and set it as public. The criteria to win changes daily so be sure to follow the ShopBack Facebook page to get the latest updates and news.
Enjoy an EPIC cashback and exclusive promo codes by popular merchants from 20 – 22 Feb. During this same period, keep the ShopBack page on hand as there will be a lucky hour bonus cashback from 9 – 10pm. Some key merchants to look out for are Lazada, 11street, Booking.com, Agoda, Zalora, Traveloka, Foodpanda and many many more! Also, refer your friends to ShopBack and get extra RM5 for 1 friend referred and an extra RM12 for 2 friends referred.
On 22 Feb itself, there are 100% — yes you read that right, 100%! — cashback deals from 11AM - 12PM, 3 - 4 PM, 7 - 8 PM or while stocks last. Hurry, mark your calendars for the 22 Feb and go on an online shopping spree during the ShopBack birthday sales!