ASOS Discount Codes, Promo Codes & Coupons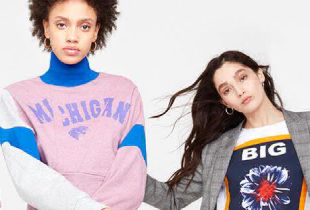 ASOS Sale! Up to 60% off! Valid till 26th Mar
ASOS T&Cs apply.
Free standard delivery for orders over £20.00
Only for orders above over £20.00, otherwise £3.00 on ASOS.
Cashback will take within 40-90 days after your order is made to turn from "Pending" to "Redeemable".

ShopBack must be the last link you clicked in order to get Cashback. If other website links are clicked after clicking through ShopBack, Cashback will not be tracked (E.g. coupon and deal websites).

If for some reason your payment made on merchant page has failed, do click through ShopBack again and re-do your purchases to ensure tracking is still active.

Return to ShopBack and click through to the merchant every time you are making a new transaction. If you are making 3 separate transactions on the merchant, you should click through ShopBack 3 times, each time before making a new purchase.

For more details: www.shopback.my/terms-and-conditions.
Recent Articles
More about ASOS
Catch ASOS's best sales with ShopBack's %cashback%
ASOS is a familiar name for any savvy fashionista, selling over 65,000 branded and own-label fashion and beauty products. With clothing options ranging from the off-beat indie labels to the well-loved high street brands and classic vintage apparel, ASOS carries the widest and trendiest selection of clothes for your perusal. What more, ASOS Malaysia ships free to Malaysia with purchases over just RM110, so whether you are looking for a new outfit or just searching for some wardrobe inspiration, hurry down and check out ASOS's best promotion codes and discounts.
Cash in on exclusive promo codes and discount codes for this season's hottest outfits
One of the hottest trends right now is sportswear donned on the highstreets. Jump upon the season's latest trend and get your sports-inspired kicks on ASOS. Some of our favourite kicks are now going at discounted rates. If pink is your thing, check out Reebok Classic Leather Patina Pink Retro Trainers. Nike Rosherun Dark Grey Printed Trainers are not one to be missed either, channeling both sports, elegance, and a whimsical bit of fun. Be sure to check them out, for they are both great kicks going at great sale prices.
Even if sports isn't your thing, another great look is the elegant Gingham, the quainter counterpart of last season's plaids. Check out Abercrombie & Fitch Cropped Check Shirt for channeling a classy and elegant look, now going at a discounted rate on ASOS Malaysia's hot sales!
For the indie bohemian kind of girl, don't worry. ASOS has the perfect outfits for you as well! Check out their range of new upcoming indie brands for some quaint and unique outfit ideas, from ELCY to Tangerine Dreams. Haven't heard it them? That's alright, because being indie is about embracing the uncommon, being bold, and breaking out of the trends. ASOS holds regular sales for the indie brands under the ASOS website, so be sure to check it out regularly!
If you are cash-strapped at the moment (as most of us are), ASOS is definitely pocket-friendly, offering great sales of up to 70% regularly, so be sure to check out ASOS Malaysia's website. Make use of the specially selected discount codes available on ShopBack to cash in on the best discounts and promos for the season!
Clothes for all sizes: Get a discount of up to 70% percent off on ASOS's hottest sales
Love shopping but tired of searching through all the racks and not finding your size? Don't worry. At ASOS, beauty comes in all shapes and sizes, and this is why ASOS has pushed out exclusive lines for you:
ASOS Maternity: Dressing for two? Motherhood is a blessing, but finding clothes that fit is often a pain. ASOS solves your woes for you by pushing out a chic line of for expectant mothers, flattering your new curves and complimenting your baby bump. Make your ASOS Maternity Tunic blouse look gorgeous on you with a healthy radiant pregnancy glow. Check out ASOS Maternity line for some of the best ASOS promos and discounts. Check out ShopBack's collation of ASOS's top promo codes to save a tremendous amount of cash.
ASOS Curve: This century's fashion sensibilities has not blessed beautiful curvaceous girls. Even though Kim Kardashian is slowly changing the fashion image of the century finding clothes that fit those gorgeous curves remains a difficult challenge. ASOS Curve solves this problem by pushing out a chic line specially tailored for you. No longer will you have to hide your curves behind pillowy blouses, dress up with ASOS's well-designed silhouettes instead. Check out ASOS's latest sales and have fun with your beautiful body!
ASOS Petite: ASOS also offers solutions for the petite-figured. If you are one of those shoppers who heads over to the children's department to find clothes, ASOS presents a much more elegant and sleek solution: ASOS Petite. ASOS Petite offers you perfectly proportioned ASOS dresses, skirts and playsuits to make you look grownup, elegant and beautiful. ASOS's hottest sales will help you look good and feel good.
ASOS believes that differences should be celebrated and rewarded, so for you ASOS Maternity, ASOS Curve and ASOS Petite, ASOS has a special sales promo discount code for you, offering you 20% off on your purchases. Check out ShopBack's collations of ASOS's top promotion codes.
Gifts for your loved ones - matchy outfit ideas and ideas for the stylish couples
Valentine's Day and CNY is fast approaching, and we all know what that means: A legitimate excuse to buy yourself some stylish new ASOS dresses.
ASOS joins in the fun by offering up to 70% off on selected items, to ensure that you will look and feel your best over the festivities. Break out of the traditional restrictive cheongsam, and don a light fun ASOS Textured Crepe Short Sleeve Playsuit that allows you to move between house visitations with ease. Your relatives will be envious of your effortless style and fabulous dress sense.
Instead of getting more cheesy couple shirts, find some stylish couple outfits ideas for you and your partner on ASOS, with tips from their in-house fashion advisors and chic editors. Nobody will be able to take their eyes off you two as you walk out of the house in the season's latest matching kicks. Head over to ASOS to check out some of the best ASOS promos and ASOS discounts!
No one is left out this ASOS Singles Day or ASOS Black Friday
ASOS 11 11 sale is giving discounts to online shoppers. Get decked from head to toe in the latest collections, including autumn wear such as jackets and coast for a stylish outfit on a cooler day. Look into their array of sneakers from Converse and Addidas, great essentials for both work and casual weekends. Of course, don't forget their bold pieces as a statement to your usual OOTD. After all, your style, your rules - and this time, made more affordable with ASOS 11 11 sale!
If you missed out on ASOS 11 11 sale, fret not, for ASOS Black Friday campaign is happening just two weeks after! Expect slashed prices off last season's range of runway fashion during this sale period. Exclusive ASOS Black Friday promo codes will be revealed in the days leading up to the event, hence do keep a look out!
ShopBack is your gateway to your ASOS promo codes and discount vouchers
We at ShopBack want to spare your cash, we have published a cluster of ASOS promo codes and discount vouchers for you. The ASOS promo codes offered here will be consistently updated by a team of dedicated members here at ShopBack, sparing you a tremendous amount of cash. Receive up to 5% cashback by shopping with ShopBack. With ShopBack, not only can you receive ASOS promo codes, you can also check out Zalora discounts and Sephora vouchers for beauty items going at great sale prices.
Connect with ASOS today
ASOS caters to the fashion-forward twenty-something crowd looking for the season's hottest outfits and latest trends. Trend-setters, vintage-lovers and hippies will find their fix of their favourite beauty accessories, heels and clothes. Grab fashion advice from ASOS's stylish chic editors, share images of your hottest outfits, and be part of the youthful crowd.
Join in the hype and click on the links below to be a part of their community today: