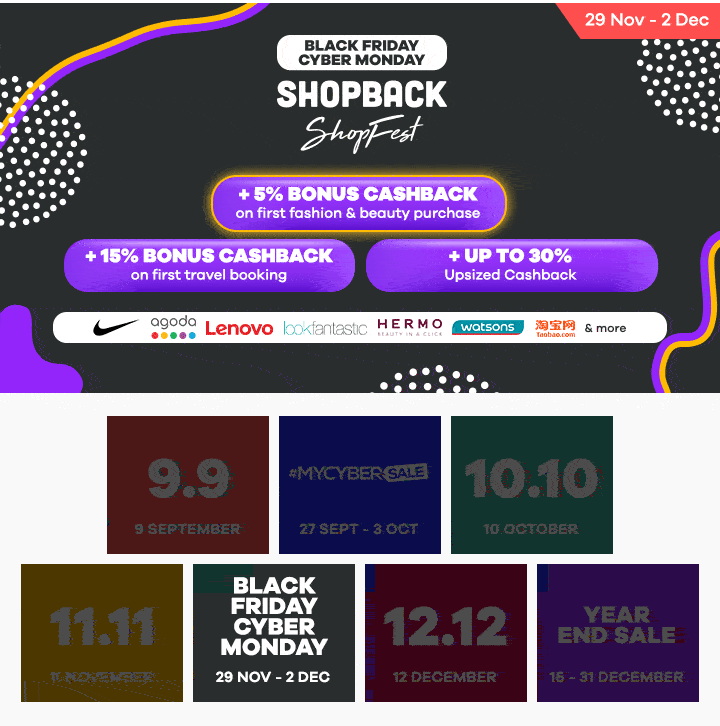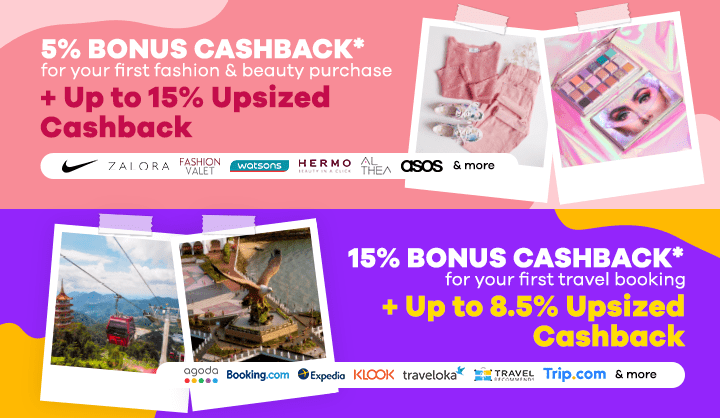 Bonus Cashback Terms & Conditions
Valid for ShopBack customers (new or exisiting users) that have not made any travel, fashion and/or beauty purchase on ShopBack.
Valid for one-time bonus cashback entitlement per user.
Bonus will be capped at RM20 for fashion and/or beauty and RM30 at travel purchases.
Users must view this campaign page at least once during the campaign period (29 November 2019 - 2 December 2019) before transacting anywhere on ShopBack site to be entitled for Bonus Cashback.
Bonus Cashback will be credited by 29 February 2020.
Orders that are 1) not made via ShopBack, or 2) suspected to have fraudulent intent (eg. creating multiple ShopBack accounts), will not qualify for the Bonus Cashback.
Any order returns, refunds, cancellations and failed payments will be disqualified from this promotion.
ShopBack reserves the right to modify, amend or discontinue any part(s) of this promotion without prior notice.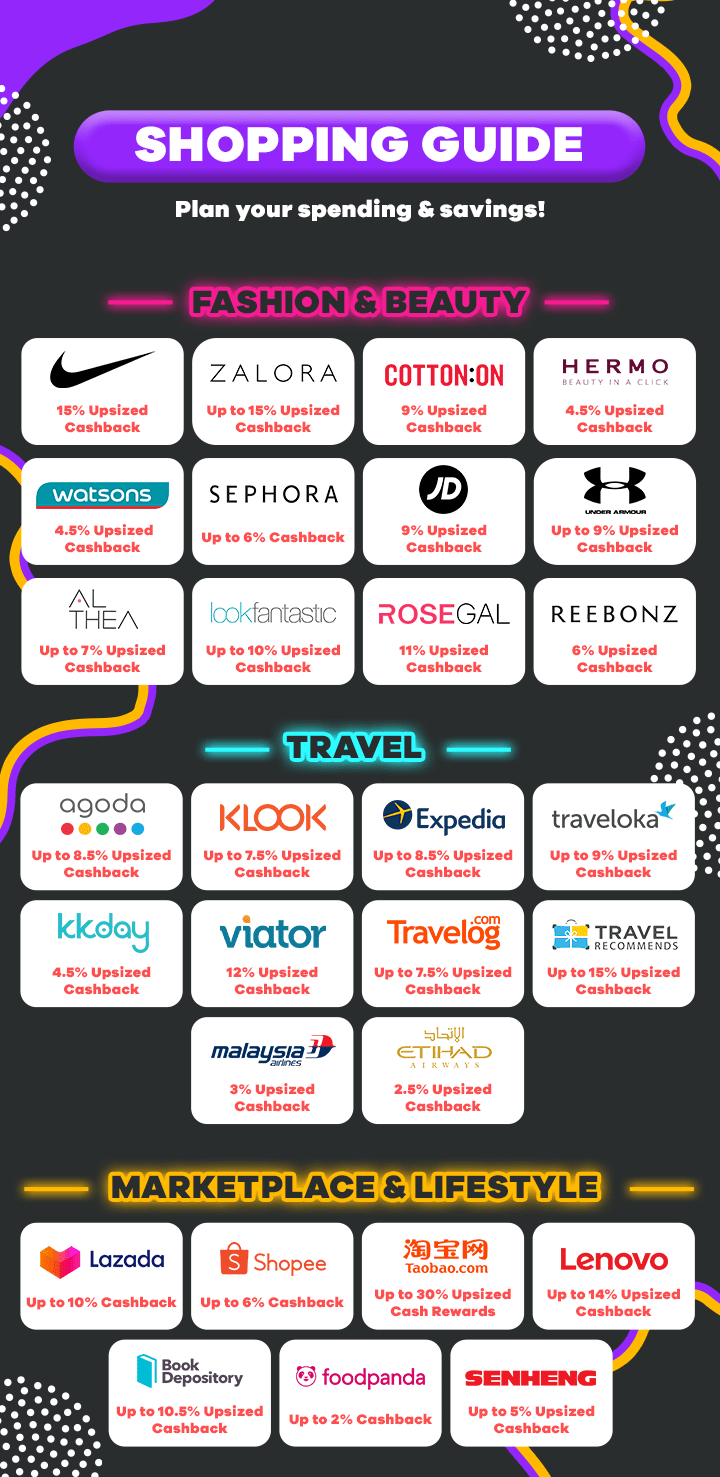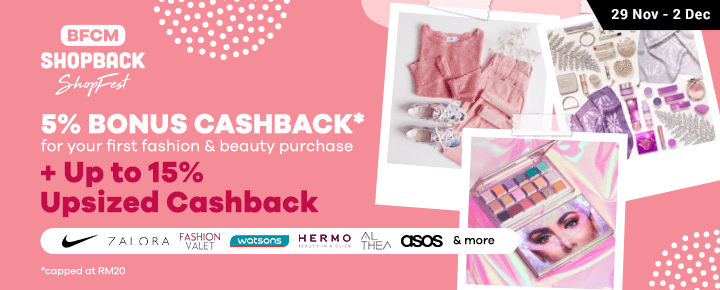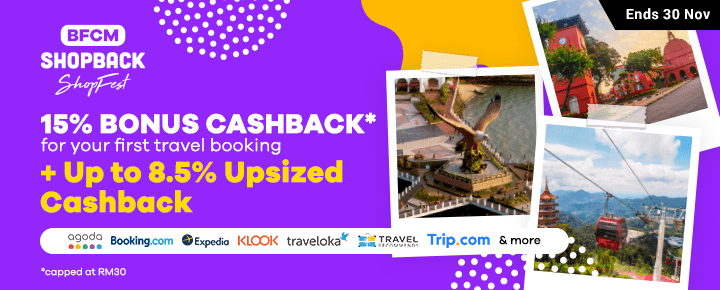 🛒 Marketplace & Lifestyle 🛍
📱 Electronics & Internet 📡
Welcome to the Black Friday and Cyber Monday weekend
Congratulations for making it this far! After the months of hard work in the year with academics and work, it's time to kick back, unwind and treat yourself and your loved ones. Coming round to the last weekend of the month, Black Friday-Cyber Monday rounds off the biggest, global sales in the year. Traditionally started as a sales season after Thanksgiving, it has developed into what we know as Black Friday and now, Cyber Monday to round off the weekend-long promotion.
Previously, Black Friday sales were predominantly held by brick and mortar stores, and more on heavier and larger pieces such as electronics. On the other hand, Cyber Monday, a more recently coined idea compared to Black Friday, is mainly an online-only sale with a focus on clothes and smaller items. Lots of online fashion retail stores end the weekend with additional price-cuts and a different set of coupon codes that might fit your shopping needs.
That's not to say you can't get best of both worlds today - as everyone gets ready to shop, each store pits their best deals to meet expectations.
Need a new outfit? Best Black Friday deals got you covered
Fashion is ever-changing and we will always be looking into new accessories, experimenting new outfits and trying new styles. This Black Friday online shopping will pool together the best retailers for your shopping ease. Check out Forever 21 sale, a mix of glam party and classic pieces to keep you warm when you embark on your winter adventure overseas. For those staying in the warm, tropical countries, fret not as they too have summer-friendly pieces, including the trendy crop-tops and off-shoulder shirts. Slim cut, normal or plus-sized, the store covers all genres to make sure no one is left out for Black Friday shopping. Forever 21 isn't the only store in this competitive price war - don't forget to check out stores like Zalora, pitching in with their extensive range of crowd favourite brands, or Cotton On with their more affordable variety for the younger audience.
When it comes to cosmetics and makeup product, stores like Althea and Sephora are ready to bring on their best and trendiest looks this season with attractive rates. Palettes, brushes and tools, lippies and more, piece together your favourite holiday set and glam up for year-end parties.
Style up with a simple click this Cyber Monday Sale
The two biggest Cyber Monday categories are no doubt Fashion and Makeup, as retailers in these categories were one of the first to kickstart the whole Cyber Monday movement. Not a huge surprise, considering how these retailers were one of the first to establish a website that allows people to make their orders with a simple click. And now, it's become a robust festival, with vouchers and coupon codes all day long for the final shopping sprint.
Zalora and Asos are two websites not to be missed, especially for those who loved to mix and match your outfits to different brands and styles. Both sites have also expanded their wares to include not just clothing, but also shoes, accessories like necklaces and bracelets, as well as makeup items. Find featured brands that are familiar to our ears, such as ALDO, Bershka, Mango and even their in-house brand. For those looking for Muslim Wear, check out Zalora's collection for a series of stylish outfits. For more luxurious options, try Shopbop, with a list of designer wear for the fashionistas with a higher budget to spare. Grab unique pieces from Alexander McQueen, Burberry, Fendi and more. If you're taking flight at the end of the year to seasonal countries, then the F/W fashion collection will have the right pieces to keep you all warm in sub-degree weather.
Sleep on soft pillows for your luxurious dream vacation
When it comes to deals, we cannot forget to check out our favorite flight and accommodation booking site for cheaper tickets and great places to visit. Agoda, Expedia and Hotels.com are also offering you a chance to getaway this holiday season. Avoid the crowd by heading to tropical islands off the tourist grid, or join in the heat of the mob in cityscapes like Tokyo, Taipei and Seoul.
If flights are too overwhelming for you during this busy season, then grab a staycation in your local country. Travel to Penang, Malacca, Cameron Highlands or Kota Kinabalu over one weekend with your loved ones, or go solo on a personal adventure. Unwind in a resort and take in a breath of fresh air from your usual routines, such as a hike among nature away from the skyscrapers of the city. All these are within reach and budget this Black Friday/Cyber Monday, so don't miss out!
Fun activities planned to your budget
If you're in search of things to do, roam ticketing and voucher sites like Fave! With great discounts on different activities, you can find travel packages to popular theme parks, barista or painting lessons to do over weekends, and buffet promos. Grab these vouchers when you can and make sure to plan the dates before it expires for the best deals. Surprise your loved ones, or go for a spontaneous date with whatever catches your eye.
ShopBack brings Cashback for this year's Cyber Monday & Black Friday Sales
That's right - with (upsized) cashback on top of coupon codes, Black Friday/Cyber Monday is a sales galore with more savings to be earned through ShopBack. Don't miss out the series of promotions on our page available for your reference. Go hard or go home this shopping season, and milk all the savings you can get. What are you waiting for, it's time to get ready for Black Friday/Cyber Monday sales!