Black Friday Sales & Deals November 2018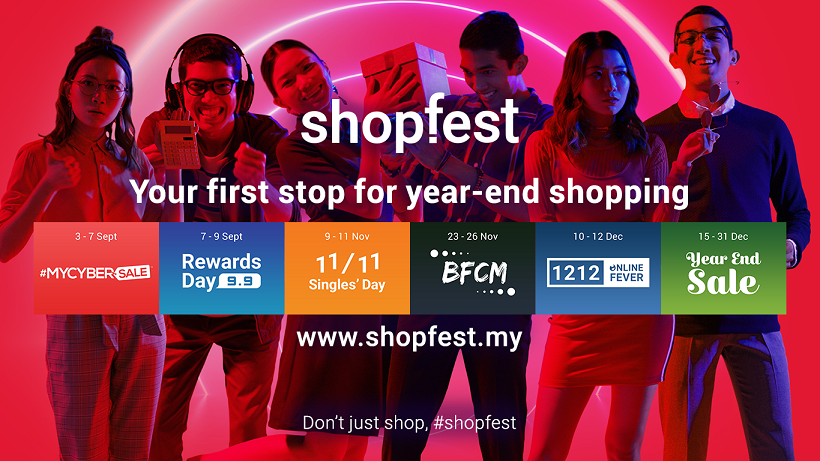 The global shopping event, Black Friday sales is finally here
It's here. After counting down seemingly endless days, crossing the calendar dates one after another, the global shopping sales is finally here. With each sale bigger than the last, expect extravagant price-slashes, exclusive Black Friday coupon codes up for grabs, and a range of items to get. If you missed the 11.11 Single Day sales, then this is the next best opportunity to complete your wishlist. Amid the tough competition for limited items and best Black Friday deals, may the fastest fingers win.
As Black Friday 2018, our third instalment of ShopFest dawns closer, continue to keep your eyes peeled for irresistible Black Friday promotions coming your way.
A walk in Black Friday History
Black Friday is the day after Thanksgiving, and has traditionally been noted as the festive date to kickstart the holiday shopping season. Stores would be bursting out their best Black Friday sales, dropping the discounted price tags one after another on their merchandise. Eventually, it spurred off a shopping culture where people would queue or camp hours before the opening hours just to be the first to grab these early bird specials.
The term 'Black Friday' first came to be as an internet lingo by a retailer and the 'Black' is generally perceived to be the meaning of profits for businesses, as gains are noted in black ink while losses are referred to 'in the red'. As the word spread in the early 2000s, Black Friday came to be. With the rise of online shopping trends, Black Friday deals made its way onto the website portal of many brick and mortar stores, providing an added layer of convenience in today's society.
Black Friday promotions now span across several days, usually lasting through the weekends to Cyber Monday. This only means more deals, so get your shopping bags ready for this busy season, and cart up your favourites to get ready!
Black Friday laptop deals, with more gadget and gaming galore
A self-proclaimed nerd that always need to be in the front wave of your gadget game? A gamer that's on the roam for the sweetest offers in the market this gaming season, be it for a console upgrade or new games? Students on the search of laptop this Black Friday to cover your academic reports in the coming year? This is the time to go roaming for your desired tech equipment. Electronics may always be on the more expensive end of things to purchase on the net, but with the right coupon codes, discounts, and additional ShopBack cashback, you're on the right track to save, save and save even more! Just find your tech fix at places like Lazada or Bebst Buy Black Friday promos, among others.
Need a new outfit? Best Black Friday deals got you covered
Fashion is ever-changing and we will always be looking into new accessories, experimenting new outfits and trying new styles. This Black Friday online shopping will pool together the best retailers for your shopping ease. Check out Forever 21's Holiday Deals, a mix of glam party and classic pieces to keep you warm when you embark on your winter adventure overseas. For those staying in the warm, tropical countries, fret not as they too have summer-friendly pieces, including the trendy crop-tops and off-shoulder shirts. Slim cut, normal or plus-sized, the store covers all genres to make sure no one is left out for Black Friday shopping. Forever 21 isn't the only store in this competitive price war - don't forget to check out stores like Zalora, pitching in with their extensive range of crowd favourite brands, or Cotton On with their more affordable variety for the younger audience.
When it comes to cosmetics and makeup product, stores like Althea and Sephora are ready to bring on their best and trendiest looks this season with attractive rates. Palettes, brushes and tools, lippies and more, piece together your favourite holiday set and glam up for year-end parties.
Black Friday online shopping isn't just a woman's luxury too. Men can find abundant of chic styles this season. Deck out in a semi-formal blazer and patterned, short-sleeved shirt for a smart date with comforts combined; or opt for a fitting tank layered with plaid or denim shirt. Slightly ripped jeans are in the game this year and expected to follow on, so why not get one as a staple to your wardrobe? Expand your styles to beyond the usual pieces in your closet this Black Friday promotions!
Wanderlust no more as Black Friday sales take flight
That's right, even air tickets, accommodations and basically your upcoming holidays now have epic discounts to tap on! No matter how many miles you plan to travel over the weekends or next year, even, Black Friday sales keep the costs affordable for your dream vacation. No matter which outlet you prefer to get your tickets from, you can discover promo codes and vouchers around. Compare prices, check the deadlines and free days in the coming weeks, and make your booking. Customize your holidays to your preferences for the best relaxing trip yet - all at a cheaper cost.
Bonus cashback with ShopBack this season too
Black Friday sales online might have been dishing out the best promotions so far, but there's never too many savings to be earned. With ShopBack, earn extra cashback on top of the coupons used at our partnership merchants. By clicking on the merchant stores via our webpage or our mobile app, you are on your way to achieving favourable cashback the plump up your wallets again. Keep your eyes peeled for upsized cashback and exclusive codes!
Are you ready to kick off the shopping season now?
Want to know more about Black Friday? Read our article on - What is Black Friday