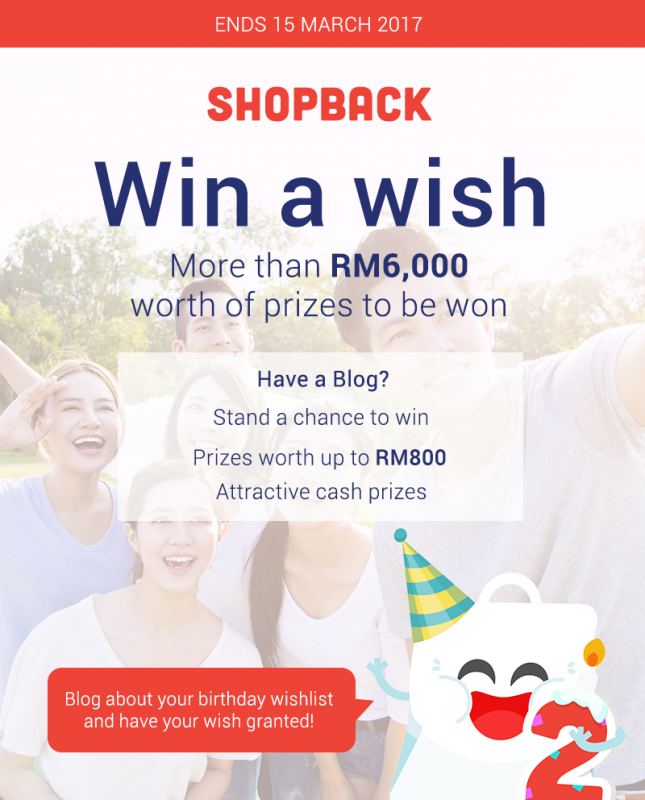 BEST WISHLIST WINNERS
1. Nor Hidayah Mohd Nor | http://www.sayaiday.com/2017/02/shopback-untuk-beli-produk-idaman-nike-sephora.html
2. Leong Pik Yee | http://beautiventures.blogspot.my/2017/03/blog-post_15.html
3. Eros Erfe | http://fishmeatdie.blogspot.my/2017/03/all-i-want-from-shopback-is.html
4. Selina Ooi Shin Ping | http://www.selinawing.com/2017/03/my-geek-gamer-wish-list-shopback-malaysia.html
5. Muhammad Syakir Bin Muhammad Salleh | http://www.lakiterok.com/2017/03/shopbacks-birthday-my-birthday-wishlist.html
6. Nany Adifah Bt Abdullah Kamal | http://www.nanyfadhly.com/2017/03/my-birthday-wishlist-from-shopback.html
MOST POPULAR WINNER
1. Yu Hui Wen
CONSOLATION PRIZE WINNERS
1. Muhammad Syazwan Bin Norhalik | http://unclezuan.com/buat-pembelian-melalui-shopback-dan-dapat-rebate/
2. Seow Chai Ying | http://stellaseow.blogspot.my/2017/03/shopback-malaysia-shop-online-earn.html
3. Tang Woan Koon | http://woankoon.blogspot.my/2017/03/my-love-for-my-familys-wish-list-with.html
All prize winners have been contacted via e-mail and must respond to the e-mail by 13th April 2017, 1200h. Failure to do so by the stated time will result in a forfeiture and an alternate winner will be chosen.
---
It's ShopBack Malaysia's 2nd Birthday on the 22nd February and we're in the mood for a BIG celebration! Tell us what's on your birthday wishlist and you might just be the lucky few to have your wish granted!
ShopBack Malaysia is going to grant 10 lucky wishmakers the chance to have one of their wishes (for products below RM800) come true! So if you've got a birthday wishlist filled with goodies from one or more of ShopBack's extensive list of merchants, we would like you to write about it on your blog! Include as many items as you want in your wishlist, why you want them, and how you can save on these items using ShopBack. Convince us and we just might grant you your wish!