Latest Blue Nile Coupons for Your Next Purchase
Love shopping for jewellery on Blue Nile? You got it. Get a host of Blue Nile discount vouchers to use on your next purchase when you shop via ShopBack. Lots of promo codes await you every season - ensure you keep track of the latest Blue Nile promotions today!
Similar services in Malaysia
About Blue Nile
A leading online jewellery retailer, at Blue Nile you will find high-quality diamonds certified by the most respected independent diamond grading labs. You can create your own jewellery, simply choose the right diamond and Blue Nile will set it in your favourite earring, pendant, or ring design. Most orders are shipped free, guaranteed and returnable within 30 days, so you can be sure you made the right decision.
Blue Nile lists 150,000 diamonds compared to maybe a few hundred at a traditional jeweller. Here you can choose the best diamond for you, instead of what's available from a jeweller's case. The team handcrafts every custom diamond ring to exacting quality standards. And an expert gemologist inspects every piece of diamond jewellery before it ships to you.
History of Blue Nile
Founded in 1999, Blue Nile has grown to become the largest online retailer of certified diamonds and fine jewellery. The company is built on a unique idea: choosing an engagement ring doesn't have to be complicated. Diamonds can be simple to understand. Making the right choice can be easy. This unique approach and reputation for excellence has gained notice from publications such as The New York Times, Forbes, and Money.
Products and services on Blue Nile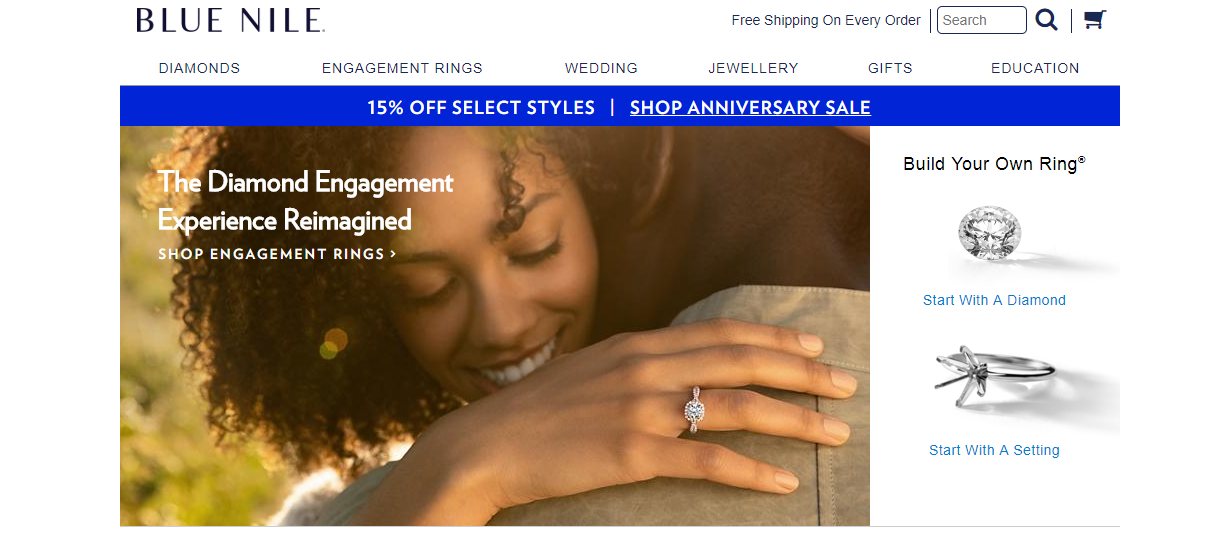 Blue Nile offers a vast selection of gems and jewellery for everyone. Here, we look at the product categories available on the site.
| Diamond Shape | |
| --- | --- |
| Round | Pear |
| Princess | Oval |
| Emerald | Marquise |
| Asscher | Heart |
| Cushion | Astor By Blue Nile |
| Radiant | Coloured Diamonds |
Setting Style
Solitaire
Halo
Vintage
Sidestone
Three-Stone
Designer
| Women's Rings | Men's Rings | Designer Rings | Anniversary & Gifts |
| --- | --- | --- | --- |
| Diamond | Platinum | Monique Lhuillier | Bridal Jewellery |
| Eternity | Tungsten | Truly Zac Posen | Wedding Party Gifts |
| Platinum | Titanium | | |
| Rose Gold | Rose Gold | | |
| Yellow Gold | Yellow Gold | | |
| White Gold | White Gold | | |
| Earrings | Bracelets | Necklaces |
| --- | --- | --- |
| Diamond | Diamond | Diamond |
| Gemstone | Gemstone | Gemstone |
| Pearl | Pearl | Pearl |
| Precious Metals | Precious Metals | Precious Metals |
| Rings | Build Your Own |
| --- | --- |
| Diamond | Diamond Earrings |
| Gemstone | Diamond Pendant |
| Wedding | Diamond Ring |
| Engagement | |
| Birthstone Jewellery | | | |
| --- | --- | --- | --- |
| JAN | Garnet | JUN | Pearl | NOV | Citrine | Diamond Jewellery |
| FEB | Amethyst | JUL | Ruby | DEC | Topaz | Gemstone Jewellery |
| MAR | Aquamarine | AUG | Peridot | Earrings | Pearl Jewellery |
| APR | Diamond | SEP | Sapphire | Necklaces | Gifts For Her |
| MAY | Emerald | OCT | Opal | Bracelets | Gifts For Him |
Gifts By Occasion
Anniversary
Graduation
Engravable
Wedding Party Gifts
| Learn About Diamonds | Learn About Jewellery | Service & Value |
| --- | --- | --- |
| Learn About The 4Cs | Metal Education | Jewellery Insurance |
| Cut | Engagement Ring Guide | |
| Colour | Wedding Ring Guide | |
| Clarity | Ring Size Help | |
| Carat | | |
| Astor By Blue Nile | | |
| Conflict-Free Diamonds | | |
| Diamond Upgrade Program | | |
| Shape Price Comparison | | |
How to order on Blue Nile
To order your favourite diamond jewellery, simply follow the steps given below.
Step 1: On the homepage, browse the category and then select the subcategory to locate your product. You can also use the search bar to find a specific product.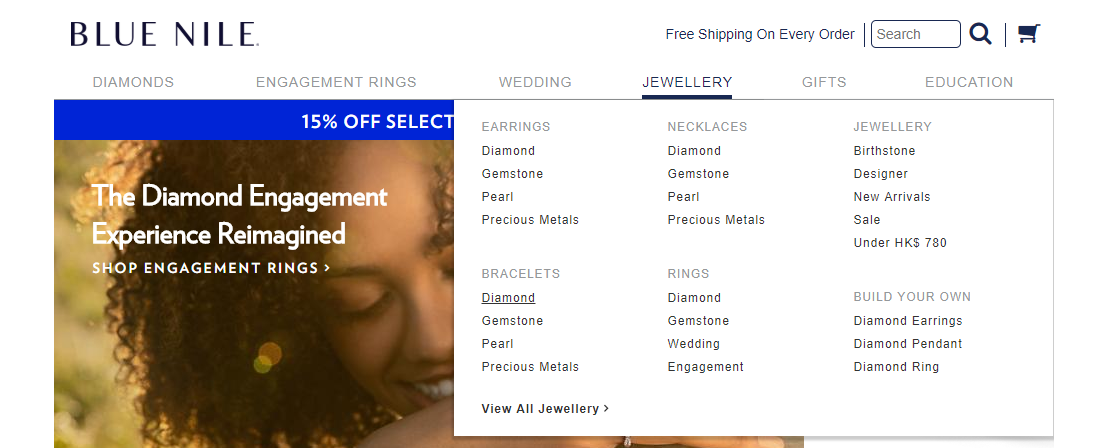 Step 2: Click on the product you like best for important information and product details. If you would like to buy the product, choose your metal (if applicable) and click on 'Add to Basket.'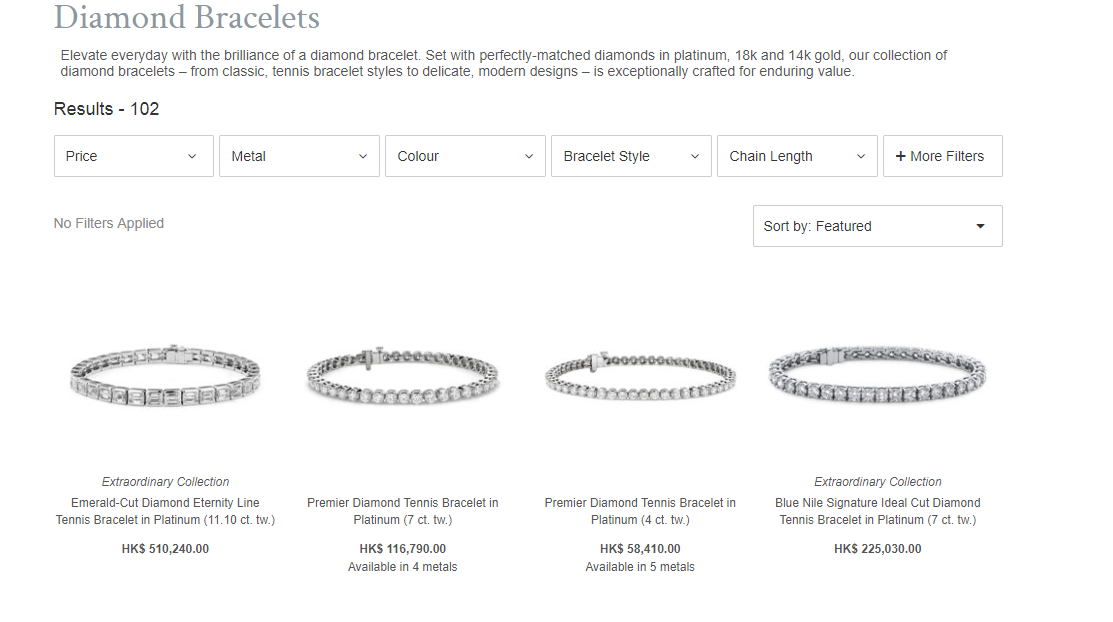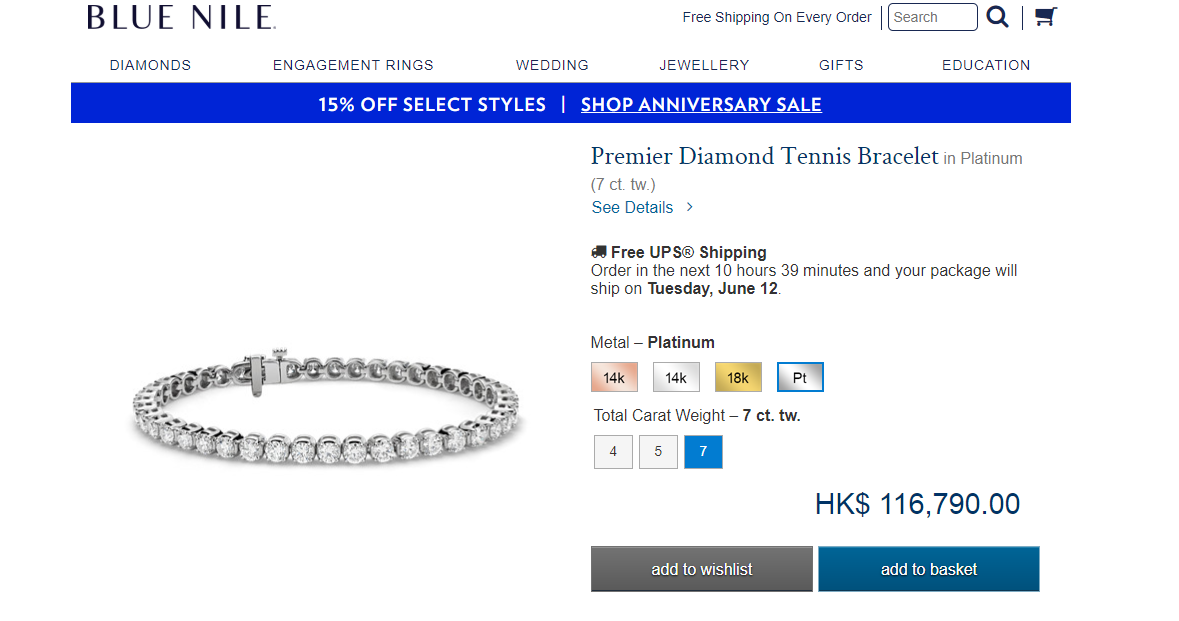 Step 3: If you want to add more products to your cart, you can continue shopping. To buy the products click on the cart icon at the top-right corner of your page and click on the 'Checkout' button.
Step 4: Enter your delivery and billing details in the next form. From there, you will be redirected to the payment page. In case you have a Blue Nile discount code or Blue Nile promo code, don't forget to enter it in the box provided to claim your Blue Nile discount. Enter your payment details and once confirmed, you will receive an order confirmation via email.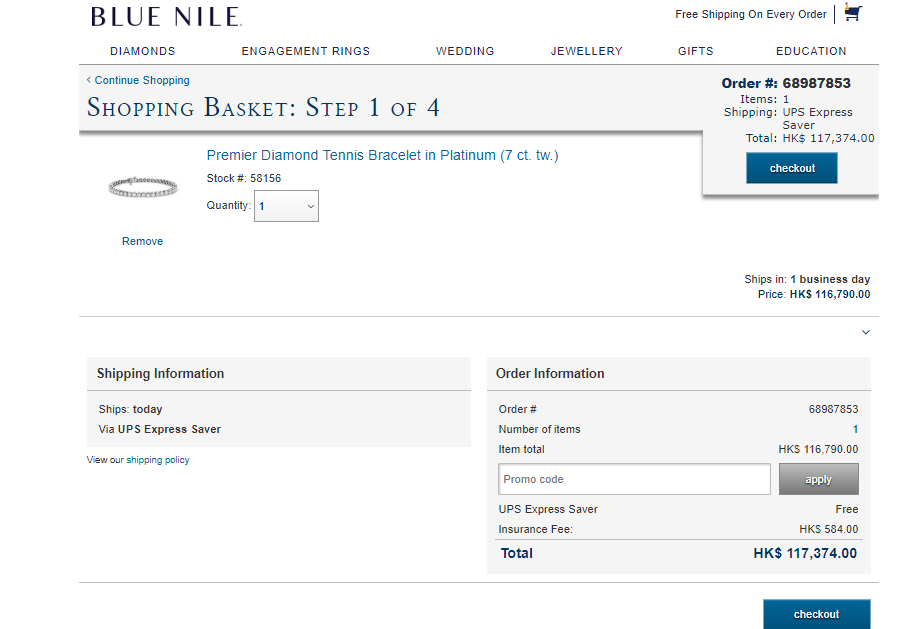 Payment options on Blue Nile
Bank Wire / International Money Transfer (IMT) / Telegraphic Transfer (TT): The bank wire discount is applied before the shipping insurance charge is added. For split payments using bank wires and another method of payment, the bank wire discount is applied to the portion paid by bank wire.
Note: most banks charge a fee for the transmission of a bank wire. Please ensure that your bank has included this fee when processing your bank wire. There are no fees applied to receive the bank wire.
Credit Card: Use your Visa, MasterCard or China UnionPay (where applicable) with a local billing address in any of the countries or regions that Blue Nile ships to. Accepted cards include:
American Express (USD, GBP, AUD, NZD, HKD, SGD & CAD)
Discover
Diners Club
JCB card
International transaction fees may be applied by your bank to orders paid for with locally registered credit cards, even if paid in the local currency. Blue Nile does not receive these fees, nor has control over fees applied, and cannot refund bank charges. Please contact your card-issuing bank for further details.
PayPal: Use PayPal for orders in USD and C$.
Note that not all payment options may be available at every international location.
Blue Nile promotion offers and discounts
You may stay informed on special Blue Nile sale offers and promotions by subscribing to the Blue Nile e-mail list. However, these discounts do not apply to loose diamonds as the team at Blue Nile is committed to offering high-quality loose diamonds at the lowest prices available. In fact, Blue Nile is so confident in their prices that they offer a price match program; if you find an advertised diamond of comparable size, shape, and quality, Blue Nile will work to match the competitor's price.
Blue Nile deals and cashback on ShopBack Malaysia

Customers shopping from Blue Nile in Malaysia can enjoy several additional discounts and benefits when they buy via ShopBack. Here, one can not only view any available Blue Nile code, but also get additional cashback with every purchase through ShopBack. Some of the Blue Nile voucher codes and offers have been listed below:
| Offer | ShopBack Deal | Terms and Conditions |
| --- | --- | --- |
| Cashback offers | Up to 3.5% cashback | Get Cashback on Blue Nile Great promotions on Blue Nile |
How to shop on Blue Nile using ShopBack
ShopBack offers up to 3.5% cashback on various items if you shop from Blue Nile. Here are the steps you need to follow to earn cashback from ShopBack:
Step 1: Visit the ShopBack website and click on the Blue Nile store at the bottom of the homepage. You can also use the search box to find the link to the store.
Step 2: Click on "Activate Cashback" button on the top left corner of the page.
Step 3: Look for the latest Blue Nile promo or Blue Nile coupon in the Blue Nile voucher code, discount code and coupons section.
Step 4: You will be redirected to the Blue Nile website to browse and select the items.
Step 5: When you place the order, you will be eligible to earn Blue Nile cashback from ShopBack. The cashback rates differ based on product categories and based on whether you are a new or an existing customer.
Shipping policy at Blue Nile
As Blue Nile does not ship directly to Malaysia, third party freight forwarder services may be required. Instead, ShopBack customers can purchase their jewellery from the Blue Nile Hong Kong website to receive their cashback.
Cancel or change your Blue Nile order
If you would like to change or cancel an order please call a Blue Nile Diamond and Jewellery Consultant at 800-905-804. They will attempt to accommodate order changes to the extent possible prior to shipping confirmation. Some changes will result in a shipping delay. Note that Blue Nile is unable to accommodate changes or cancellations on special order requests and/or orders that have already shipped. If your order has already shipped, please contact a customer care associate to set up a merchandise return once you have received the shipment.
Returns and refunds at Blue Nile
Your complete satisfaction with a Blue Nile product is guaranteed or items may be returned or exchanged within thirty days from when it was shipped, with a Return Merchandise Authorisation. You will only pay for return shipping and insurance fees.
Please note that to be eligible for return, items must be in their original purchase condition, include all product documentation, and shipped within 30 days. To expedite exchanging for different product, it is recommended that you return for a refund and place a new order. Please allow approximately 2 weeks for your refund to be processed.
If a package or item delivered to you arrives damaged, please refuse the shipment or call Blue Nile immediately at 800-905-804. Please retain all packing materials unless instructed otherwise by Blue Nile. Claims for damaged or missing items must be reported immediately or within 5 days of receipt of your order. Blue Nile will not be responsible for lost or damaged returned shipments.
Single Jewellery Items:
Please call a Blue Nile Diamond and Jewellery Consultant at 800-905-804, 24 hours a day, 7 days a week for exchange, repair, resize, or to report damage or defect. These cannot be set up online and require assistance.
Returns are processed during weekdays once the items have been received at the Fulfilment Centre. Following receipt of your returned item, you'll receive a confirmation email. Please allow an average of 1-2 weeks for full processing. The Quality Assurance department will review the returned item. Items that show signs of wear or have been altered, resized (by a jeweller other than Blue Nile), or damaged cannot be accepted for return. Please allow another 7 - 10 days after processing for your bank to post credit against your account.
Non-Refundable Items
Engraved jewellery items other than rings may not be returned. Diamonds purchased as part of the Blue Nile Diamond Upgrade Program May not be returned for credit. All Blue Nile engraved rings may be returned for credit, however engraving fees are non-refundable. Removal of Blue Nile engraving from any exchanged or resized ring is free with no additional engraving fee. Special orders are final sale and are not eligible for return. Returns without a Blue Nile return code, returns sent C.O.D., and improperly or uninsured packages will be refused upon receipt. Returns with missing paperwork or product will not be processed.
International Returns
Additional shipping charges may be incurred if packages are returned via alternate carriers (including, but not limited to Canada Post).
PayPal Returns
PayPal orders may be returned for credit back to your PayPal account. Please allow up to 2 weeks for your account to be credited.
Purchase on Blue Nile worry free with a lifetime warranty
Blue Nile warrants that all items will be free from manufacturing defects for the life of the products. If you believe your item has a manufacturing defect, you may return it to the company for inspection. If determined that your merchandise is damaged due to a manufacturing defect, Blue Nile will repair the merchandise or, if deemed appropriate, replace the item. If the item is no longer available, Blue Nile may, in its discretion, replace with like-kind or allow a refund equal to the selling price of the original item or component.
If it is determined that the damage is not caused by a manufacturing defect, then Blue Nile will notify you and let you know if repair services are available at cost or otherwise.
Please note that slight irregularities and variations in craftsmanship or natural characteristics, or internal inclusions, visible or otherwise, in coloured gemstones are unique and individual to each item. These characteristics are considered as part of the character of the item, and should not be considered a defect.
Complimentary cleaning and inspection services on diamond rings
Blue Nile recommends having your diamond ring cleaned and inspected every six months or if it undergoes any potential trauma. Inspections may help prevent the loss of a stone and extend the life of your jewellery. This cleaning and inspection service is free of charge to Blue Nile customers on their Blue Nile diamond rings. The customer only pays for shipping, and Blue Nile pays for return shipping. Repairs to your ring mounting can also be done at this time at cost.
Conditions and exclusions
The foregoing Manufacturer Warranty and Complimentary Services are available only to the person who purchased the covered product from Blue Nile.
Maintenance, repair, sizing or other service performed by someone other than Blue Nile will void your Manufacturer Warranty.
Fine jewellery is not impervious to normal wear, activities or trauma. This is particularly true for rings since hands are regularly subjected to considerable abuse. Blue Nile does not provide warranties for damage due to normal wear, product loss, loss of stones or theft. Damage or loss that results from failure to obtain repairs necessary to maintain the integrity of the product are also not covered.
Some examples of common jewellery issues that would not be considered manufacturing defects include:
Discoloration due to exposure to chemicals, make-up, swimming pools, hot tubs or bathing.
Prongs and precious metals, in general, wear over time and may require "building up" or restoration work as normal wear.
Bent, caught or worn out prongs allowing a stone to fall out or be lost due to normal wear or other damage.
Lost stone or a stone has fallen out due to chipping or breaking caused by normal wear or other damage.
Contact the Blue Nile team
For additional assistance you can connect with the Blue Nile customer care team at the following:
Diamond Questions: diamondexpert@bluenile.com
Jewellery Questions: jewelleryspecialist@bluenile.com
Policy Questions (Order Status & Merchandise Returns): service@bluenile.com
Live Chat available Monday to Friday, 9 am to Midnight ET and weekends from 11 am to Midnight ET.
In addition, you can also follow the brand on social media for latest offers and product updates.