Cat & the Fiddle Malaysia
Cat and the Fiddle is the first online specialist cheesecake store that began its journey in Singapore. The brand likes to keep things simple and focus on the essentials, like quality and choice. They offer premium cheesecakes in 15 original flavours specially created by Singapore's iconic dessert chef, Daniel Tay. Because the cakes are self-ordered online and self-collected, Cat and the Fiddle can pass the savings to customers and keep their prices as sweet as their cakes.
With their zany add-ons - stencils, greeting tags and the like - you can DIY your way to a fully personalized cheesecake and make your party cool and unique. On top of that, you only pay for what you need.
History of Cat & The Fiddle
The brains and creative spark behind Cat and the Fiddle is Chef Daniel Tay, one of the most well-known names in luxury desserts in Singapore. He founded the brand in Singapore in 2013 and branched out to Malaysia in 2016. Trained in the art of classical French pastry- and dessert-making, Chef Tay has worked with the legendary gourmet food retailer Fauchon of Paris. In Singapore, he was the Pastry Chef of the famed gastronomic French restaurant, Les Amis.
After nearly 20 years at the highest levels of his profession, Chef Tay founded the state-of-the-art food solutions company, Foodgnostic, to further his culinary ambitions. Out of this emerged Cat and the Fiddle, the online cheesecake specialist shop with its message of quality and affordability for all, and sustainability for the environment.
Products sold on Cat & The Fiddle Malaysia
Cheesecake
Cheesecake is an addiction that many can attest to. Whether you love this delicious dessert because it's sweet, filling, silky smooth, bursting with flavour, or any combination of the above, you are just one of many. Cat and the Fiddle takes the cheesecake addiction a step forward by recognising that everyone has a different preference when it comes to flavour without compromising on the main integrity of a cheesecake. The offer the best cheesecake flavours on their website that is guaranteed to curb any craving.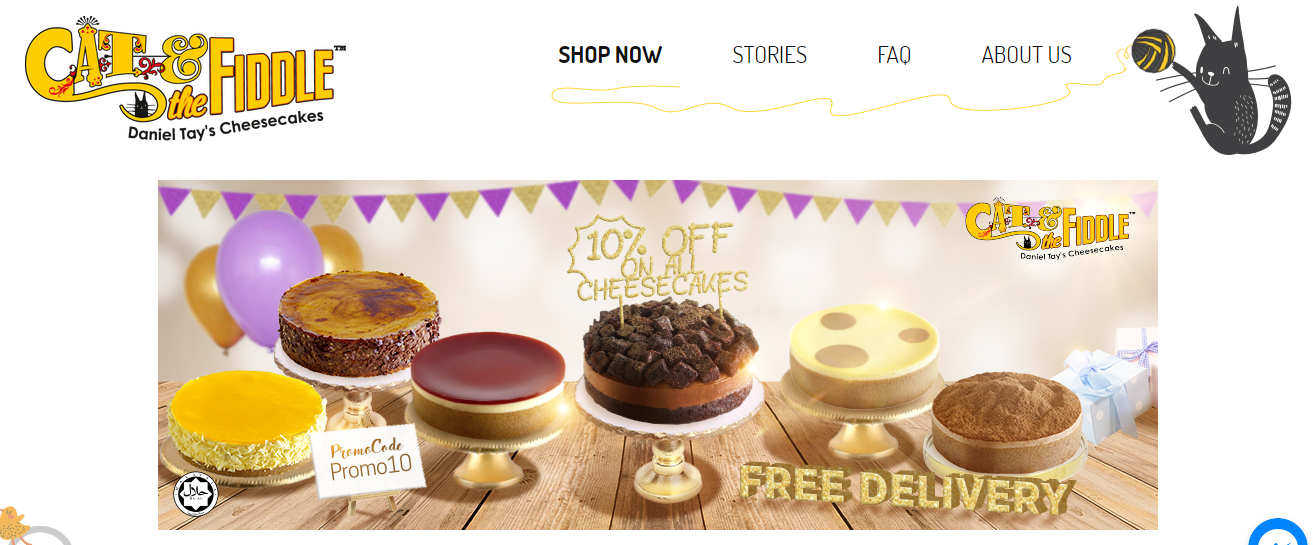 The Modern Duke's Pudding
A classic in taste and addiction, Cat and the Fiddle offer this exclusive flavour to you in a fully baked, classic cheesecake, and Oreo. If you're just introducing yourself to the wonderful world of Cat and the Fiddle cheesecake, this is definitely a great one to start out. It's a traditional flavour with the added quality taste that Chef Tay, gives to this option. Whether you've had Modern Duke's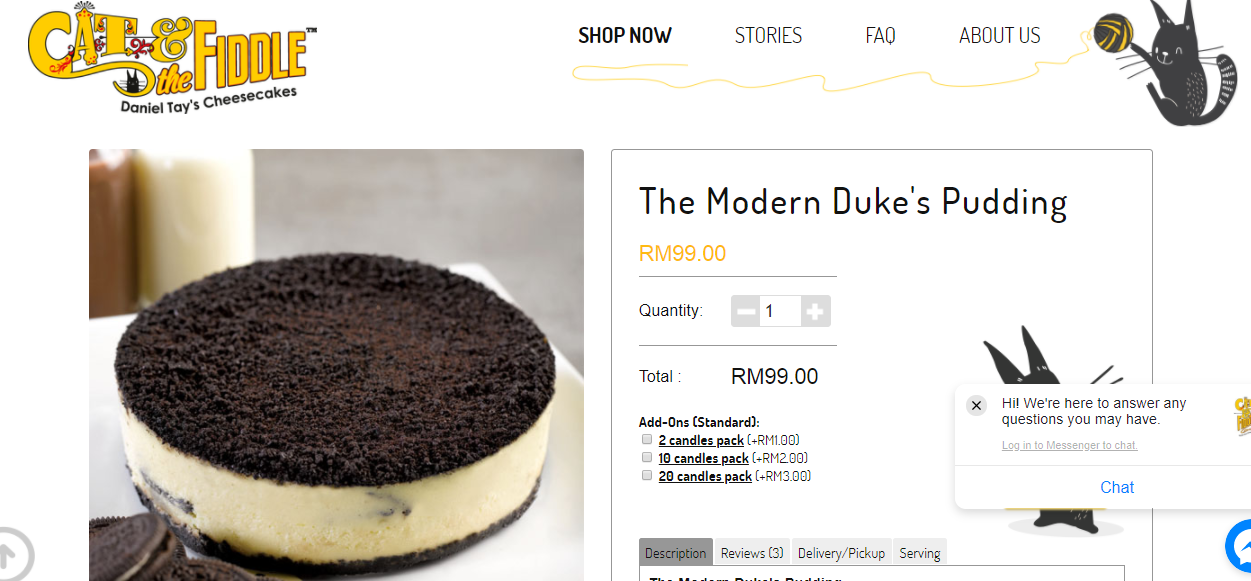 The Russian Whiskers
This Cat and the Fiddle cheesecake option is available to order in non-baked and mango to cater to everyone's taste buds. With the perfect contrast of richness and a sweet taste, this is something that anyone with a hankering for fruit is going to want to try. This is certainly a full cheesecake with a silky smooth creamy taste when enjoyed non-baked. If you haven't given this flavour a go in the past, you certainly are going to want to enjoy it soon. It's a delicious option that is certainly not to be missed. Perfect for the cheesecake enthusiast and anyone with a sweet tooth.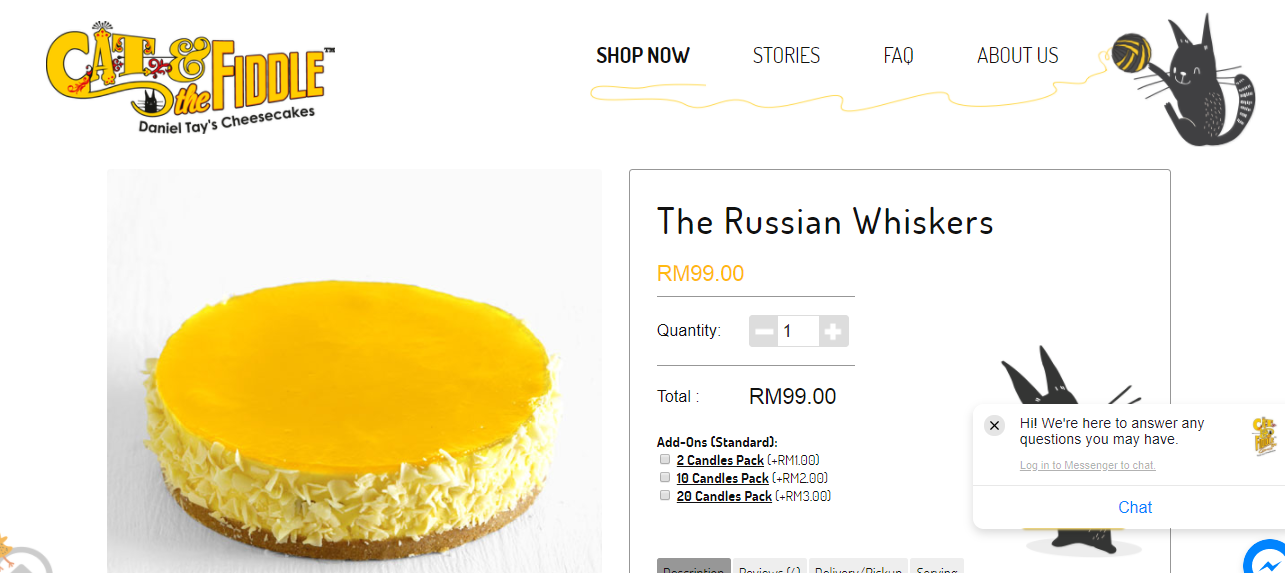 Over the Moon
This glorious cheesecake flavour is just 'other-worldly'. You have to try this unique flavour if you are interested in opening up your taste palette to new desserts. Offered fully-baked cake and in classic cheesecake, you'll love the rich and complete taste that will allow you to understand the versatility that cheesecake can possess when it's professionally prepared. If you want something that is all about a fresh flavour, we recommend this. And even if you aren't, we still recommend it. It's that good.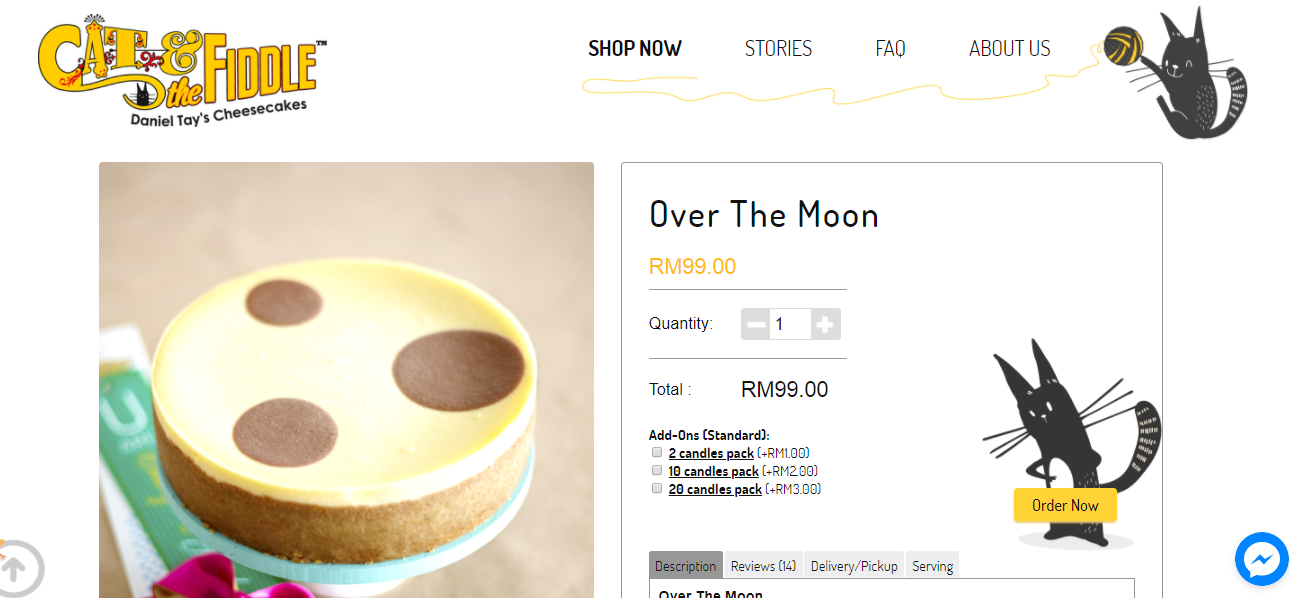 Queen of Hearts
This Cat and the Fiddle option is perfect for anyone who loves a good, old fashioned strawberry cheesecake. High on taste and with a fresh burst of berry, this is a decadent dessert that will compliment any dinner that you have while you're entertaining friends and family.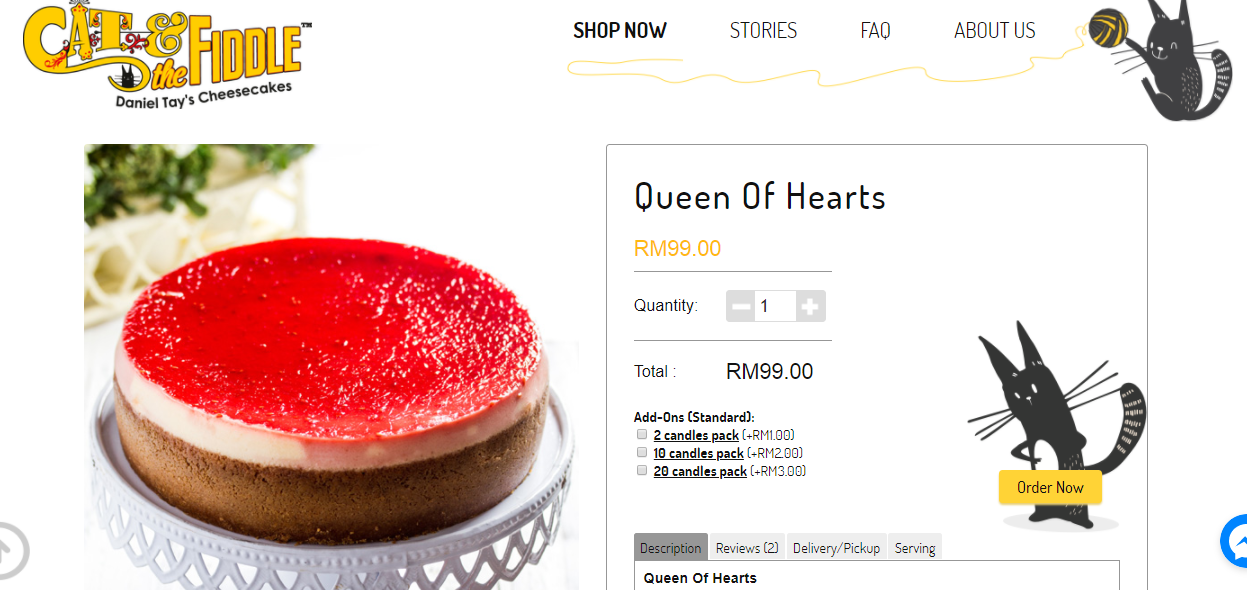 Frozen Cake
When a client gets this frozen cheesecake home and is looking to enjoy it for their meal, the cake will thaw, and it will be just as fresh as it was when it came from the oven, making it a delicious treat from the comfort of your own home.
Birthday cakes for girls and boys, and any special occasions
Cat and the Fiddle also offers speciality desserts to those looking for a special occasion - an office or birthday party, birthday cakes for girls, birthday cakes for boys, a fundraiser, etc. - or just the person who is looking for a special dessert after a trying day.
Along with the classics, we also bring you a preview of some of the Cat and the Fiddle collections available in Malaysia.
Cheesy Mix (Limited Edition)
This box of assorted cheesecake flavours is perfect when you can't decide on any particular flavour. There are 10 slices of cheesecake here and each flavour comes with two slices. It's the ultimate cheesecake smorgasbord with something for everyone.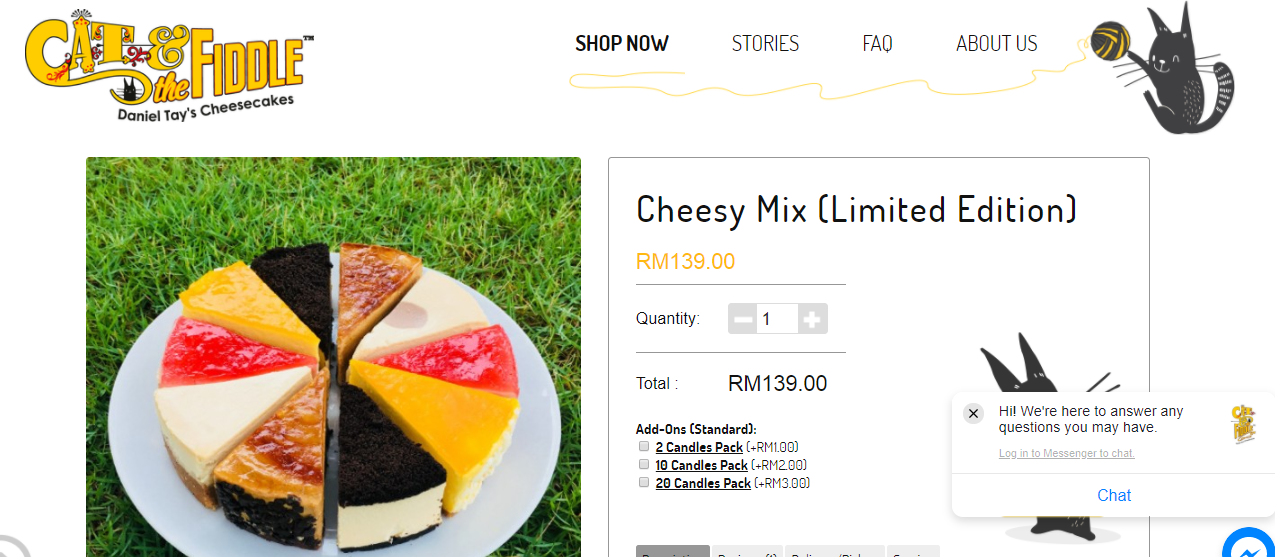 Milo Dinosaur/ Milo Cheese Cake
Before there were over-the-top milkshakes, there was the Milo Dinosaur (Iced Milo heaped with Milo powder). Infused with loads of that chocolatey malt goodness, this creamy cheesecake melts away in the mouth, leaving a lingering richness that will have you craving for more. In addition, Cat and the Fiddle also sends you a sachet of Milo powder that you can sprinkle over the cake for extra malt goodness. If you are still not convinced, check out the Cat and the Fiddle review written for this cake and it is sure to change your mind.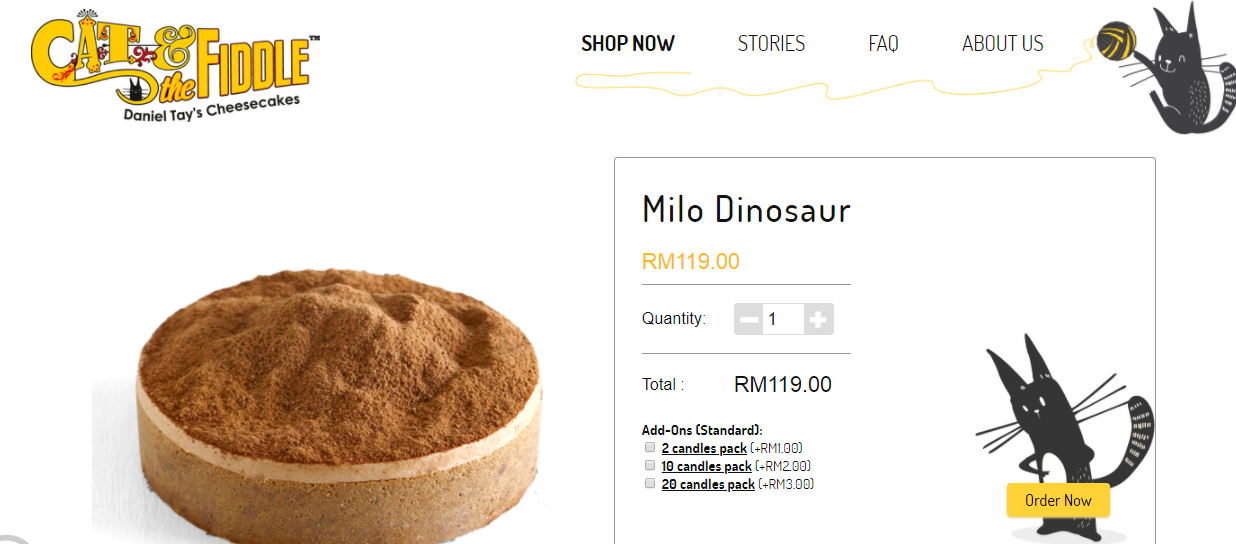 Paws of Fury
A creative reinterpretation of traditional yuan-yang (coffee and tea mix). This dazzling dual-layered cheesecake is 3 parts espresso and 7 parts Hong Kong-style milk tea, perfect for the coffee and dessert enthusiast.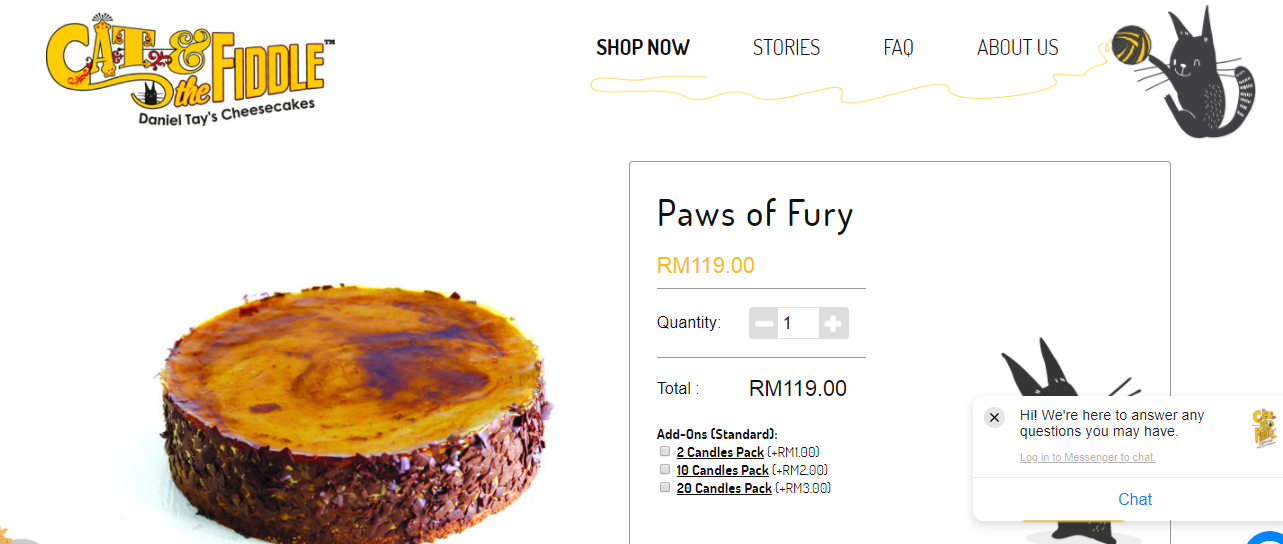 Naughty and Nice (Chocolate Cheesecake)
This indulgent two-in-one masterpiece marries a decadent Devil's chocolate cake with the most luscious cream cheese resulting in a devilishly sinful chocolate cheesecake layered with rich premium couverture chocolate mousse, topped off with pillows of fluffy sponge and a shower of sparkling gold powder.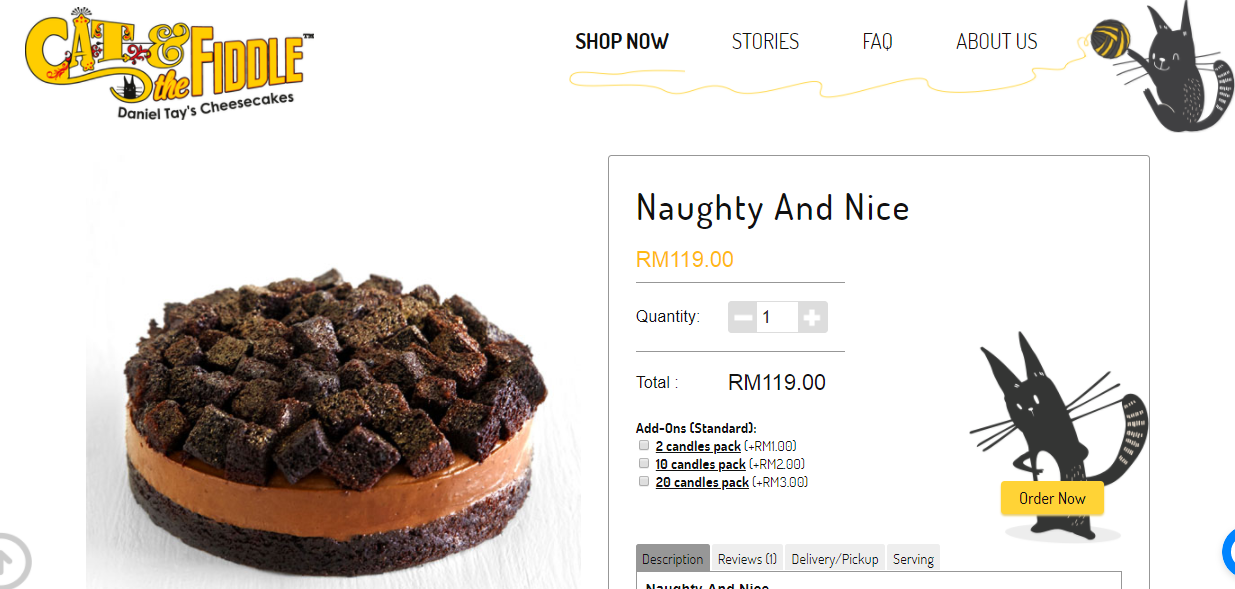 How to order on Cat and the Fiddle Malaysia
Indulging in your favourite dessert has never been easier. Simply follow the steps outlined below to order your favourite cheesecake and have it delivered fresh at your doorstep.
Step 1: Choose the flavour you like from the homepage and click on it to read additional information about the flavour profile.

Step 2: You can read the description as well as a Cat and the Fiddle review to know how your peers liked the flavour. If you want any add-ons such as candles or other details, you can select from the options given.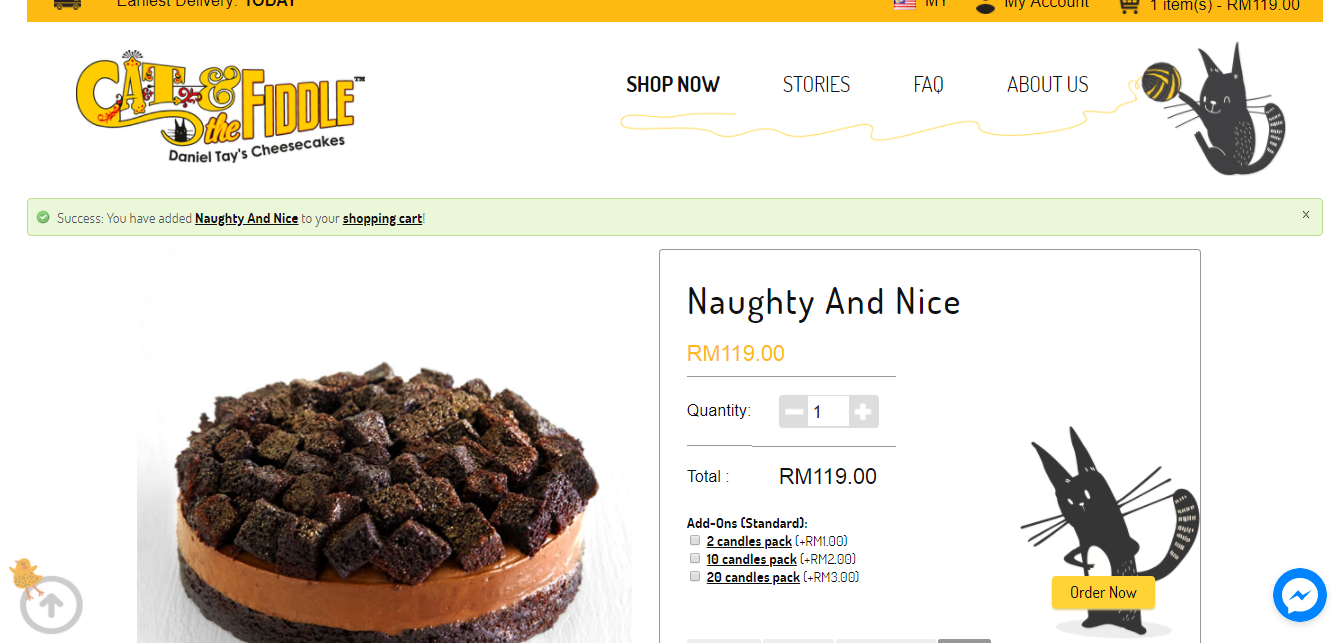 Step 3: Click on 'Order Now' to place your order in the cart. If you would like to order more cakes, simply add them to cart as well. When done, click on the cart icon at the top-right corner and click on 'Checkout'.
Step 4: Here you will be able to see your order summary and total. In case you have a Cat and the Fiddle coupon code or Cat and the Fiddle promo code, be sure to enter it in the box given. When done. Click on 'Checkout Now'.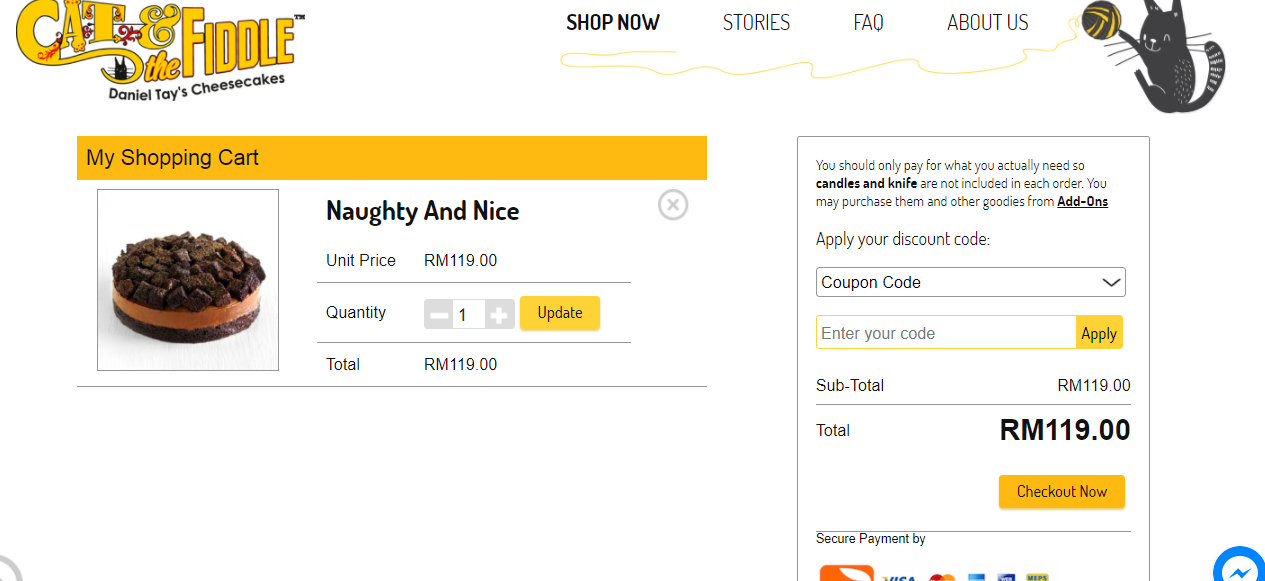 Step 5: Enter your account, billing and delivery details followed by your delivery and payment. Once your payment is processed, Cat and the Fiddle will confirm your order and send you an email for the same.
Payment options on Cat and the Fiddle
· Credit cards
· Debit cards
· Online transfer
· Cash on delivery
Cat and the Fiddle promotion offers and deals
Adding a touch of sweetness to your favourite cheesecake is the popular and routinely occurring Cat and the Fiddle promotion that offers customers several discounts. A Cat and the Fiddle coupon or promo code can offer you several benefits such as a discount, faster delivery and others. However, be sure to add in your Cat and the Fiddle discount code while checking out as it cannot be added to your order later.
Cat and the Fiddle coupon codes, deals and cashback on ShopBack Malaysia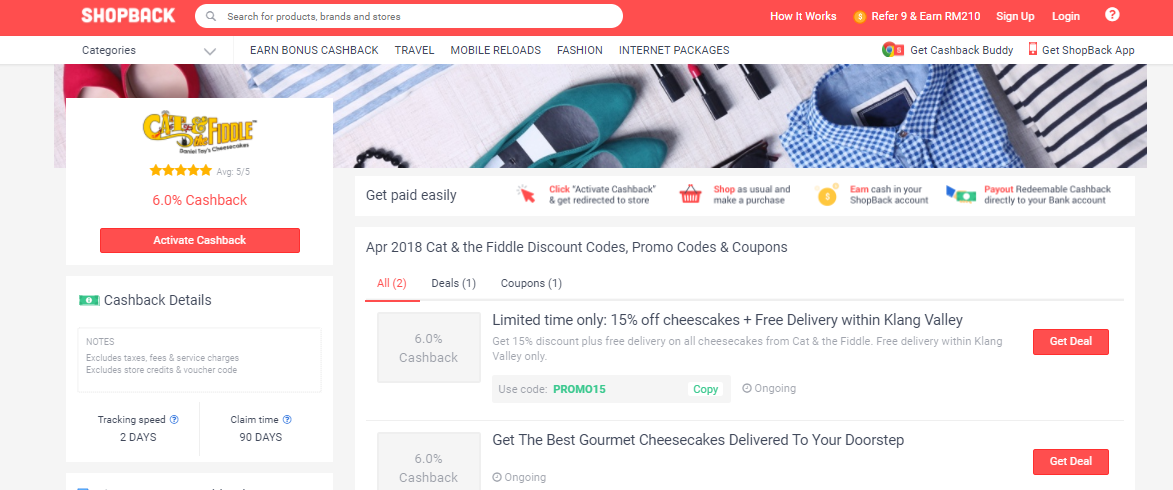 Customers ordering their favourite dessert from Cat and the Fiddle in Malaysia can enjoy several additional discounts and benefits when they buy via ShopBack. Here, one can not only view any available Cat and the Fiddle discount code, promo code or voucher code, but also get additional cashback with every purchase through ShopBack. Some of offers have been listed below:
| Offer | ShopBack Deal | Terms and Conditions |
| --- | --- | --- |
| Discount and Free Delivery | Up to 6% cashback | Get 15% discount plus free delivery on all cheesecakes from Cat and the Fiddle. Free delivery within Klang Valley only. Use code: PROMO15 |
| Gourmet cheesecakes | Up to 6% cashback | Enjoy cashback as you get the best gourmet cheesecakes delivered to your doorstep |
How to order on Cat and the Fiddle using ShopBack
ShopBack offers up to 6% cashback if you order from Cat and the Fiddle in Malaysia. Here are the steps you need to follow to earn cashback from ShopBack:
Step 1: Visit the ShopBack website and click on the Cat and the Fiddle store at the bottom of the homepage. You can also use the search box to find the link to the store.
Step 2: Click on "Activate Cashback" button on the top left corner of the page.
Step 3: Look for the latest Cat and the Fiddle promo code in the Cat and the Fiddle coupon code, discount code and promo code section.
Step 4: You will be redirected to the Cat and the Fiddle website to browse and select the items.
Step 5: When you place the order, you will be eligible to earn cashback from ShopBack. The cashback rates differ based on product categories and based on whether you are a new or an existing customer.
Order delivery and collection on Cat and the Fiddle Malaysia
Customers may order and collect their cheesecake on the same day if the order is made before 4pm on the day itself and collect it latest by 8pm. Note that currently, Cat and the Fiddle delivers to all areas in Klang Valley and Selangor only.
Delivery Charges are subject to preferred timing of the delivery:
Regular Delivery (per location): RM15.00 (Anytime in between selected time zone)
Delivery occurs 7 days a week Monday to Sunday in the following slots:
10:00am – 13:00pm
13:00pm – 16:00pm
16:00pm – 19:00pm
Order cancellation and refunds on Cat and the Fiddle Malaysia
Orders can be cancelled or amended at least 24 hours ahead of the scheduled Collection or Delivery date by calling the Customer Service team at 6018-872 1818. However the value of the order can only be credited as store credit to the purchaser's Cat and the Fiddle Account and not as a direct refund. The store credit at Cat and the Fiddle Account can be used for next purchase.
Note that no refund or exchange will be given once the product has been delivered or collected. Make sure to check the cheesecake upon collection or delivery as once the cakes have been delivered/collected Cat and the Fiddle won't be able to take responsibility for any damage to the cake.
If the cheesecakes are indeed damaged at the point of delivery (the driver will usually be able to make an assessment), please inform customer care and they will make alternative arrangements for you.
Connect with the Cat and the Fiddle team
For any assistance you can also reach out to the customer service team available at 9am – 9pm from Monday to Saturday and 9am - 6pm Sunday and Public Holiday for phone call and email enquirers.
Call at 6018-872 1818.
Email at customer@catandthefiddle.com.my
You can also connect with the brand via social media:
Similar services in Malaysia include, Honestbee and Foodpanda.