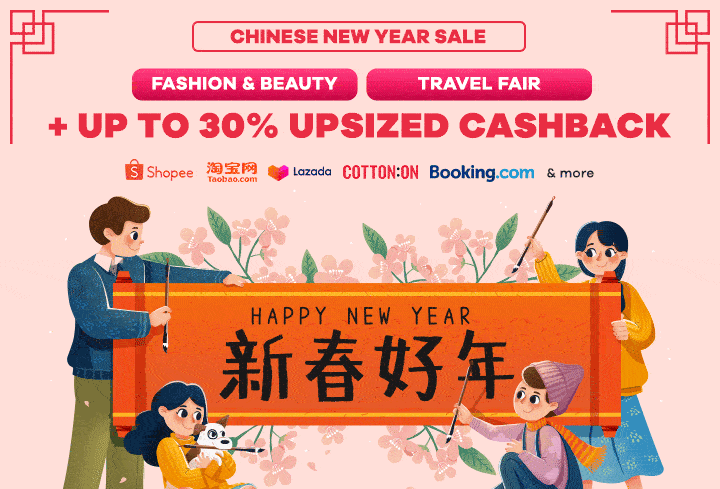 Terms & Conditions
Valid for ShopBack customers (new or existing users) that have not made any travel purchase on ShopBack (from any travel merchant listed on this page).
Extra 10% Bonus Cashback is capped at RM30.
This campaign runs from 3 - 31 January 2020.
Valid for one-time bonus cashback entitlement per user.
Users must click through deals listed on this campaign page to be entitled for an extra 10% Bonus Cashback.
Bonus Cashback will be credited by 31 March 2020.
Orders that are 1) not made via ShopBack, or 2) suspected to have fraudulent intent (eg. creating multiple ShopBack accounts), will not qualify for the Bonus Cashback.
Any order returns, refunds, cancellations and failed payments will be disqualified from this promotion.
ShopBack reserves the right to modify, amend or discontinue any part(s) of this promotion without prior notice.

✨ Marketplaces & Lifestyle ✨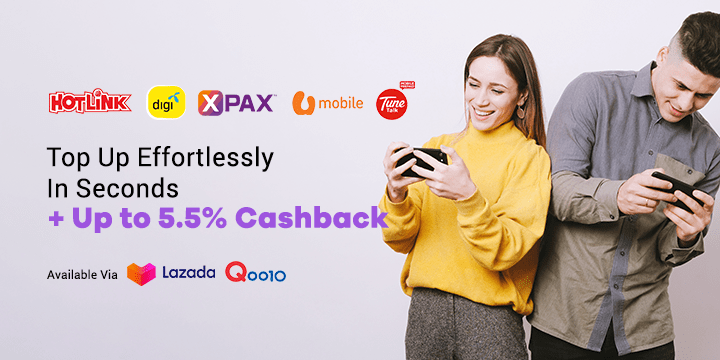 ⚡️ Internet Services & Electronics⚡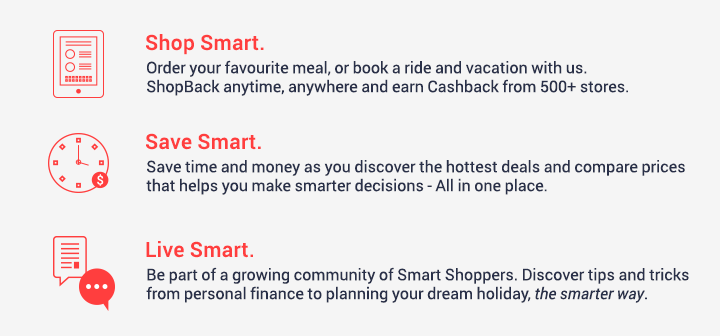 Grab all essentials to welcome your guests
The annual huge festive holidays are back! Chinese New Year is upon us as red decor streamed down the streets. Clean up and spruce up your living quarters as you get ready to welcome guests for the new year. The very first step is to clear out the old, unwanted items to make space for a revamp. Recount old memories of bringing out bags and bags of trash, and having to hand-wipe all the dusts from open-air shelves around the house - it's no easy feat! If you are running out of time, check out ServisHero for a helping pair of hands. Their cleaning services is bound to weed out all the cleaning required, and they even do Aircon servicing - important for a responsible host when it comes to keeping guests cool in this hot weather.
Whether you're looking for pre-made red lanterns, new woven baskets to line up your Mandarin oranges or just red packets, find them online at various marketplaces! Not only can you get several different decor items all at once, you can also shop for other Chinese New Year-related products, like pineapple tarts and canned goods for the reunion dinner. Check out Shopee, Lazada, Qoo10 for more deals and promotions this season.
If you're looking for a household glow-up and hoped to upgrade household appliances by the time Lunar New Year rolled about, then head towards Taobao, Tmall, and AliExpress for some great discounts on unique furniture and decor! As they say, 'out with the old and in with the new', there is no better time to get started on a household revamp than Chinese New Year. Whether you're switching up to a new layout, cleaning out old stash and looking for more organizing shelves and drawers, these marketplace just might have the right styles for you.
In fact, if you have downloaded our web extension, getting cashback on Taobao, Tmall and AliExpress is now made easier as a cashback reminder will surface whenever you serve these sites. Don't miss out on additional savings with our ShopBack Cashback Buddy extensions!
Dress to impress this Chinese New Year
It's always nice to be decked out in amazing new clothing and earn compliments from your relatives when you visit them! Chinese New Year is a perfect time to indulge in that outfit you've been eyeing for the longest time, or experiment with a brand new style — at a deal! For the ladies, why not try out a cheongsam with a lively modern twist from ZALORA? Add on to your look with ASOS's and Love, Bonito's wide range of accessories, from shoes, bags, and the works! For the ladies who are into a soft, feminine styles with florals and laces, Sally Fashion got your back with their Floral and Pink signature collections. After all, who says you can only wear red this season? Go vibrant with different colors and create your own looks and styles this Chinese New Year.
Not forgetting the guys, of course, treat yourself with a great shirt and that amazing Adidas kicks you've always loved. Glamour wear aside, opt for comfort in back-to-basic outfits from Cotton On. This year, make it a point to step out of the limited box and try out new brands. Be sure to roam the best deals on Charles & Keith and Christyng for swanky new accessories to complete your outfits. New Year, new goals - and putting your best foot forth with sparkling new shoes and a nifty handbag to store your ang pow!
Glamour wear aside, opt for comfort in back-to-basic outfits from Cotton On and Uniqlo. Or go out in new sportswear from Bonds, Nike, and Under Armour. These days, sportswear have been increasingly trendy with both men and women for their comfortable and fitting styles. Not only are these active wear perfect for gym and outdoor activities, they are great alternative if you have a busy day of gatherings. Say yes to sweat-proof outfits as you travel under the sweltering sun from your aunt's place to another uncle's house, staying refreshed throughout the day in humid Malaysia weather.
Glow up with radiant skin this holidays
For all beauty enthusiasts, a makeup look completes the whole outfit. In line with this year's Chinese New Year, why not try a bold red lip for your make up? Red lips might sound intimidating at first glance, or you might have had a bad experience prior, but the right shade of red would help bring out a flattering complexion. There are two things to look out for before buying that first red lip from Sephora - understanding the shade of your skin, and the undertone of your skin. Do you have a warm, neutral or cool undertone? Fair, medium or tanned skin? With the knowledge of both, it becomes easier to weed out the unflattering reds that could only make you look dull, or put years onto your age.
A bold red lip comes in all sorts of shades and tones as well. Reds with an orange undertone compliment someone with a warmer undertone on medium to tan skin. Darker reds with a plum or blue tone tend to work best for dark skin with a cool undertone. Sephora brings in great red lippies with matte to gloss finish options with brands like Fenty by Rihanna, Marc Jacobs, and Kat Von D.
Besides a good lip, having a soft glitter eyeshadow would no doubt suit the festive mood of the holidays. For some subtle bling, try gold and nude metallics - both of which could double up into a smokey eye for evening parties with a heavier hand. For a soft look, try coral eyeshadows, a popular color from Korean brands that could be found on Althea and Hermo. Ladies who like pink can also look into Japanese brands like Canmake and Kate for shimmery pink eyeshadow options.
Last but not least, we cannot forget the need for skincare! To have a glowy skin, having a healthy complexion is equally, if not more, important than a good foundation. Grab your needed skincare items from Hawooo.com, featuring Asian brands that could be better suited for our Asian skin. Looking flawless for the holidays can be a difficult task, but it's no mission impossible!
Stuff yourself with delicious goodies
The best part of every CNY is the yummy snacks, as well as the full-course meal to feast on. For those who are ready to roll your sleeves and prep a meal for your family, grab fresh ingredients from Happyfresh! They deliver fresh produce right to your doorstep, saving you the hassle of having to carry piles and piles of groceries from the mart all the way home on your own. With many mouths to feed, these two online marts also include options for alcohol, hampers and more. Whether you're preparing for a party or giving your loved ones or extended families a little something for Chinese New Year, you might just find something suitable.
If whipping up a meal is too much on your plate, or you are simply looking for more dishes to accommodate your established guests, how about ordering some takeaway? Food delivery has made things more convenient for you as you can order a la carte dishes from your favourite restaurant chains near your house. Instead of having to leave the house, you can continue to be the gracious host as Foodpanda deliver the items to your hands.
Heading out to restaurants of your choice is also a popular alternative. More and more restaurants these days are pushing out attractive deals for Chinese New Year, including full-course meals at discounted rates. Besides, you also get to choose among a wide variety of cuisines. This CNY, look forward to changing up your palette with Japanese or Korean hot pot, for example. Fave also offers discounts on buffets and restaurants, widening your choices as the customer.
Travel happy with a cheap getaway!
Looking to getaway from the hassle and fuss of family drama? We got you covered on this point as well! Take a break this year with a short getaway from Malaysia with a quick flight out, and treat you and your loved ones to a relaxing trip. In February, Winter still abounds. With Spring just around the corner, expect cooling weather that's not bone-chilling cold, perfect to try out that new coat from Uniqlo and stay away from our usual humid weather.
Booking.com, Expedia, Agoda allow you to grab both flight tickets and living accommodations all at one go, convenient for the seasoned traveler who has somewhat of an itinerary in mind. If this isn't quite your preference or you have a cheaper plane ticket from Malaysia Airlines, try Hotels.com for living spaces rental. With different ratings, reviews and budget costs, you can just find your dream vacation spot. Find out more about resorts if soaking up the sun and Vitamin D is something up your alley. On the other hand, for those who loved to find out more about local heritage, there's tons of great options available nearby. Countries like Vietnam and Thailand are filled with local history, culture and historical places to satisfy your adventurous curiosity.
Looking for things to do before you touchdown? Klook is your site to go as you can find tours and activities available at your preferred destination. For those who liked having an organized schedule, this would no doubt be a helpful way to get started on filling in the blanks of your trips.
If traveling far is not your cup of tea, or you'd like to head out to somewhere nearer within Malaysia, how about a train or bus ride via BusOnlineTicket? Head to another town for a change in scenery without the troubles of a plane ride. In the end, having a getaway isn't all about going to popular places, but taking a breather from our busy schedules to spend time with our loved ones - or ourselves - to heal our minds. The best part? ShopBack's special CNY discounts and cashback ensures an affordable Chinese New Year holiday for you!
There really isn't anything better than starting the Lunar New Year right with a well-deserved break!
Attention to great detail brings forth a perfect CNY experience
The pathway to having a memorable reunion gathering is to have an eye for details. From the tasteful and unique decor, well-prepared snacks to keep the kids happy, there's also entertainment to prepare. One of the easiest way to keep guests' attention is to have a movie marathon. Set up your TV and Dimsum streaming, alternating between variety shows, classic CNY movies and cartoons for the children. It's also a good time to upgrade your TV set if it has been a while with electronic options from the likes of Senheng.
Have a plan B for the kids if the adults are occupying the TV screens. Play some children's medleys or cartoons on your HP laptop, separating the entertainment choices for different groups of people. After the party's done and photos taken, consider putting together a special photobook for your family's best moments this holidays with Photobook Worldwide. Make prints, coasters and more to commemorate the event - and these make for a good topic starter in the years to come!
Happy CNY 2020 from ShopBack to you!
For more promos and voucher code deals, check out ShopBack to get cashback when you shop. Alternatively, just bookmark this page and return whenever you need something. Remember, the cashback is on top of the discounts available from our partnering merchants. As they say, all the little things add up to more - and that includes your savings. Web, mobile and extensions, ShopBack is your buddy to a smarter way of living. Have a prosperous year ahead!