Coursera Sale & Vouchers in Malaysia
Take the world's best courses, online
Top Specializations on Deep Learning, Digital Marketing, Financial Reporting & more
Get Up to 30% Cashback.
ShopBack must be the last link you clicked in order to get Cashback. If other website links are clicked after clicking through ShopBack, Cashback will not be tracked (E.g. coupon and deal websites)

If for some reason your payment made on merchant page has failed, do click through ShopBack again and re-do your purchases to ensure tracking is still active

Return to ShopBack and click through to the merchant every time you are making a new transaction.

If you are making 3 separate transactions on the merchant, you should click through ShopBack 3 times, each time before making a new purchase.

For more details: www.shopback.my/terms-and-conditions
More about Coursera
Coursera - Online Courses & Credentials by Top Educators
Coursera provides universal access to the world's best education, partnering with top universities and organizations to offer courses online. The organisation envisions a world where anyone, anywhere can transform their life by accessing the world's best learning experience.
Real career transformation sometimes requires a university-recognized degree. The founders believe that transformation should be accessible to everyone, so they have worked with university partners to offer flexible, affordable online degree programs in business, computer science, and data science. There are a lot of Coursera free courses, even for advanced courses such as, Coursera python and Coursera data science that come with a Coursera certificate.
On Coursera, you have access to:
● Mobile learning: through the Apps for iOS and Android.
● Academic and technical support: from the dedicated community of Course Mentors and their knowledgeable Learner Support team.
● Sharable Course and Specialization Certificates: that you can add to your resume and LinkedIn Profile.
● An inclusive experience: designed for a diverse global audience, including video subtitles in over 30 languages.
Coursera was founded in 2012 by two Stanford Computer Science professors who wanted to share their knowledge and skills with the world. Professors Daphne Koller and Andrew Ng put their courses online for anyone to take – and taught more learners in a few months than they could have in an entire lifetime in the classroom.
Since then, Coursera has built a platform where anyone, anywhere can learn and earn credentials from the world's top universities and education providers. Currently, they over 25 million learners, 149 university partners, 2,000+ courses and 180+ specializations.
Courses offered on Coursera
Every course on Coursera is taught by top instructors from the world's best universities and educational institutions. Coursera courses include recorded video lectures, auto-graded and peer-reviewed assignments, and community discussion forums. When you complete a course, you'll receive a shareable electronic Course Certificate.
If you want to master a specific career skill, consider joining a Specialization such as Coursera machine learning or Coursera coding. You'll complete a series of rigorous courses, tackle hands-on projects based on real business challenges, and earn a Specialization Certificate to share with your professional network and potential employers. Here we bring you a list of courses offered by Coursera:
| Arts and Humanities | Business | Computer Science | Data Science |
| --- | --- | --- | --- |
| History | Leadership and Management | Software Development | Data Analysis |
| Music and Art | Finance | Mobile and Web Development | Machine Learning |
| Philosophy | Marketing | Algorithms | Probability and Statistics |
| | Entrepreneurship | Computer Security and Networks | |
| | Business Essentials | Design and Product | |
| | Business Strategy | | |
| Information Technology | Life Sciences | Physical Science and Engineering | Social Sciences |
| --- | --- | --- | --- |
| Cloud Computing | Animals and Veterinary Science | Electrical Engineering | Economics |
| Security | Bioinformatics | Mechanical Engineering | Education |
| Data Management | Biology | Chemistry | Governance and Society |
| Networking | Medicine and Healthcare | Environmental Science and Sustainability | Law |
| Support and Operations | Nutrition | Physics and Astronomy | Psychology |
| | Clinical Science | Research Methods | |
| Math and Logic | Language Learning | Personal Development |
| --- | --- | --- |
| | Learning English | |
| | Other Languages | |
How to learn a course on Coursera
To start taking classes on Coursera, you'll need to set up an account, using the steps given below:
Step 1: Go to coursera.org.
Step 2: At the top of the page, click Sign up.
Step 3: Choose whether you want to provide a name, email, and password or link your Coursera account to your Facebook profile. If you choose to create a new account wihout Facebook, a name, email, and password with 6 characters or longer is needed
Enroll in a Coursera free or paid course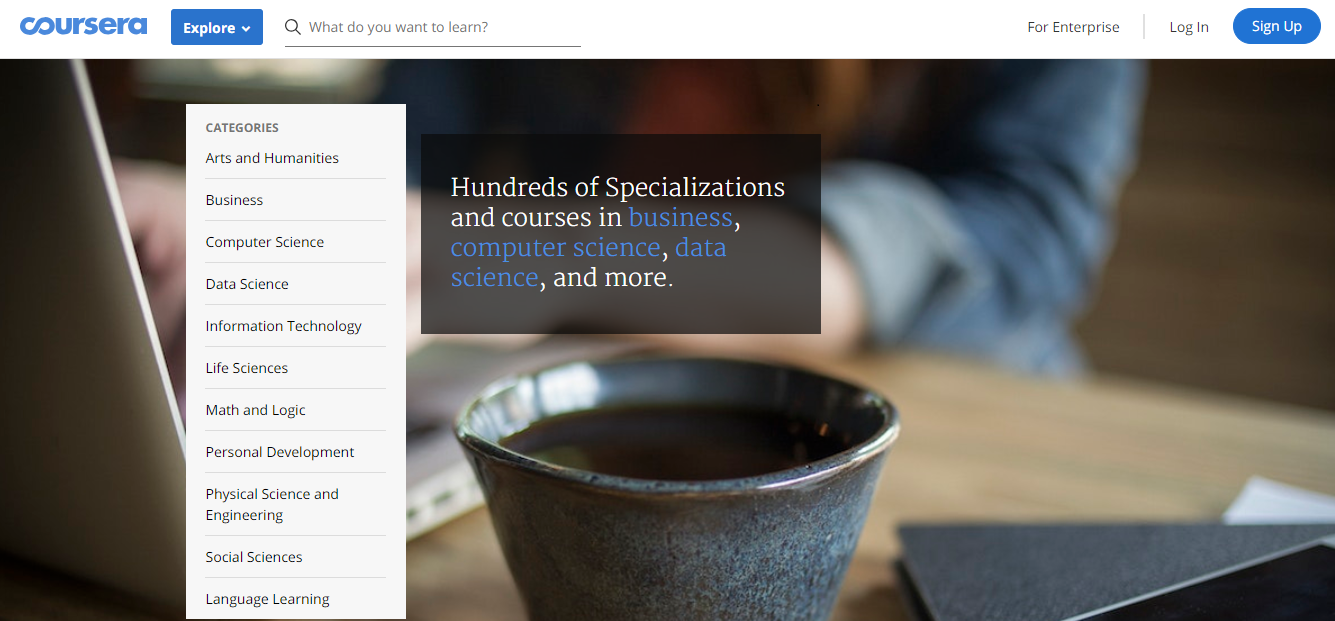 To take a course on Coursera, you'll need to enroll. Some users might see an option to subscribe to the entirecatalogue. If you subscribe to the entire Coursera deep learning catalogue, you'll still need to enroll in a course to see course materials, but you won't need to pay for the course, since it is included in your subscription.
If a course or Specialization is open for enrollment, the next session dates will be listed on the course or Specialization home page. Most courses have sessions that start every few weeks.
To enroll in a course:
Step 1: Open the course information page by clicking on the course title from the Coursera catalogue and click "Enroll". You can also read through the Coursera review section to learn more about the course.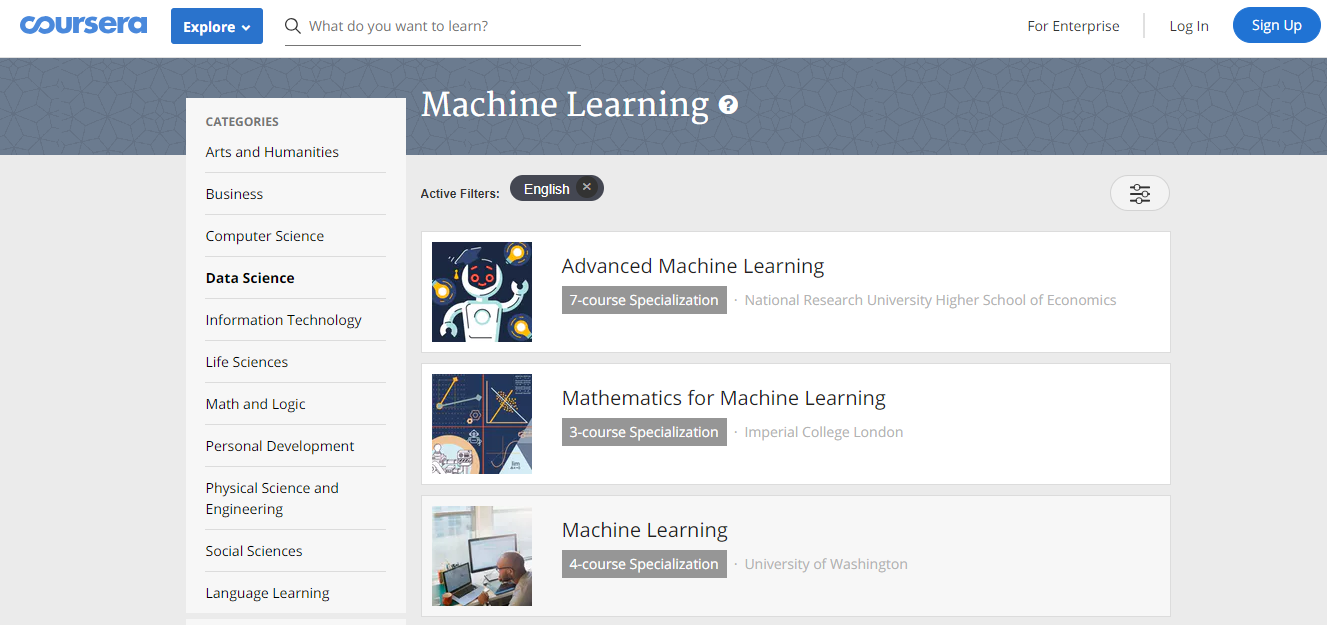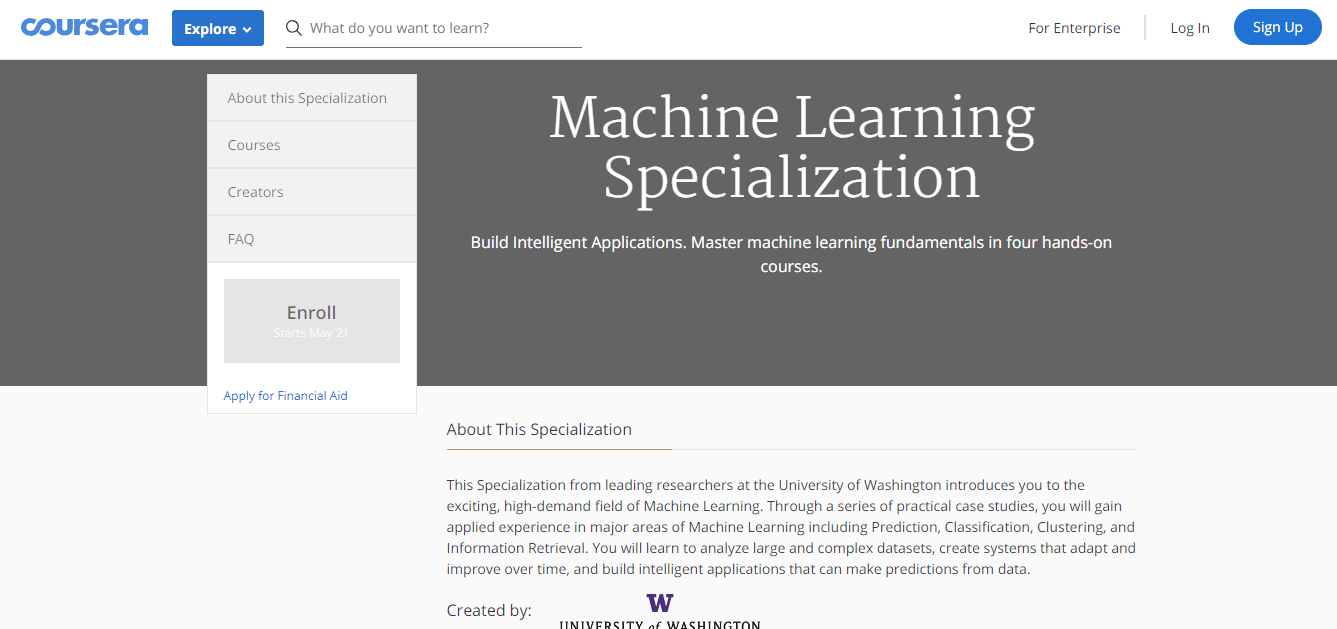 Step 2: Follow the instructions to enroll in the course. You may have the option for a free trial. If you want to audit the course instead, look for the Audit option on the course page. Not all courses include this option.
Step 3: If you enrolled in the current session, you'll be able to start right away. However, you may need to wait until the next session to review or submit peer reviewed assignments.
You can see all the courses you're enrolled in from your Coursera home page. To see all your course enrollments:
Step 1: Open coursera.org. Make sure you're logged in.
Step 2: On the left sidebar, click Enrollments.
Step 3: Find the "My Courses" section to see courses you're enrolled in.
If you enroll in a paid option for any course in a Specialization, you'll see all courses in the Specialization on your Coursera home page, even if you haven't enrolled in or paid for them.
Enroll in a single course in a Specialization
Some Coursera courses are part of Specializations, a series of related courses designed to help you master a specific topic. You can take individual courses in a Specialization without having to complete the entire Specialization. You will get a Course Certificate for every individual course you complete, whether or not you finish the rest of the Specialization.
If the Coursera pricing allows you to pay individually, you can pay for each course you want to take without paying for the entire Specialization. If the Specialization requires a subscription, you can subscribe to the Specialization, take as many courses as you want in that Specialization, then cancel your subscription. You will still earn Course Certificates for the individual courses you finish.
Re-take a course
If you want to take a course again, you can retake quizzes and exams and re-do assignments. Only your most recent grade will be counted. You can't delete your coursework or reset your progress in a course you've already started.
To get a Course Certificate for a course, you will need to pay a fee. For some courses, paying the fee also gives you access to other course features, like graded assignments.
Some courses on Coursera are offered for a one-time payment that lasts for 180 days. You can see how much a course costs on the course home page. Payments in some areas may include a sales tax. Sales tax will be listed on your checkout page.
Other courses are part of Specializations, which means they are available through subscription payments. When you subscribe to courses in a Specialization, you pay a fee every month which gives you access to all courses in that Specialization.
Subscriptions
Some users might see an option to subscribe to the entire Coursera catalogue. If you subscribe to the entire catalogue, you'll be charged every month until you cancel your subscription. Subscriptions to the entire catalogue give you paid access to any course you enroll in as long as your subscription is active.
Accepted payment methods
Credit cards: You can make payments on Coursera using the following credit cards:
· Visa
· MasterCard
· Discover
· JCB
· American Express (only for courses priced in $USD)
You can also use a prepaid card from one of these card brands.
Subscription payments: You can't use a debit card or a pre-paid card to pay for a Coursera subscription.
Debit cards: You can make payments on Coursera using Visa or Mastercard debit cards.
Save more with Coursera vouchers and Coursera sales
In case you have received Coursera discount coupon or Coursera promo code during a Coursera promotion, they may be automatically applied to your next course purchase or you can key in the code during checkout to enjoy your Coursera discount.
To encourage learning for everyone, Coursera offers numerous discount offers and deals. These can be found on the homepage or even in your inbox when you subscribe to their newsletter.
Enjoy added cashback on Coursera deals with ShopBack Malaysia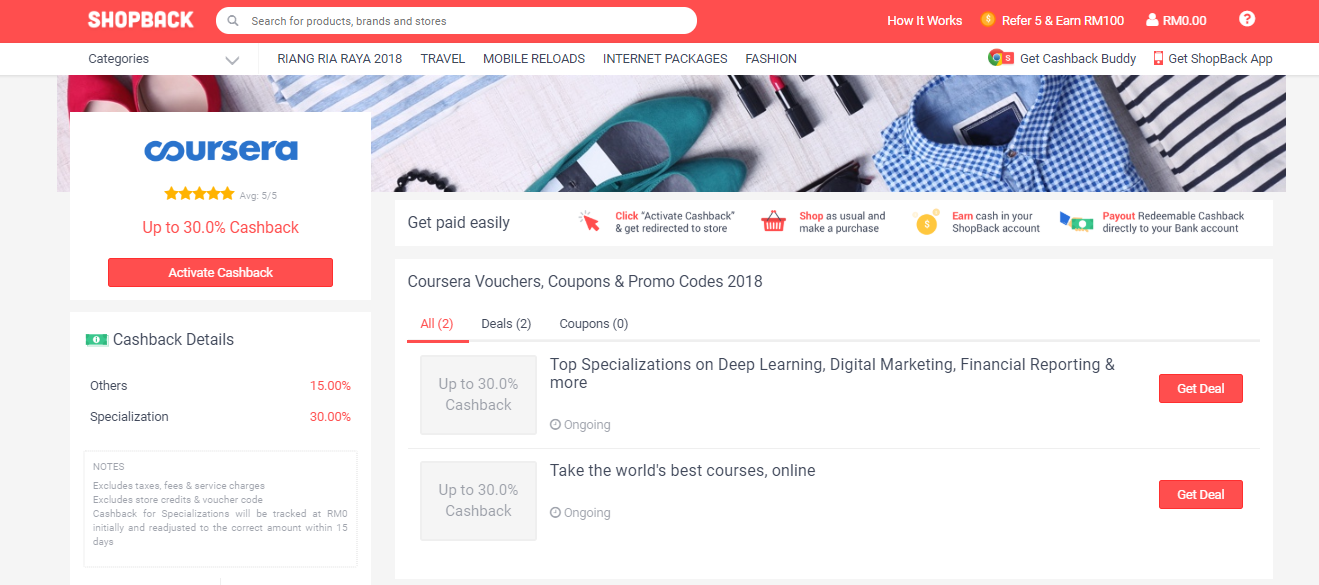 You can now build your resume and learn additional courses while also earning cashback for each transaction. ShopBack gives you access to the best ongoing Coursera coupon codes and Coursera promo codes while also offering you cashback for every deal redeemed via ShopBack. Current deals on ShopBack include:
| Offer | Deal | Terms and Conditions |
| --- | --- | --- |
| Top Specializations | Up to 30.0% cashback | Top Specializations on Deep Learning, Digital Marketing, Financial Reporting & more |
| Online courses | Up to 30.0% cashback | Take the world's best courses, online |
How to purchase courses on Coursera using ShopBack
ShopBack offers up to 30.0% cashback if you purchase courses using Coursera. Here are the steps you need to follow to earn cashback from ShopBack:
Step 1: Visit the ShopBack website and click on the Coursera store at the bottom of the homepage. You can also use the search box to find the link to the link to the store.
Step 2: Click on "Activate Cashback" button on the top left corner of the page.
Step 3: If you are interested in finding an attractive Coursera coupon code or Coursera voucher code, check out the Coursera discount code, promo codes and vouchers section.
Step 4: You will be redirected to the website to browse and purchase your course.
Step 5: When you confirm your booking, you will be eligible to earn Coursera cashback from ShopBack.
Policies for cancellation, refunds and course completion
Request a refund for a course payment
If you paid for an individual course, you can request a refund within 2 weeks of your payment. You can't get a refund if you've already earned a Course Certificate or if 2 weeks have already passed. If you subscribed to a Course or a Specialization, your subscription payments are not refundable, but you can cancel the subscription to end future payments.
To request a refund for a course on Coursera:
● Using Coursera on a computer, open your My Purchases page.
● Find the course you want a refund for.
● Under the "Refund Deadline" column, click Get Refund. If you don't see this option, the refund deadline has passed.
Note that you can't request a refund using the mobile app. If you don't have access to a computer and need to request a refund for a purchase made in the mobile app, contact Coursera.
When you request a refund:
● You'll get a confirmation email when Coursera gets your refund request.
● You'll be unenrolled from the course. If you'd like to continue in the free version of the course, you'll need to re-enroll.
● It can take up to 7 days for funds to return to your account after a requested refund. If it has been longer than 7 days, contact them about the problem.
Refund policies
If you decide not to complete a course or Specialization that you've paid for, Coursera may be able to refund your payment depending on the refund policies.
Refunds after free trials
If you start a free trial, the free trial begins before you are first charged, so there are no payments to be refunded. You can't get a refund for any payments made after your free trial ends.
Course refund policies
In most cases, if you pay for a Course Certificate, you can request a refund within 2 weeks (14 days) after your payment. If you pay for a Course Certificate when pre-enrolling for a course that isn't available yet, your two-week refund period begins on the start date of the first session of the course.
Once you have earned your Course Certificate, you are no longer eligible for a refund, even if you earn your Certificate within the two-week refund period.
Specialization refund policies
If you pay by course for a Specialization, the refund policies for course payments apply to each course payment you make. If you pre-pay for a Specialization, you can request a full refund up to two weeks after your payment date.
If you pre-enroll and pay before the first session of the first course in the Specialization begins, you can request a refund up to two weeks after the listed start date of the first session of the first course.
You cannot get a refund for a Specialization prepayment if you've already earned a Course Certificate for any course in the Specialization, even if you earn your Certificate within two weeks.
Subscription refund policies
As all subscriptions begin with free trials, you can't get a refund for a payment made on a subscription after the free trial ends. If you don't want to pay for a subscription anymore, you can cancel the subscription. There are no partial refunds for subscriptions, so you'll need to cancel before your next payment date.
In case you need help with your course, you can reach out to the customer care team. To do so simply click on the 'Help' link at the bottom of the homepage. Here you can find several topics on a drop-down menu with answers to common queries.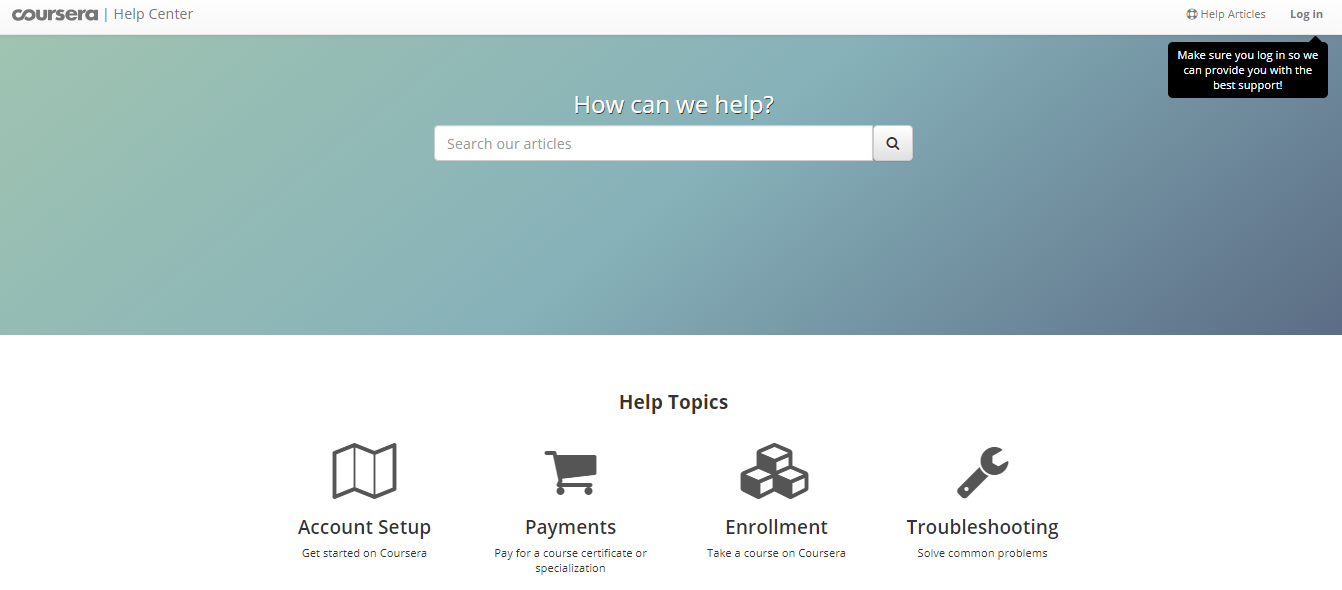 In case you can't find a solution here, you can also submit your query or post general course feedback in the course forums.
For more information and upcoming deals on courses follow them on their social media accounts as listed below.
Similar services in Malaysia