Emirates Coupon Codes, Promo Codes & Deals June 2019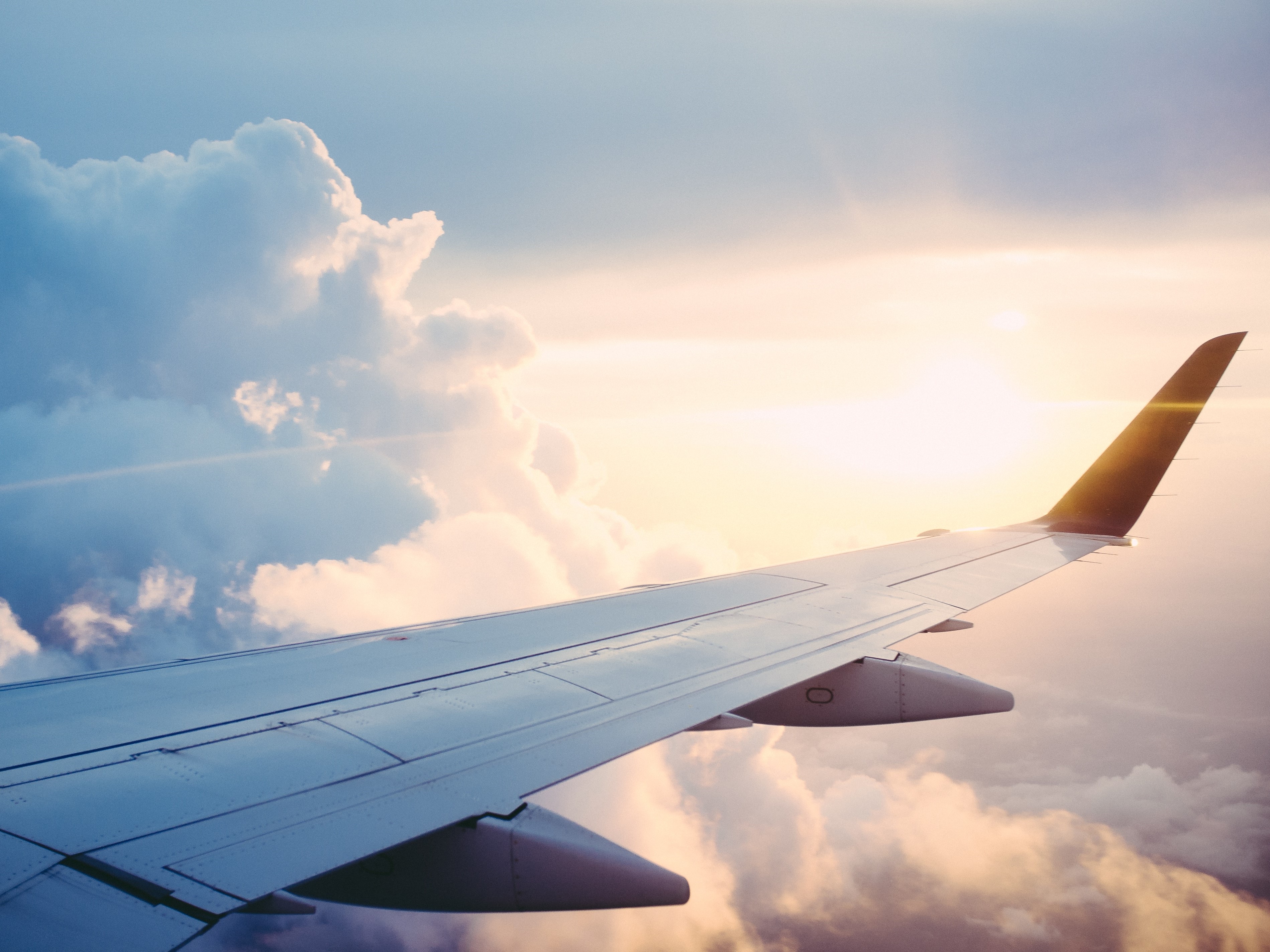 Take 10% off for all Citibank cards on Flex Fare or Flex Plus Fare on Emirates
In need of a vacation amidst your busy working schedule? Enjoy this Emirates Promo wit your Citibank Card. Applicable for return flights only. Travel before 30 June 2020.
Emirates Coupon Codes: Enjoy Up To 8% Off flights to New Zealand with this Emirates Promo Code
Emirates Promotion. Enjoy up to 8% Off New Zealand Depatures....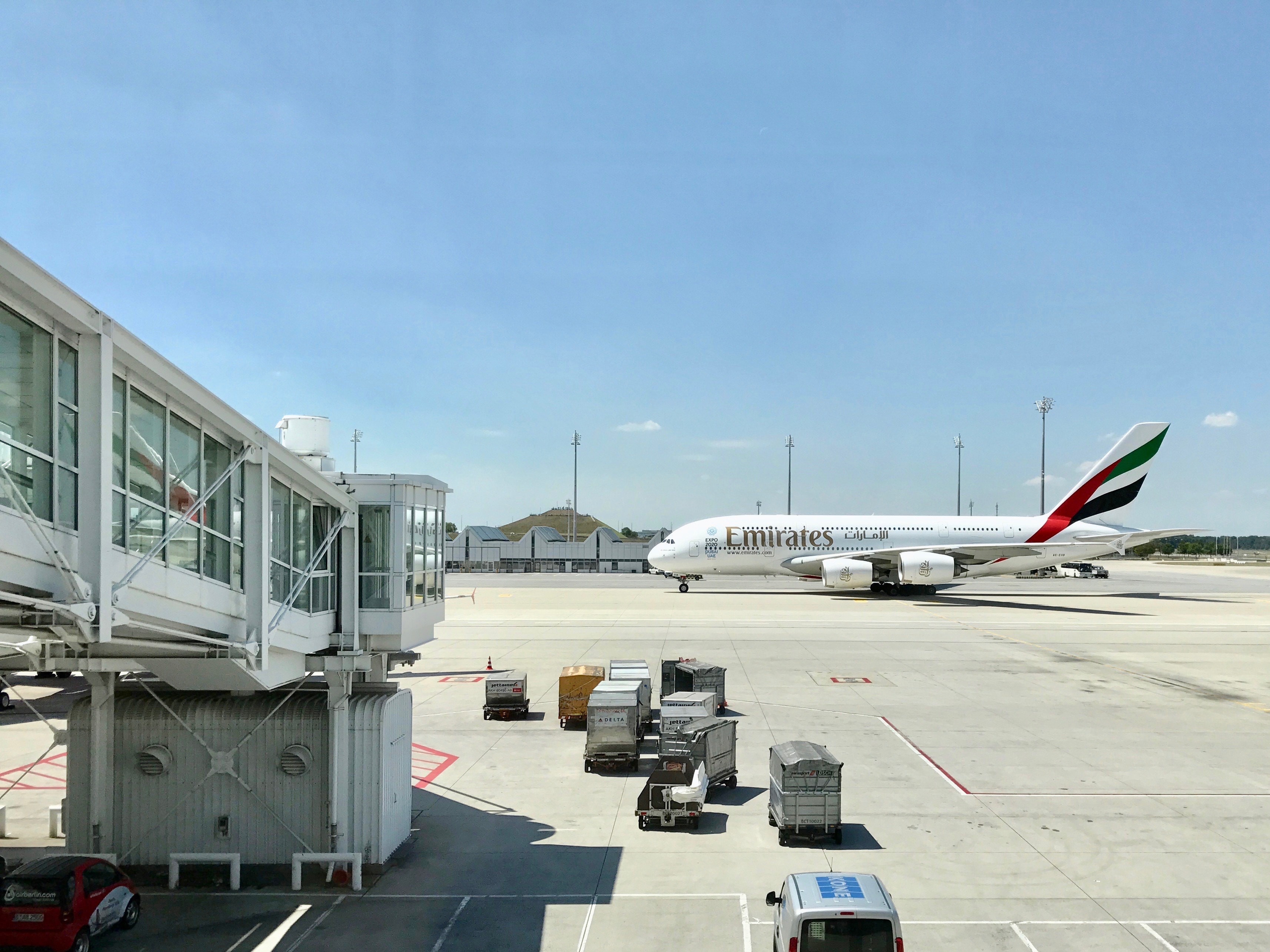 Emirate Coupon: Get up to 4% Off when you book your flight
Enjoy this Emirates offer on the site. ...
Emirates Voucher Code: Get rewards when you book with Minor Hotels and Emirates with this airline coupon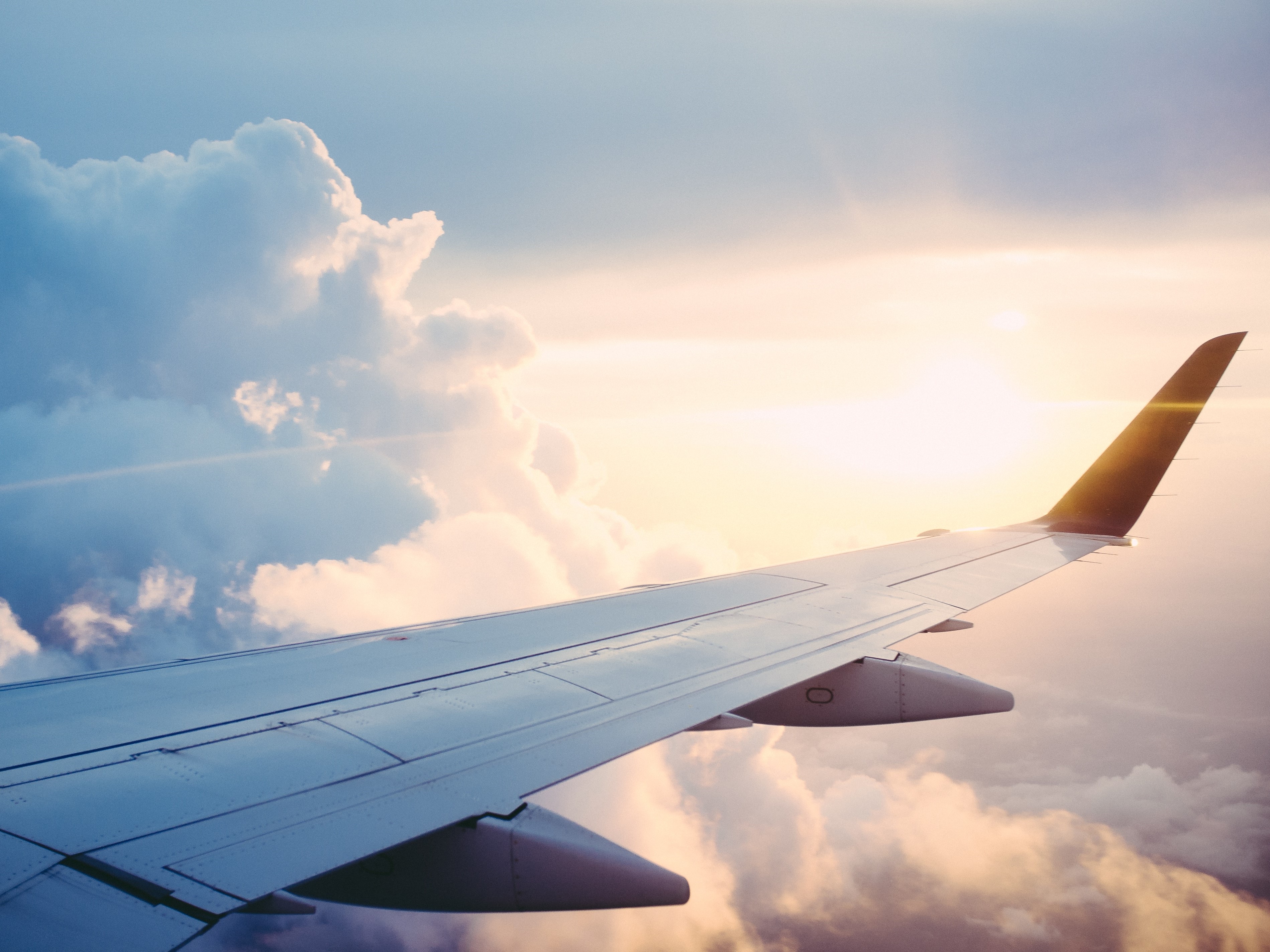 Emirates Promo: Fly from Kuala Lumpur to Istanbul for RM2800
No Emirates promo codes needed for this Istanbul flight ticket deal |...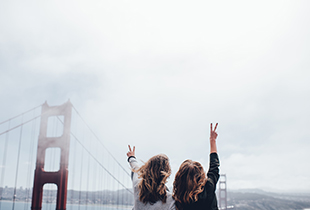 Emirates Deal: Snatch up to 15% Off Flights to India, Australia and New Zealand
No Emirates coupons needed to get this discount |...
Emirates Sale | Get up to 13% Off flights to selected cities in the Middle East | No Emirates Coupon Code required
Emirates Deal. Enjoy up to 13% off flights to Dubai and Beirut. ...
Emirates Special Offers | Enjoy up to 15% Off flights across Asia | No Emirates Promo Code needed
Emirates Promo. Enjoy up to 15% Off flights across Asia....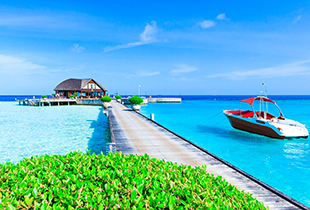 Book your flights now at a special price
Dubai, Maldives, Europe and more!
ShopBack must be the last link you clicked in order to get Cashback. If other website links are clicked after clicking through ShopBack, Cashback will not be tracked (E.g. coupon and deal websites)

If for some reason your payment made on merchant page has failed, do click through ShopBack again and re-do your purchases to ensure tracking is still active

Return to ShopBack and click through to the merchant every time you are making a new transaction.

If you are making 3 separate transactions on the merchant, you should click through ShopBack 3 times, each time before making a new purchase.

For more details: www.shopback.my/terms-and-conditions
More about Emirates
Emirates is a leading online portal facilitating international travel with exquisite service, enhanced connectivity and special fares. The airline is recognised world-over and operates the world's biggest fleets of Airbus A380s and Boeing 777s, offering customers the comforts of the latest and most efficient wide-body aircraft in the skies. Emirates seeks to turn every vacation or journey onto a memorable experience with their growing network of worldwide destinations, industry-leading in-flight entertainment, regionally inspired cuisine, and world-class service.
The Emirate journey began in 1985 when Emirates flew its first routes out of Dubai with just two aircraft—a leased Boeing 737 and an Airbus 300 B4. Their dedication and commitment to quality and service saw them soar over the years, achieving widespread acclaim from both customers and travel industry giants.
In the years since taking those first small steps onto the regional travel scene, the Emirates airline has evolved into a globally influential travel and tourism leader. With a fleet of more than 265 aircraft, they currently fly to over 155 destinations in more than 80 countries around the world. Over 1,500 Emirates flights depart Dubai each week on their way to destinations on six continents, ensuring seamless connectivity everywhere.
Services offered by Emirates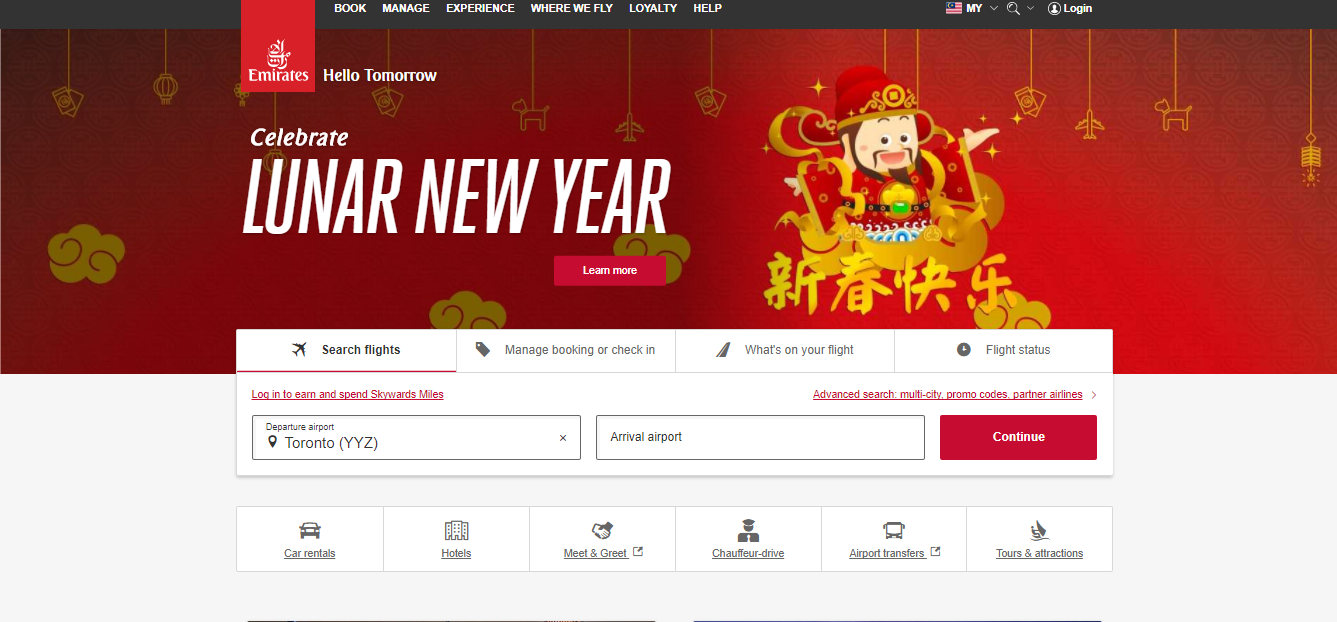 Travel enthusiasts can plan their entire trip easily on Emirates.com. The brand offers numerous services taking into account the needs of all travellers everywhere. In addition, Emirate coupon codes, discounts and special offers on specific classes such as economy class fares enable additional savings on all bookings. The services offered by Emirates include:
Service Categories
Hotels
Flights
Car Rentals
Airport Transfers
Tours and Attractions
Book your stay with Emirates
To book your hotel for your vacation, simply go to the hotels section under the 'Book' tab on the main page.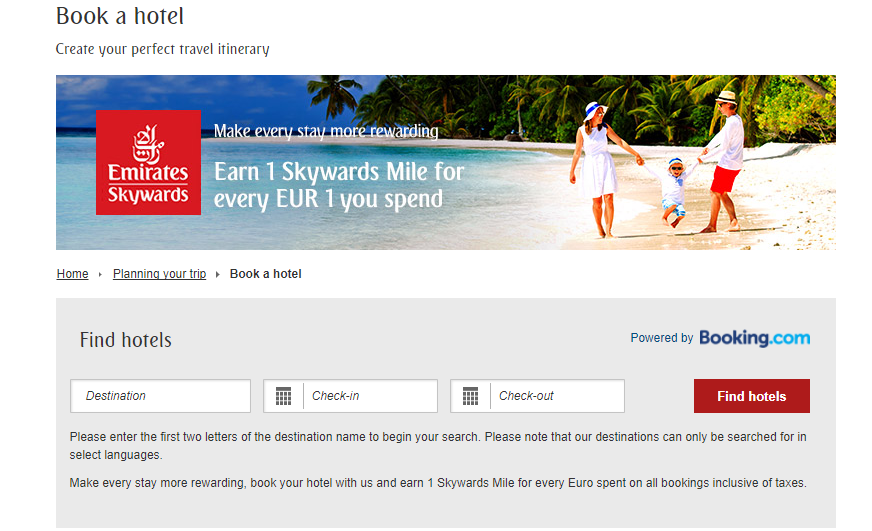 Step 1: Enter your destination and the travel dates to start searching for the best deals on hotels.
Step 2: You will be redirected to a page showing you all the available properties at best prices and promotions for your holiday. You can even list them by price, review score, bestsellers etc. by choosing from the header section. In addition, the filter menu on the left allows you to customise your search for properties based on location, budget, facilities and a lot more.
Step3: Click on the room you like and review the information given. In case you would like to reserve the room, click on the reserve button. In case of an offer or promo code, you may be able to see multiple options. Choose the rate you like best and click on 'I'll reserve'.
Step 4: Enter all your details to confirm the booking. In case you have any special requests, you can add the information here. Once confirmed, click on final details for payments and other information. You will soon get a confirmation e-mail for the same.
Along with access to Emirates coupon codes and offers, especially around the holidays, travellers can also enjoy additional benefits when booking through Emirates. These include:
· Earn Skywards Miles on every booking
· No booking or card payment fees
· 24/7 contact centre support, available in 42 languages
· Daily offers and rates to suit every budget
· Simple booking process and secure online payment system
Travel the world with Emirates flight tickets
Emirates makes it extremely easy and affordable for everyone across the world to book their travel. Whether you book an economy or business class ticket, you can enjoy a seamless travel experience with Emirates airline coupons. To book tickets, simply click on the flights tab under the 'Book' tab on the main page.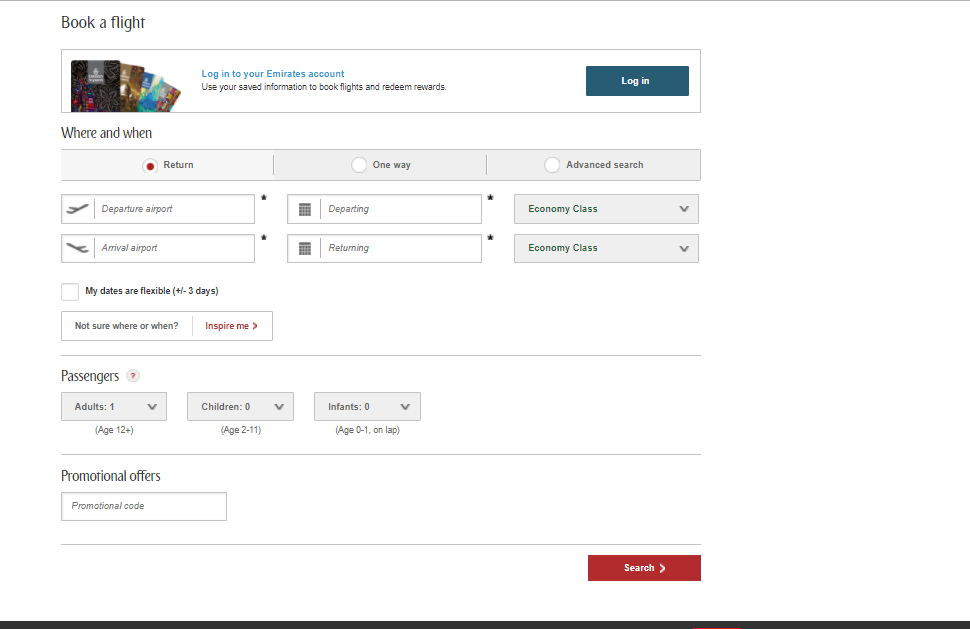 Step 1: Enter your departure city, arrival city and travel dates to build your itinerary. You can either book a one-way trip or round-trip as per your plan. In case you have an Emirates promo code or coupon, don't forget to enter it in the box provided.
Step 2: Search for the best airlines at current and flexible fares. Be sure to check if you are booking business class or economy class, especially in the case of connecting flights.
Step 3: Request a particular seat, special meal or other services.
Step 4: Pay online by credit card using the secure server. With Emirates, multiple airlines coupons and promo codes can reduce your expenditure.
Step 5: Choose how you want to receive your tickets
Once your payment is confirmed, you will receive a confirmation e-mail from Emirates. In case you are an Emirates Skywards member, be sure to log in to your Emirates Skywards account before booking your flight for exciting airline coupons, bonus miles and other offers.
Emirates Best Price Guarantee
All Emirates customers in Malaysia can book worry-free knowing that they are getting the discount prices on all airlines with the Best Price Guarantee. Additionally, if you find a better Emirates fare for the same itinerary on another website with the same flight at least USD 20 cheaper, they will refund the difference.
Pre-book your airport transfer
Waiting in lines at the airport can ruin even the best vacation and leave you exhausted before you even begin exploring the city. With Emirates, you can save your time and effort by simply pre-booking your airport transfer before-hand. You can opt for a car, train, shuttle or bus service and Emirates will do the needful well in time before you arrive.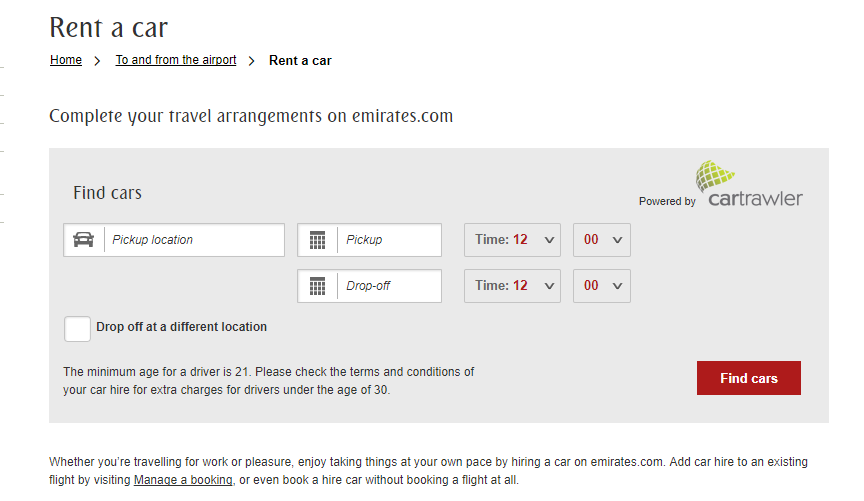 You can also hire a car to explore your destination your way. Emirates offers great rates for over 30,000 locations in more than 145 countries in partnership with Cartrawler. Hiring a car through Emirates also brings you several benefits, such as:
· No booking or card payment fees
· 24/7 contact centre
· Great value and low rates
· Simple three-step booking process and secure online payment system
· Extensive range of car hire providers, based at arrival airports
Explore the best tours and attractions the city has to offer
Start planning the sights and sounds of your trip once you've booked your flight. In partnership with getyourguide.com, a top attractions site with tips, city guides and deals, travellers on Emirates can take in some of the world's greatest marvels and activities like a pro.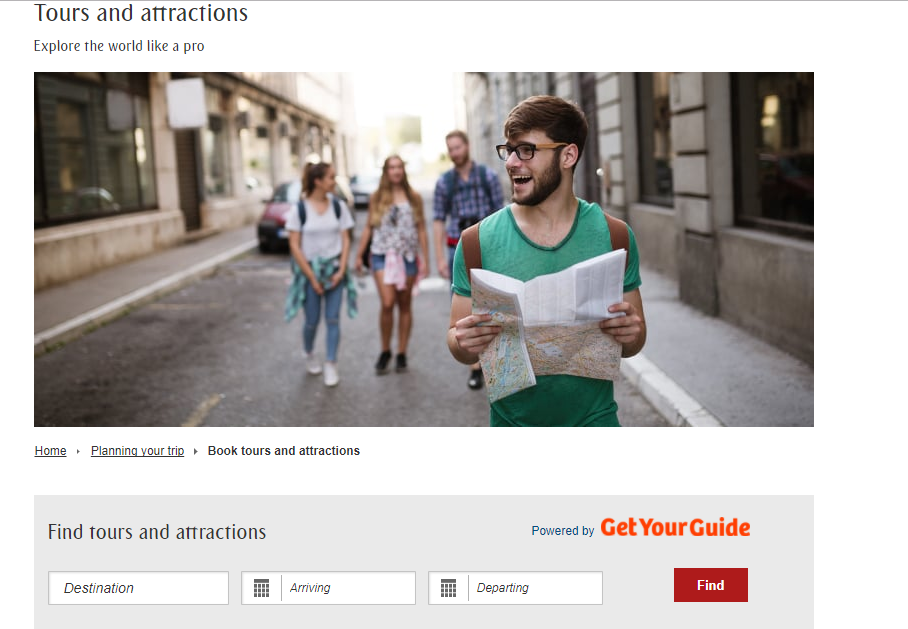 Choose from over 23,000 things to do, seamlessly book your tickets online, skip the queues and experience personalised tours by vetted locals. With Emirates you can enjoy the destination while also receiving additional benefits:
· Professional local guides
· Great rates and daily deals
· Excellent customer support
· Easy online booking
· Secure online payments
Payment options for online bookings on Emirates
With an extended selection of new payment options, Emirates now offers you even greater choice and flexibility when it comes to paying for the tickets you have booked online. Some of these new methods also give you the freedom to book and pay for tickets reserved in someone else's name – for instance, another family member. Please note that not all payment options are available for all Emirates departure points.
Real-Time Bank Transfer: Choose this option and Emirates can immediately issue your ticket based on real-time online confirmation of a successful payment.
Online Bank Transfer: This option enables you to pay online and Emirates will issue your ticket once your bank's confirmation on successful payment is received.
Bank Transfer: Also called a wire transfer, a bank transfer enables you to make payment by telephone, mail, online banking or even by visiting your bank in person.
PayPal: The PayPal website features a dedicated page that enables you to log in and confirm the payment of your ticket. Emirates will issue your ticket once payment confirmation is received.
Western Union: You can pay for your ticket at any Western Union outlet that accepts QuickPay transactions. Emirates will issue tickets when paid within specified time and payment confirmation is received.
Credit/Debit Card: Depending on your country of departure, you may still choose to pay for your ticket using a credit or debit card.
Visa Checkout: By paying with Visa Checkout, you can use your existing debit or credit cards and stored details to make online purchases quickly and securely.
Along with instant payment, Emirates also offers customers the option to reserve their seats without payment via 'Hold My Fare'. This is a new service that lets you reserve your fare quote for 72 hours. It means that if you want to pay later, you won't be affected by any changes to the fares in that time. There is a small reservation fee which will be released back to you if you pay for your flights within 72 hours. However, Hold My Fare is only for Economy Class flights and can be used up to 24 days before your flight.
Cancel or change your booking online
Depending on the type of ticket you hold, you'll be able to cancel your booking and request the refund by using the link in 'Manage a booking'. There may be a fee associated with cancelling your booking depending on the fare conditions of your ticket, and some tickets are non-refundable. Consider changing your booking instead if the fare conditions permit this.
Change details of your trip online after booking
You can use 'Manage a Booking' to make changes to most aspects of your booking and add extras to your flight before you fly. For most Emirates bookings, you can make changes to your flight itinerary such as:
· Changing the dates or times of your flights
· Altering your destination or origin
· Adding or removing stopovers
· Changing your route (i.e. from round trip to one-way)
· Changing your cabin class (i.e. from Economy Class to Business Class)
· Cancelling parts of your itinerary
All these changes can be made through the 'Change my booking' link within 'Manage a booking'. You'll be able to select this link if your booking is eligible for online changes. Please note there may be a fee associated with making changes to your booking, depending on the fare conditions of your ticket.
You can also manage other parts of your trip, such as:
· Choosing a seat
· Requesting a special meal
· Adding a frequent flyer number
· Adding or changing your contact details
· Making a Chauffeur-drive booking (for eligible itineraries)
In case you need to make changes to an Emirates Skywards rewards booking on a partner airline, you should use the Rewards change form.
After cancellation, if allowed by the fare conditions of the booking, you may receive a refund. Emirates will refund the credit or debit card used to purchase the ticket. If you paid using another form of payment, you'll be advised on the refund form of your options for receiving your refund.
Please note there may be a cancellation penalty, which will be deducted from the refund. Some tickets are non-refundable. Please check your fare conditions carefully before requesting a refund.
Earn rewards and enjoy exclusive benefits with Emirates Skywards
Emirates Skywards is the award-winning frequent flyer programme of Emirates Airline, launched in May 2000. Membership of the programme provides access to a world of exclusive benefits designed to make travel more rewarding and enjoyable.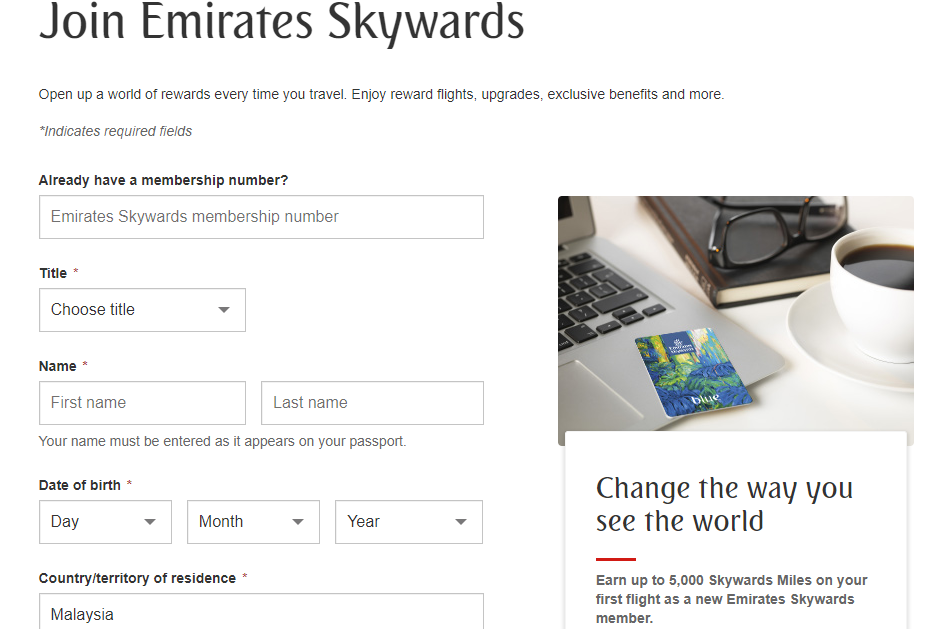 Skywards Miles are the reward currency you earn as an Emirates Skywards member. You can earn Skywards Miles when you fly with Emirates, as well as when you are a customer of their global partners, including partner airlines, banks, car hire agencies, hotels, and lifestyle and retail companies.
Members can enjoy exclusive benefits as per their tier. There are 4 tiers and as you move up a tier, you get access to special offers, benefits, Emirates coupons and other deals.
Tier 1: Blue
Tier 2: Silver
Tier 3: Gold
Tier 4: Platinum
Once you are a member, there are two easy ways to move up a tier. You can either:
· Collect the required amount of Tier Miles by flying with Emirates; or
· Complete the number of Emirates flights needed to reach the next level.
Each new tier brings you inviting benefits that increase in value, such as dedicated check-in, priority boarding and lounge access. Once you have been promoted to a new tier, you enjoy your membership privileges for 14 months, even if you don't earn enough Miles or take enough flights to retain the tier status in your annual review.
Access Emirates promo codes, coupons and more on ShopBack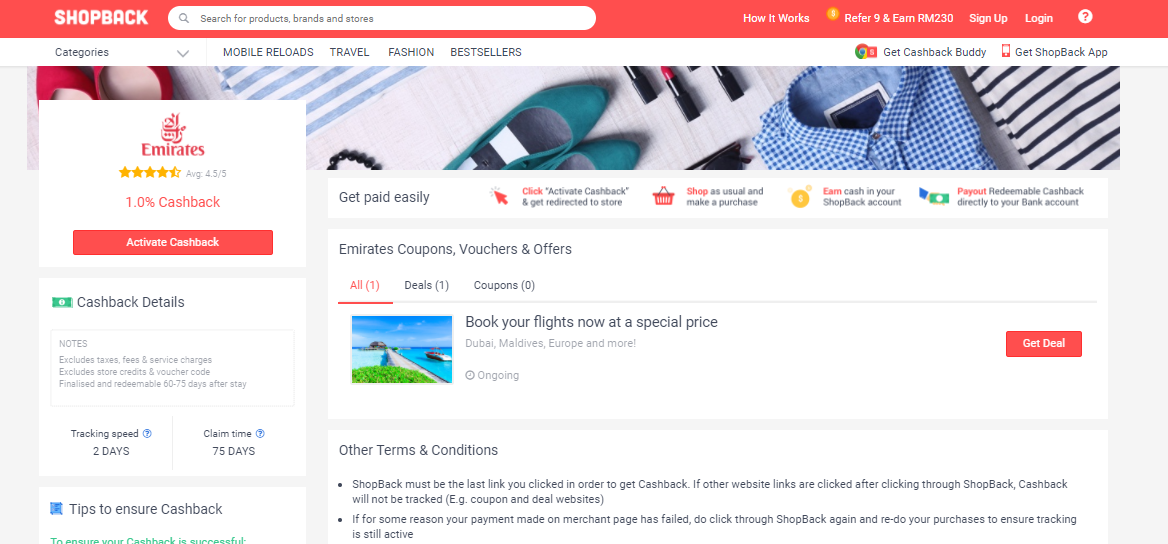 Emirates offers customers numerous promo and coupon codes to make their trip more exciting and cost-effective. However, when booking online via ShopBack, customers can not only find all these deals well-organised and visible at glance, but can also earn cashback with each booking. The current ongoing deals include:
| Offer | Deal | Terms and Conditions |
| --- | --- | --- |
| Emirates flights | Up to 1.0% cashback | Applicable on flights for Dubai, Maldives, Europe and more! |
How to book on Emirates using ShopBack
ShopBack offers up to 1.0% cashback if you travel using Emirates. Here are the steps you need to follow to earn cashback from ShopBack:
Step 1: Visit the ShopBack website and click on the Emirates store at the bottom of the homepage. You can also use the search box to find the link to the link to the store.
Step 2: Click on "Activate Cashback" button on the top left corner of the page.
Step 3: If you are interested in finding an attractive coupon code or Emirates promo code, check out the Emirates coupon code, promo and voucher section.
Step 4: You will be redirected to the Emirates website to browse and book your travel.
Step 5: When you confirm your booking, you will be eligible to earn cashback from ShopBack.
Contact Emirates for any help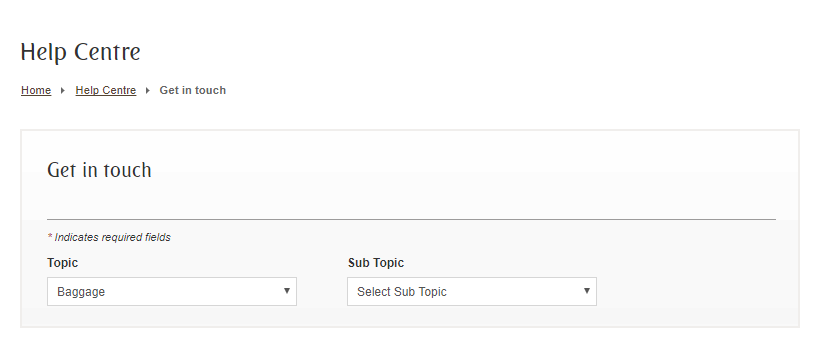 You can reach out to the customer care team via the Help section on the website or on their hotline for assistance of any kind using the following.
Flights and Emirates services:
+60 36 207 4999
Hotel booking:
+60 1800 814 601 (English)
+60 1800 814 611 (Malaysian)
+60 1800 814 612 (Chinese Mandarin)
+44 20 3320 2609 (International charges apply)
Car hire:
+44 2035821590 (International charges apply)
Tours and attractions:
+49 30 544 459 44 (International charges apply)
You can also follow them on social media and get updates about any upcoming deals and travel tips.
For your other travel needs, ShopBack has you covered. Head on over to ShopBack for deals, discounts and cashback for merchants like Malaysia Airlines and Trip.com.
Past Coupons/Deals:
Feb 2018 promotion: Use the following Emirates coupon code to save up to 4% off base fares!
Key in Emirates coupon code <USRMN17> upon checkout. Valid to all destinations
Deal valid till Feb 2018
Emirates promotion: Return tickets from Kuala Lumpur to Paris for just RM2429!
Valid till Feb 2018
Enjoy an extra 8% Emirates discount on your flight tickets with Emirates promo code <EKTNZ17>
Valid for New Zealand departures only
Deal valid till 10 Mar 2018