Expedia Malaysia Coupons, Discount Codes, Promotions & Cashback

Escape Sale - Take up to 80% off hotels worldwide!
Hotel booking period between 26 September & 30 October 2017. Travel period between 26 September and 3 December 2017. More of Expedia's T&C's apply.
Hotel deals under RM199/night
All offers are subject to availability and change and may be discontinued w/o notice. General Expedia's T&C's apply.
Limited Time Only: Packages Under RM499 Per Person + 3.5% Upsized Cashback (was 2.5%)
Over a million hotels, flights and packages with best price guarantee
Best price guarantee and discounts on Expedia.
Cashback will be tracked at usual rates before travel is completed.

Packages include, but are not limited to: 1) Hotel + Flights 2) Hotel + Flights + Insurance/Services 3) Hotel + Insurance/Services

Cashback may take up to 75 days after travel has been completed to turn from Pending to Redeemable

Upsized Cashback: Tracked at usual rates. Cashback will be adjusted within 75 days after travel has been completed.

Usage of promo/coupon/bank/telco codes not posted and approved by ShopBack may effect the eligibility of Cashback
Recent Articles
More about Expedia
Expedia: Holidays made Easy!
New sights, new sounds, zero fuss. Looking for a getaway from Malaysia? Does this sound like your kind of holiday? If so, you've come to the right place! Expedia is the world's favourite online travel agency, offering flights to thousands of destinations at pocket-friendly prices. Choose from more than 365,000 hotels and over 400 airlines. Soak in the English culture and snack on some fish and chips with a flight to the UK, or if raw fish is your thing, travel to Japan for some sashimi. Or maybe just escape for a little weekend getaway to nearby lands; wherever you hope to go, Expedia Malaysia offers promotion coupons and discounts coupons to thousands of places around the world, so read on and check it out!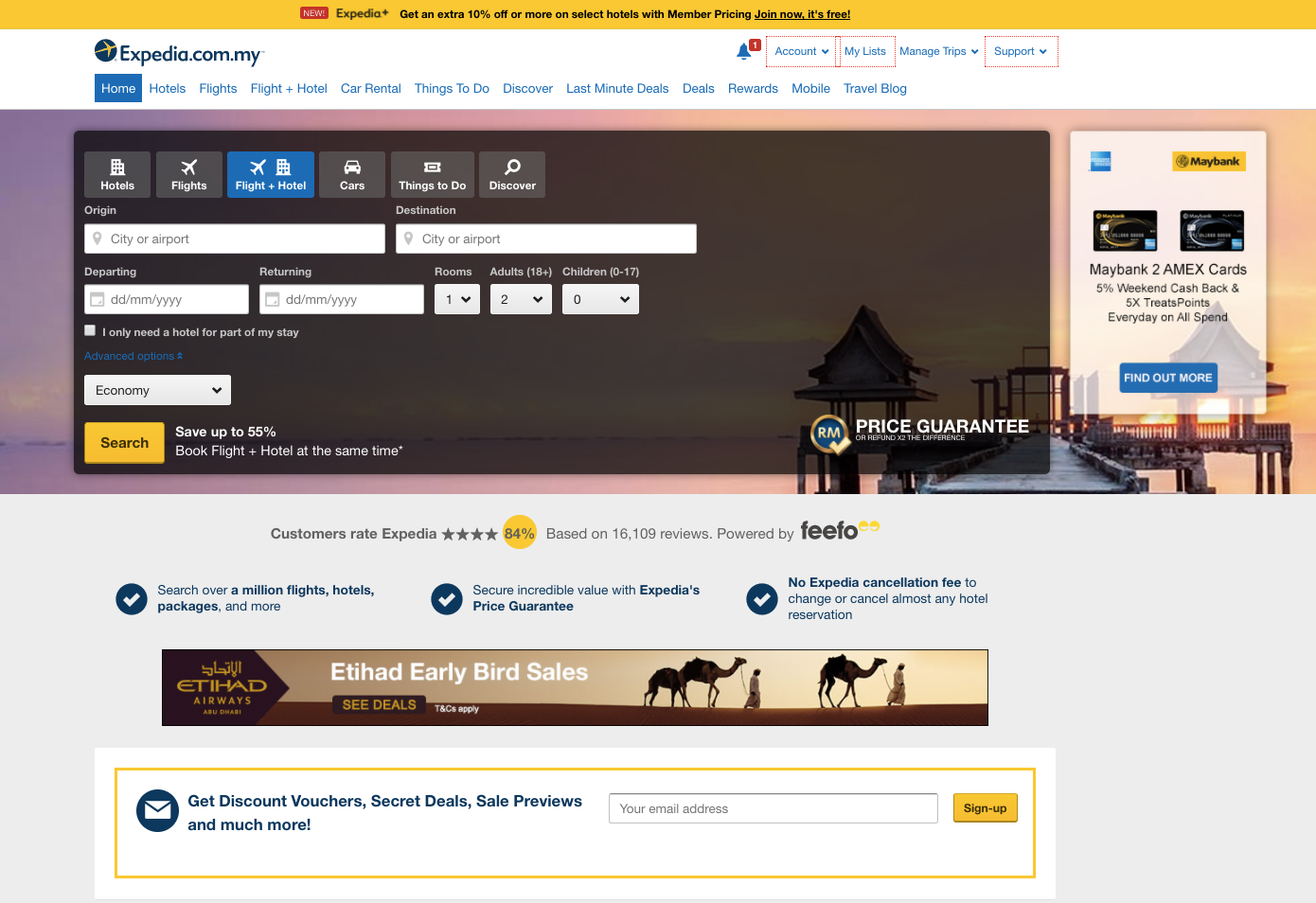 Make your holidays fuss-free and fun-filled
From luxury stays, staycations, cruise trips to cheap backpacker hotels, find the best deals on Expedia Malaysia. Expedia handles both flight reservations and hotel book-ins, so if you want an all-round fuss-free booking experience, Expedia is the perfect online travel agency for you. With a few simple clicks, you can choose your ideal hotels, your flight times, and even rent a car to take you from place to place. Finding travel coupons has never been easier with Expedia.
Or if you already have your hotel details down, but no plane to take you yet, let Expedia handle your flight for you. Expedia will comb through all the agents for you to find the best deals, promo coupons and discount codes for your trip, so your booking can be as easy as 1-2-3.
Love is in the air: Expedia Malaysia brings you on luxury trips at discounted prices
Who says that romance has to come at a hefty price tag? In 2016, Valentine's Day falls over the weekend, so it's perfect for a short vacation. Make both your loved one and your wallet happy with a short getaway to neighbouring islands; take a trip to the romantic tranquil Krabi beaches, or party with your partner at Phuket. Find unbeatable promos and discounts coupons on Expedia, and skip all the frustrations of planning a trip when you book with Expedia. Let Expedia be your trip-planner, sit back, relax and enjoy. Kiss.
Even if you are alone on this special day, fret not, for Expedia will always be here for you. Travelling is always a good way to meet new people; find like-minded travellers who share your thirst for adventure to share your tribulations with you. Travelling alone will be a cathartic and eye-opening experience, so find somebody to share it with; it is definitely a good way to bond. Not to mention pocket-friendly; find the best promos, coupons and discount codes on Expedia so that your trip doesn't burn a hole through your pants.
Coupon deals for the last-minute travellers
Are you a last minute traveller? Want to travel on the morrow but frustrated by the prices that seem to have skyrocketed since the last time you checked? Here at ShopBack, we feel your pain. Expedia offers the perfect solution for us last minute travellers; by combining websites for the best coupons, promos and discount codes, Expedia compiles a list of the most affordable flights, hotels and car rentals for us last-minute travellers, saving us plenty of work and money.
A few simple clicks, key in the promo codes, and you are set to go. Check regularly, for Expedia posts up promotions, coupons and discount codes to exotic locations from time to time, so be one of the lucky ones to grab the exclusive promo codes and secret deals!
Get the best price, or your money back
In order to ensure that you are getting your money's worth, Expedia offers a money-back guarantee. In the event that you find a better price online for the same flight, hotel or car rental on another eligible travel website within 24 hours of your booking, Expedia will refund you twice the difference of up to SGD 125.
Expedia prides itself on its top-notched customer service, and has won the hearts of many customers around the world with its promotion coupons and travel discount codes. It's 91% satisfaction rating is testimony to how many customers have benefited from Expedia's top quality services.
And if something crops up at home, Expedia has your back. Expedia does not penalise you for making changes to your flight and hotel bookings, so booking your travel plans with Expedia gives you maximum flexibility in your schedule, because at Expedia, they understand travellers, and they understand you.
Shopback is your gateway to Expedia Malaysia's top promo codes and discounts
Getting paid to travel. Does this sound like a fantasy? Today, we at ShopBack, make it a reality. We work with Expedia to give you up to 8% cashback for travelling with Expedia.
Expedia makes it easy to book cheap flights to thousands of destinations around the world. We at ShopBack, make it easy on your wallet. Using these Expedia promo codes and discount coupons here at ShopBack, you will save a great deal on the travel plans on Expedia.com.my. At ShopBack, not only can you get Expedia promo codes, you will also find great discounts and coupons for trips and bookings with Booking.com and Hotels.com.
Be connected with Expedia Malaysia
Sign up with Expedia - through Facebook or through their own website - to receive exclusive discounts and invites delivered right to your inbox. By having your very own Expedia Malaysia account you will be the first to receive notifications of the very best discount coupons and promos available on Expedia. Build up loyalty points and earn points towards free travel flights and trips to hotels around the region.
The Expedia community is a warm, friendly and big-hearted one. Read reviews posted by experienced travellers to find the best local deals and the most comfortable hotels in the region. Get recommendations on where to eat, what to do, and where to go. Ratings on the Expedia site gives you an idea of the most popular hotels and places in the vicinity.
Alternatively, check up on Expedia's social media accounts to find inspirations of where to go, for the loyal fanbase of Expedia often hashtag their travels with #expediapic; get your fill of travel porn today and find images of some of the most beautiful places in the world. Below given are the links that bring you directly to their social media pages directly. Click and get started today: