Fave promo code and coupon with ShopBack
Use Fave promo codes to get a discount when you book your vacation, spa or gym membership on Fave. Browse through a catalogue of the best dining and beauty deals and enjoy further savings by using Fave coupon!
Be sure to keep yourself updated with exclusive Fave coupons that is refreshed on ShopBack daily. For those of you not too fond of scouring the website regularly to find the best deals, simply connect with Fave on their social media such as Facebook, Twitter and Instagram to stay updated. There, you will be able to see details regarding upcoming deals and sales, exciting coupons and other information.
deals in Malaysia, head on over to ShopBack, where you can find discounts, coupons and promos from merchants like PrestoMall and easyDEAL.
Fave by Groupon - your one stop online portal for exclusive deals in Malaysia!
Fave Malaysia is the go-to destination for all the best coupons, deals and offers for everything under the sun. Be it a vacation, spa or gym membership, discounts on meals etc, Fave will probably have it. Fave Malaysia is here to help you save money and enjoy every activity to the fullest. On this website, customers can browse through the best restaurants for amazing deals on food or get some much-needed relaxation with a massage. Additionally, people in Malaysia can get instant access to savings up to 70% on gyms, fitness studios, haircuts, manicures, local services, holidays & travel, and other great things to do in the city.
The Fave Group is one of the leading players in the Southeast Asia market. This Group started its journey in 2015 as KFit, an award-winning fitness sharing platform. Since then it rebranded itself to Fave and has expanded into a multi-category O2O (Online-to-Offline) platform.
In November 2016 the Fave Group took over Groupon Malaysia and rebranded it as Fave. The Group founder Joel Neoh said this step was in line with their aim to create new prospects for the O2O economy for Malaysia and Southeast Asia. Fave by Groupon is now a homegrown brand, developed and headquartered in Kuala Lumpur, with millions of users and businesses across South-East Asia, including Jakarta and Singapore.
Product categories on Fave
This company offers people in Malaysia new ways to save money without having to compromise on their social outings. With a plethora of discounts on various services and popular categories, individuals can do a lot more activities without burning a hole in their pocket. The main page of the website offers a glimpse at multiple trending deals and offers that are updated regularly ensuring there is always something available for everyone.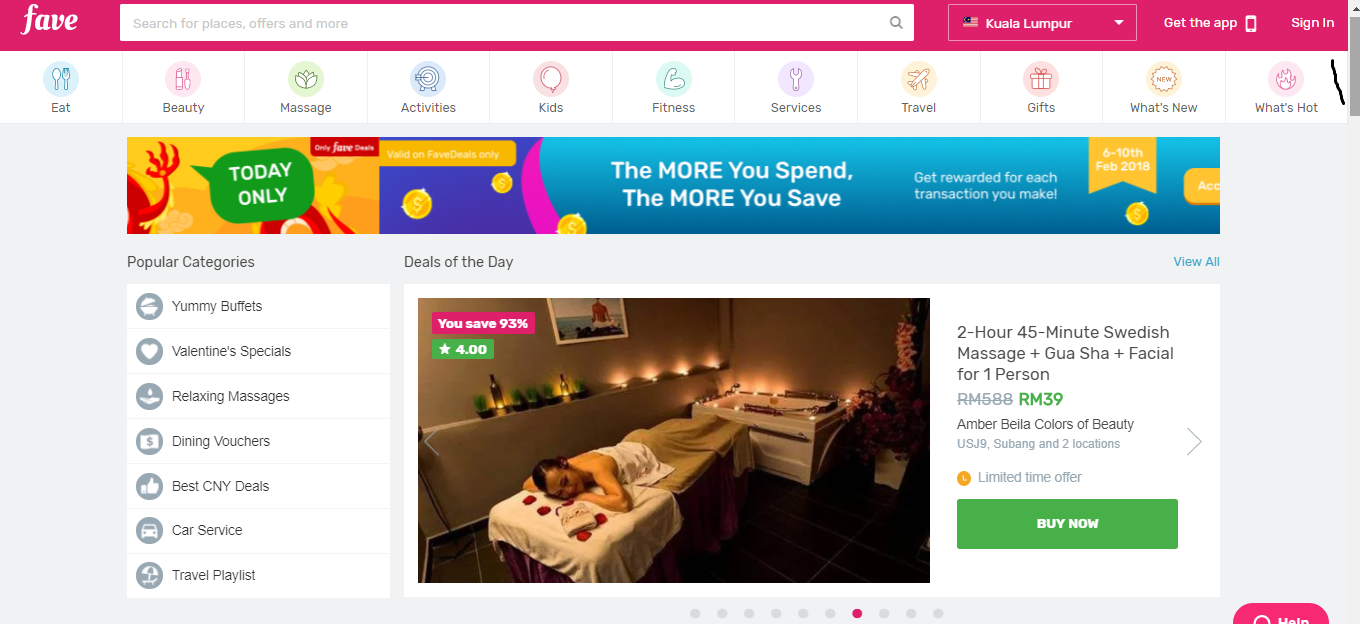 Some of the product categories on Fave have been detailed below:
Food:
Dining-out is no longer just restricted to special events or an occasion but has become the norm for most people these days. Whether one is catching up with friends, concluding a business meeting or even looking to unwind after a long day – a good meal just seems like the best bet. With Fave, you can find amazing deals on various restaurants, be it a quiet dinner for two or a lavish buffet for your entire family to indulge in. Simply look for a Fave voucher that helps you save more while enjoying a night out.

Beauty:
Looking gorgeous no longer requires you to spend a major part of your paycheck each time. Whether you need to update your cosmetics, get a full wax or change your hairstyle, Fave has you covered with the best beauty deals in town. With these exciting offers you can stay updated with the latest trends and change your cosmetics as and when you need. Not just for women, these deals are also available for men looking to pamper themselves a bit.

Massage:
The hustle and bustle of daily life can leave you tied up in knots. Book a massage to unwind and relax your body and mind. With Fave, you can find a good massage at a price that works for you allowing you to be completely stress-free as you indulge in this luxurious experience.

Activities:
Malaysia has become one of the hubs for constant activities and experiences. However, often budget restrictions can prevent one from heading out. With Fave, you can get access to several activities at a discounted rate allowing you to enjoy a new activity.

Kids:
Take your child to the waterpark for some fun or even the wildlife park for a sense of adventure. Fave understands that keeping kids entertained can be a full-time job for a parent. With exciting deals and offers updated regularly, you can now take your kid to various activities at a price that s worth the experience.

Fitness:
Looking to get fit and shed those holiday kilos before the summer? Simply check-in at Fave and get access to numerous offers on sale. Whether you are hardcore gymmer, a yoga enthusiast or a beginner looking to explore selected routines, you can find everything on Fave.

Travel:
Score the best travel deals with Fave coupons and take a trip to your dream destinations. Be it a penthouse suite, a cruise or a quaint weekend getaway, Fave promo deals and discount offers have you covered.

In addition, Fave also offers people in Malaysia a host of other services such as Photography, Auto Detailing, Home Care and others at great discounts. However, a major attraction is also the Gift Cards available on Fave. For those who are always at a loss when deciding the perfect gift can simply log in to Fave and choose something amazing without putting their savings at risk. In addition, festivals and celebrations such as Chinese New Year and Valentine s Day often have special gifts for the occasion allowing you to choose something truly special.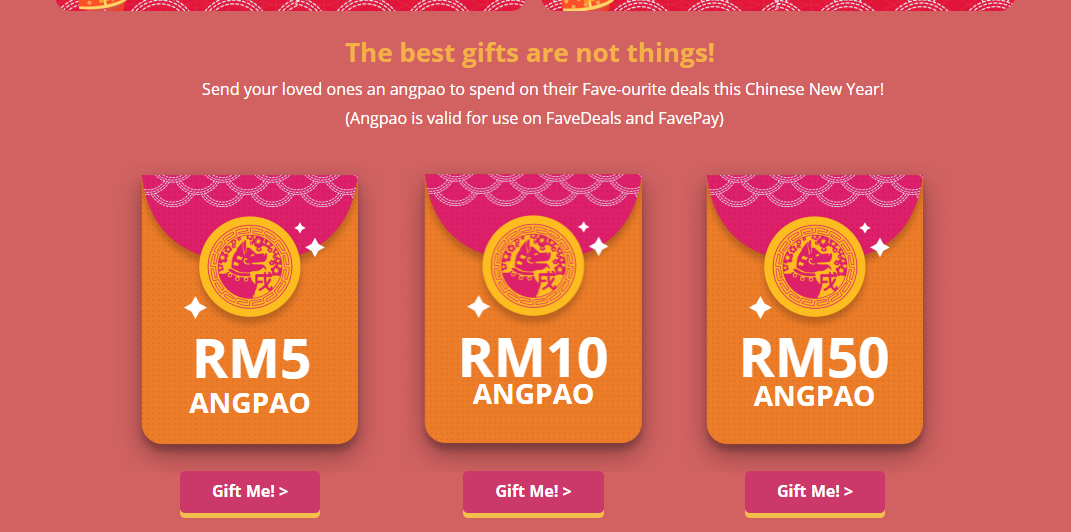 Also remember to check out the 'What s New and 'What s Hot sections on the main page to stay updated with the latest additions and trends on the site.
Here is a quick guide on how to use the vouchers and deals available on Fave. You can purchase the vouchers either through their app or through the website.
Step 1:
Log in to the website or open the app and browse through the numerous categories. You can also search for something specific using the search bar.
Step 2:
Click on the product or offer you like to view the deal. Be sure to read the Fine Print and Redemption Instructions to ensure everything is acceptable before purchasing the deal.
Step 3:
If everything is in order, click on the green BUY NOW button. You will be directed to the confirmation page.
Step 4:
Double check your voucher details and click on Pay Now. Review the dates carefully to avoid being left with an expired voucher before you can redeem it.
Step 5:
Once you have completed the payment, you will be redirected to the confirmation page.
Redeem your voucher with the Fave app
Now that you have purchased your Fave voucher, it is time to redeem it. Keep in mind that printed vouchers are not be accepted. Even if you purchase the voucher through the website, you must download the mobile app and redeem the voucher through the mobile app.
Fave has multiple voucher redemption methods as detailed below:
Step 1:
Open the Fave app, click on the ME tab, and select your voucher.
Step 2:
At the partner location, show it the outlet staff and swipe to redeem. If the partner has multiple outlets, you will be required to choose the correct outlet before swiping the deal.
Step 3:
Click on 'Redeem Now to enjoy the benefits.
Step 1:
Open the Fave app, click on the ME tab, and select your voucher.
Step 2:
At the partner location, present the unique voucher code to the outlet staff. Some vouchers may require the voucher code for reservation. If it is an online redemption, you may be required to enter the voucher code on the partner s website. Do read through the Fine Print to see how to redeem and what necessary details to provide to the partner
Step 3:
Click on 'Redeem Now to enjoy the benefits.
Swipe to Redeem + Voucher Code
Step 1:
Open the Fave app, click on the ME tab, and select your voucher.
Step 2:
Swipe your voucher to get a unique voucher code.
Step 3:
Present this code to the outlet staff for redemption. Some vouchers require you to give the voucher code to make a booking. If it is an online redemption, you may be required to enter the voucher code on the partner s website. Be sure to read the Redemption Instructions for full details.
Step 4:
Click on 'Redeem Now to enjoy the benefits.
Payment methods accepted by Fave
Buying your voucher or coupon code is extremely easy with multiple payment options at Fave. These include:
All credit /debit cards from Visa, MasterCard, and American Express.

Online banking (Malaysia only):

Alipay (Selected FavePay partners only)
Cancellation and refund policy
To cancel your voucher and get your refund be sure to cancel your voucher before the cancellation deadline has expired. The refund will be in the form of Fave credits and will be available in your account within 24 hours.
Procedure to cancel a deal:
Step 1:
Access your purchased vouchers by going to the ME tab on the app or My Purchases on the website. Select the voucher you would like to cancel.
Step 2:
Click on the option to 'Cancel this Reservation . A pop up will appear for you to confirm.
Step 3:
Voucher will be cancelled.
Once the deal is cancelled, any used promo code to purchase the deal will be forfeited and will not be available for reuse again.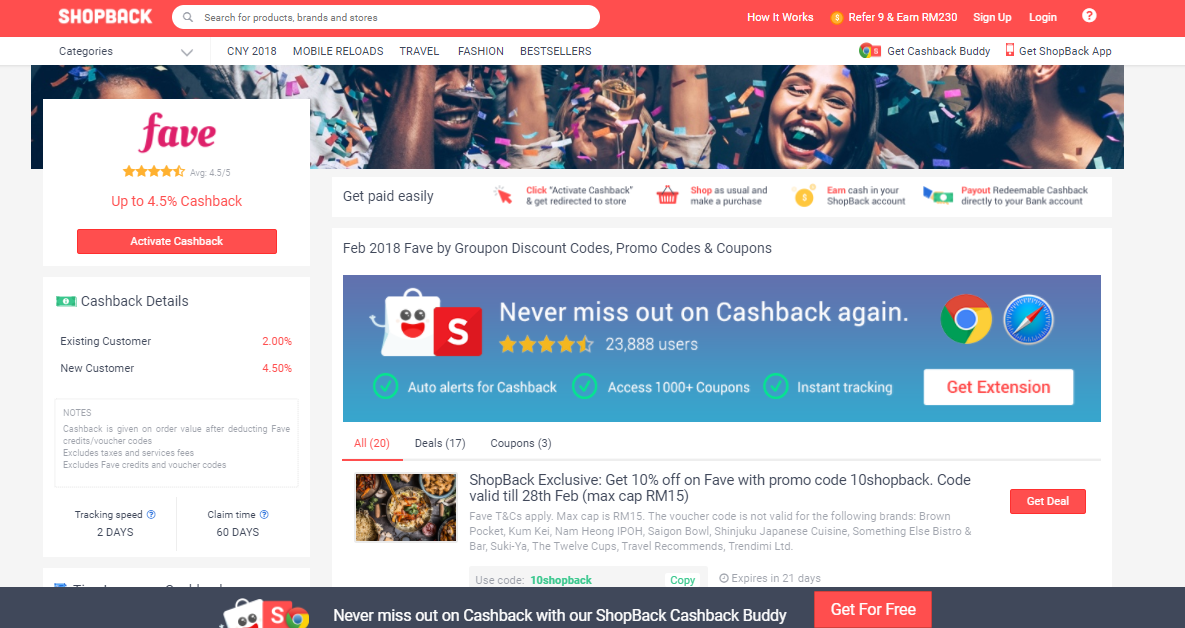 | Offer | Deal | Terms & Conditions |
| --- | --- | --- |
| New User (code SAVE20) | Up to 4.5% cashback | Code can be used once only for a discount up to RM11 |
| (code SAVE20) | Up to 4.5% cashback | Not valid for Shopee deal |
| Photobooks | Up to 4.5% cashback | Cherish every memory with Photobook services at great deal prices. |
| New Deals | Up to 4.5% cashback | Cashback available on Hottest Deals and Newest Deals of the day updated daily |
| Beauty | Up to 4.5% cashback | Cashback available for the best Haircut, Waxing, Facial, Pedicure & Manicure deals! |
| Food | Up to 4.5% cashback | Applicable on deals with up to 70% off on shopping mall restaurants |
| Cash voucher | Up to 4.5% cashback | Applicable on cash vouchers up to 40% off |
How to Shop on Fave using ShopBack
ShopBack offers up to 4.5% cashback on various deals if you shop from Fave Malaysia. Here are the steps you need to follow to earn cashback from ShopBack:
Step 1:
Visit the ShopBack website and click on the Fave store at the bottom of the homepage. You can also use the search box to find the link to the Fave store.
Step 2:
Click on "Activate Cashback" button on the top left corner of the page.
Step 3:
If you are interested in finding attractive deals and coupons, check out the Vouchers, Discount Codes & Coupons section.
Step 4:
You will be redirected to the Fave website to browse and select the deals.
Step 5:
When you place the order, you will be eligible to earn cashback from ShopBack. The cashback rates differ based on product categories and based on whether you are a new or an existing customer.
Get in touch with the Fave customer care team
For any concerns or additional information regarding the deals and vouchers, you can simply contact the customer care through chat or e-mail. From the Fave app, simply click on ME > HELP CENTRE > TALK TO US to initiate a live chat. Customer care agents will be available for any concerns. For those that prefer to drop an e-mail, write to hello@myfave.com and someone from the Customer Happiness team will be there to assist you!
You can also stay connected with the brand via its blog. Here one can find several articles on latest trends, new additions on Fave, beauty and travel tips, and a lot more. Know the latest from the Fave team as well as some behind-the-scenes news in this section.