Jan 2018 Fave by Groupon Discount Codes, Promo Codes & Coupons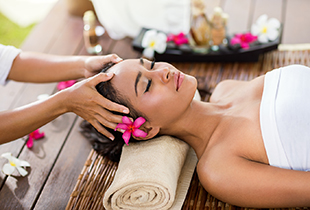 Ends 21 Jan: Get 22% Off On Selected Offers! (max disc RM20)
Terms & Conditions: - 22% off, Max Discount RM20 - Category: Massage & Services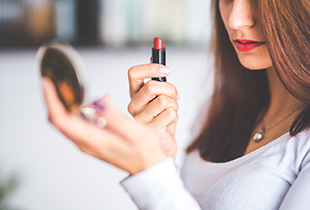 Ends 21 Jan: Get 25% Off When You Shop At Fave! (max disc RM15)
Terms & Conditions: - 25% off, Max Discount RM15 - Category: Beauty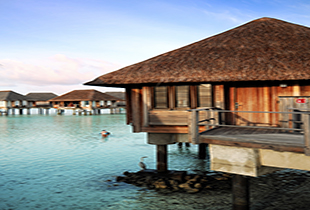 Ends 21 Jan: 15% Fave Cashback For Selected Deals! (max credits RM10)
Terms & Conditions: - 15% Cashback, Max Credits RM10 - Category: F&B, Activities & Travel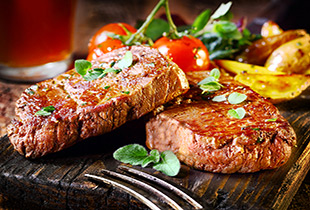 Limited Time Only! Buffets For Less: 10% Off! (Max Cap RM15)
Fave T&Cs apply.
New User Only: Extra 20% off on deals
Single use code Discount up to RM11 Not valid for Shopee deal More Fave T&Cs apply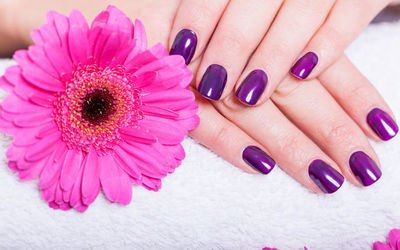 Chinese New Year Promo: Beauty & Haircut Deals
Fave T&Cs apply.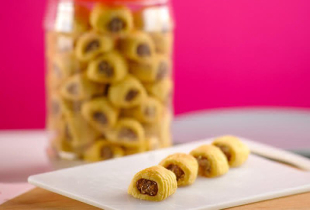 Ends 28 Feb: Cookies & Tidbits - CNY Take Home Treats
Fave T&Cs apply.
Ends 28 Feb: CNY Reunion Dinner Deals!
Fave T&Cs apply.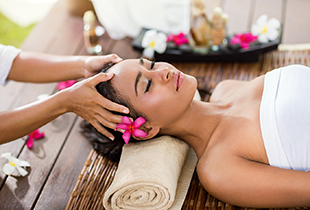 Chinese New Year Promo: Crazy Deals At RM18!
Fave T&Cs apply.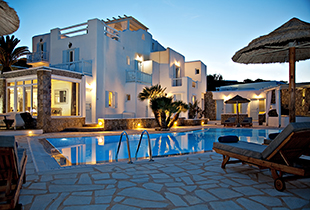 Ends 20 Jan: Fave Travel Deals! Up To 70% Off!
Fave T&Cs apply.
Get Your Photobooks from RM2!
Cherish every memory with Photobook. Now at great deal prices for a limited time only on Fave.
For Your Sweet Tooth: Up to 50% off
Japanese Feasts: Up to 30% off
Newest Deals in town - Updated daily!
Get the best Haircut, Waxing, Facial, Pedicure & Manicure deals!
Up to 70% off your favorite shopping mall restaurants
Deals and discounts at Outback Steakhouse, Famous Amos & more for a limited time only on Fave.
All-you-can-eat buffets from RM25
Treat your loved ones to the top buffets in Klang Valley from RM25
Cash Vouchers up to 40% off
Cash vouchers from your favorites such as Outback Steakhouse, Pretz and Beans and more!
Daily discounted deals up to 70% off
Discounted deals From Restaurants, Cafes, Bars, Spa, Salons, Gyms only on Fave, by Groupon.
Return to ShopBack and click through to Fave every time you are making a new transaction. If you are buying 3 different vouchers on Fave, you should click through ShopBack 3 times, each time before making a new purchase.

If for some reason your payment made on merchant page has failed, do click through ShopBack again and re-do your purchases to ensure tracking is still active.

Cashback is only paid on legitimate transactions

Cashback is given on order value after deducting of Store credits / Discount Codes
Recent Articles
More about Fave by Groupon
Fave, your one stop online portal for exclusive deals in Malaysia!
Looking for discounted deals on restaurants, bars, spa, salons, gym and even services? There is no better place to look for them than at Fave! From travel deals to dining discounts, you will never have to worry about burning a hole in your pocket when planning a holiday or indulging in a meal at a fancy restaurant! Furthermore, you can score even more amazing discounts with the numerous Fave vouchers and coupon codes from ShopBack! Where else can you find promos this fantastic?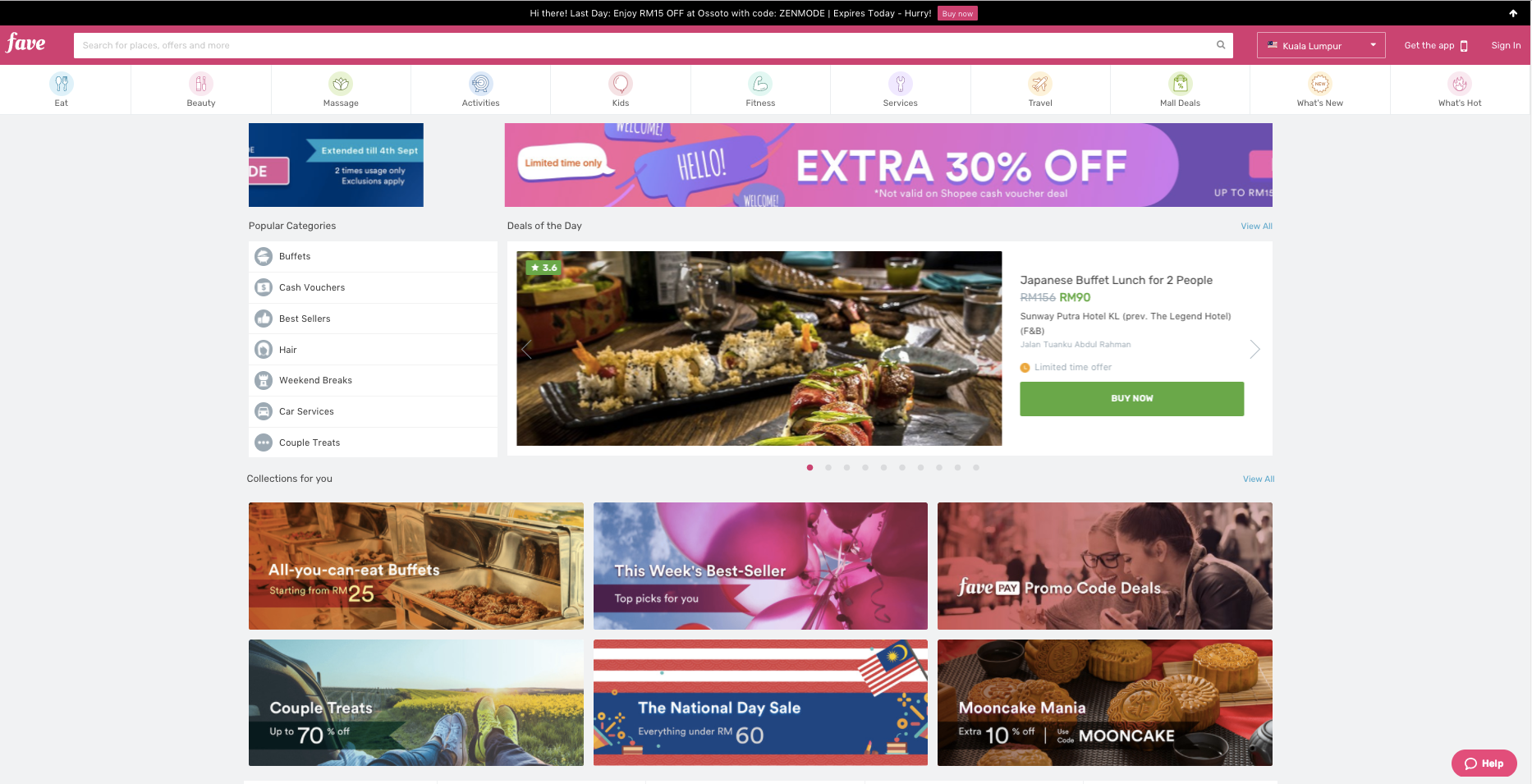 Relax and unwind with the numerous spa and salon deals
Tired from a long day at work? Perhaps considering a day's off by indulging in that much needed massage? Check out Fave for amazing spa deals then! There are numerous spa options that you can choose from, ranging from massages of all sorts such as Balinese massage to Thai massage and even aromatherapy to calm your senses! Looking to try out a new hairdo? Fave will certainly have many salon deals that will make you spoiled for choice!
Furthermore, you can even snag exclusive salon promos on Fave as well for a new hairstyle without bursting your budget. Whether you need a simple trim and highlights or full hair treatment, you can get it at amazing discounted prices with Fave! Moreover, you can even make use of Fave vouchers and coupon codes to avoid bursting your budget if you need a fancy hairdo for a special event.
Feast like a king with the plethora of dining discounts and vouchers available!
There is nothing better than feasting on your favourite cuisines and food. Whether you are looking for exotic Greek food or mouthwatering belgian waffles with ice cream, there is an extensive selection of cuisines and dishes for you to choose from on Fave! On top of that, you can expect amazing dining promos on Fave, be it international buffets, delectable desserts, cuisines of all kinds and even fine dining! Thinking of taking your other half on a romantic candlelit dinner or organising a gathering for your hungry friends? You will never run out of ideas and options with Fave! The best part? Simply make use of Fave coupon codes to score massive promos and discounts!
Work for that hot bod with incredible gym and fitness deals!
Get down and achieve your fitness goals with the numerous gym and sport deals available on Fave! Whether you are looking to try out a new sport or something exotic such as pole dancing, the various Fave promo codes will ensure you can try it without burning a hole in your pocket! Moreover, gym memberships are no doubt expensive. With exclusive Fave vouchers, you can finally snag an incredible discounted gym membership!
Score amazing discounted travel deals on Fave
Whether you are planning to surprise that special someone with a short weekend getaway or plan a long holiday trip to somewhere far, you can easily find a good and heavily discounted travel deal on Fave! From short weekend trips to Singapore or Thailand to exotic destinations the likes of Maldives and Europe, you will certainly have no lack of travel deal options. Furthermore, with the plethora of Fave coupon codes and promo codes, you can still enjoy the holiday of a lifetime without breaking the bank!
Settle your beauty woes with the numerous deals on Fave!
A busy schedule can result in you compromising on your beauty regime. Instead, go for a quick beauty fix with the various Fave beauty promos! From waxing services, deep cleansing facials to teeth whitening and even collagen facials, you can still maintain that gorgeous skin without burning a hole in your pocket! There are even exclusive facial services for the men as well. Make use of Fave vouchers to enjoy even more discounts!
Need professional photography services? You can definitely find it on Fave!
Need a last minute professional photography for a special event? Or perhaps a photoshoot to celebrate your graduation or for a family portrait? These services can be rather pricey if you were to search for it off the shelf, so why not check out Fave then! With the various voucher and coupon codes, you need not pay a bomb for professional photography services!
Check out new and thrilling activities without having to break the bank for it!
If you are the type who loves to try something new, then you can surely find something exciting on Fave! With cool and thrilling activities offered such as theme parks offers, VR game, rock climbing and even white water rafting, you will certainly be spoiled for choice when choosing an activity to try! The best part? There is no need to pay hefty prices to try these new and thrilling activities thanks to the various Fave vouchers!
Stay connected to avoid missing out on fantastic Fave promos and deals
Be the first to know about exclusive Fave deals and discounts by subscribing to their newsletter. After all, with deals THIS fantastic, you definitely do not want to miss out on any of their deals!
Moreover, you can always check out their website for top deals of the day or deals on offers! Imagine even more discounts on top of incredible deals!
Enjoy even more amazing discounts with Fave promo codes and vouchers from ShopBack Malaysia!
The incredible deals and promos that Fave offers is certainly unbeatable. To top it off, you can enjoy even more discounts simply by using exclusive Fave voucher and promo codes from ShopBack Malaysia! With Fave coupon codes, you can get 9.0% cashback on top of your amazing deals!
Want more such fantastic coupon codes and discounts? Check out these other merchants!
If you love these awesome Fave coupon codes, then you should absolutely check out these other merchants on ShopBack Malaysia for more of such voucher codes and deals! Taobao, AliExpress, Qoo10 and Lazada.