Flower Chimp Sale & Vouchers in Malaysia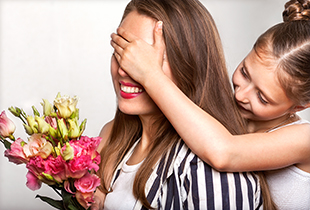 Take 18% off Flower Chimp When You Use Your AmBank card
Fancy Roses? Take 18% Off your purchase with this Flower Chimp Promo. This promotion excludes delivery and handling charges.
Exciting bouquets with Free Delivery across Malaysia
Flower Chimp T&Cs apply
ShopBack must be the last link you clicked in order to get Cashback. If other website links are clicked after clicking through ShopBack, Cashback will not be tracked (E.g. coupon and deal websites)

If for some reason your payment made on merchant page has failed, do click through ShopBack again and re-do your purchases to ensure tracking is still active

Return to ShopBack and click through to the merchant every time you are making a new transaction.

If you are making 3 separate transactions on the merchant, you should click through ShopBack 3 times, each time before making a new purchase.

For more details: www.shopback.my/terms-and-conditions
More about Flower Chimp
Exciting Flower Chimp deals and cashback on Shopback

Purchasing flower arrangements from Flower Chimp in Malaysia can be even more affordable when you buy via ShopBack. Here, you can not only view any available offer codes, but also get additional cashback with every purchase through ShopBack. Some of the Flower Chimp offers have been listed below:
| Offer | ShopBack Deal | Terms and Conditions |
| --- | --- | --- |
| Free Delivery | Up to 7.5% cashback | Exciting bouquets with Free Delivery across Malaysia Flower Chimp T&Cs apply |
Flower Chimp is the expert in nationwide Flower Delivery in Malaysia. They fulfil all flower bouquet orders across the whole country to cities such as KL, PJ & Penang and even Melaka.
One of the greatest ways to express a personal feeling is to say it with flowers. It is almost a hundred years ago that this expression and personal notice left the sender and their florist in burdensome situations because of various transportation difficulties. Nowadays, Flower Chimp can overcome these difficulties by empowering selected florists across Malaysia to cover the entire nation with its flower bouquets. With just a few clicks, you can send stylish flower gifts in seconds.
At Flower Chimp, same day flower delivery is available for orders placed before 1:00 pm and there is no shipping fee on all products in the flower shop. You can even select the time slot which is best suited for your recipient to receive the flowers. Quality is guaranteed with the help of local florists with decades of experience.
German duo Maximilian Lotz and Niklas Frassa began their online florist business, Flower Chimp, in 2016. The company is based in the Mont Kiara, Kuala Lumpur, but orders are placed from people across the world to be delivered to their loved ones in Malaysia. Their integrity is supported by the "Flower Chimp Guarantee" which guarantees the unique freshness, superior flower quality and competitive value of every single order.
The name Flower Chimp is synonymous with the language and sentiments that only flowers can express. Florist shops collaborating with Flower Chimp are known for their dedication and goodwill. Flower Chimp is not only the online flower brand – but it strives to be the most sophisticated one with the greatest value delivered with every single order.
Product categories available on Flower Chimp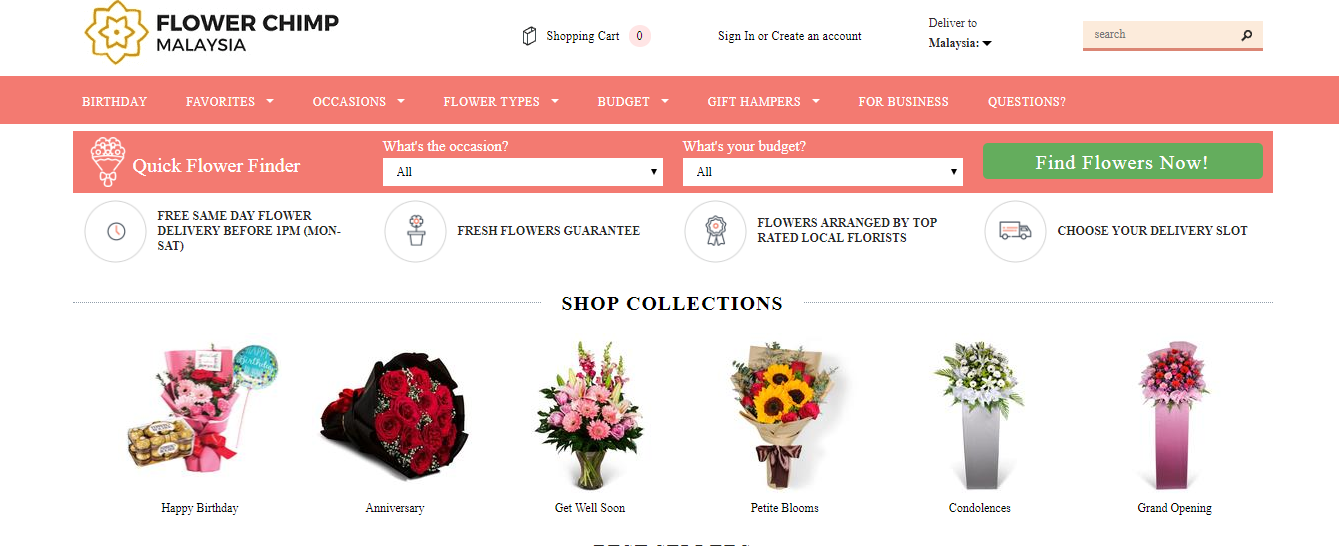 The online site carries bouquets and arrangements for all occasions such as birthdays, anniversaries, romantic events, valentines day, mother's day, CNY, Christmas and many more. They also carry the widest assortment in terms of flower types available in Malaysia. Shop Roses, Orchids, Lilies, Carnations, Tulips, and flower bouquets among others. In addition, if you have a special arrangement in mind do not hesitate to contact the customer care team and the florist will do their best to cater to your wish. Here are some of the product categories available on the site:
| Birthday | Favourites | Gift Hampers |
| --- | --- | --- |
| | Trinity Collection | Fruit Baskets |
| | Trinity Birthday Boxes | New Baby Gift Boxes |
| | Petite Blooms | |
| | Giant Bouquets | |
| | Chocolate Bouquets | |
| | Birthday Bundles | |
| Occasions | Flower Types |
| --- | --- |
| Birthday | Lower Types |
| Romance | Any Type |
| Condolence / Funeral | Bouquets |
| Anniversary | Vase Arrangements |
| Get Well | Opening Flower Stands |
| I'm Sorry | Flower Boxes & Baskets |
| Grand Opening | Christmas Trees |
| Thank You | Roses |
| Graduation | Lilies |
| New Baby | Tulips |
| | Gerberas |
| | Sunflowers |
| | Orchids |
How to order on Flower Chimp
Sending flowers to loved ones has never been easier. In addition, a great Flower Chimp deal with the help of a Flower Chimp discount code or Flower Chimp promo code can also offer you massive savings. To place an order for a delivery of a bouquet in Malaysia, simply follow the steps given below.
Step 1: On the homepage, browse the selections to choose a bouquet you like. You can also search for something specific from the product categories available on the site.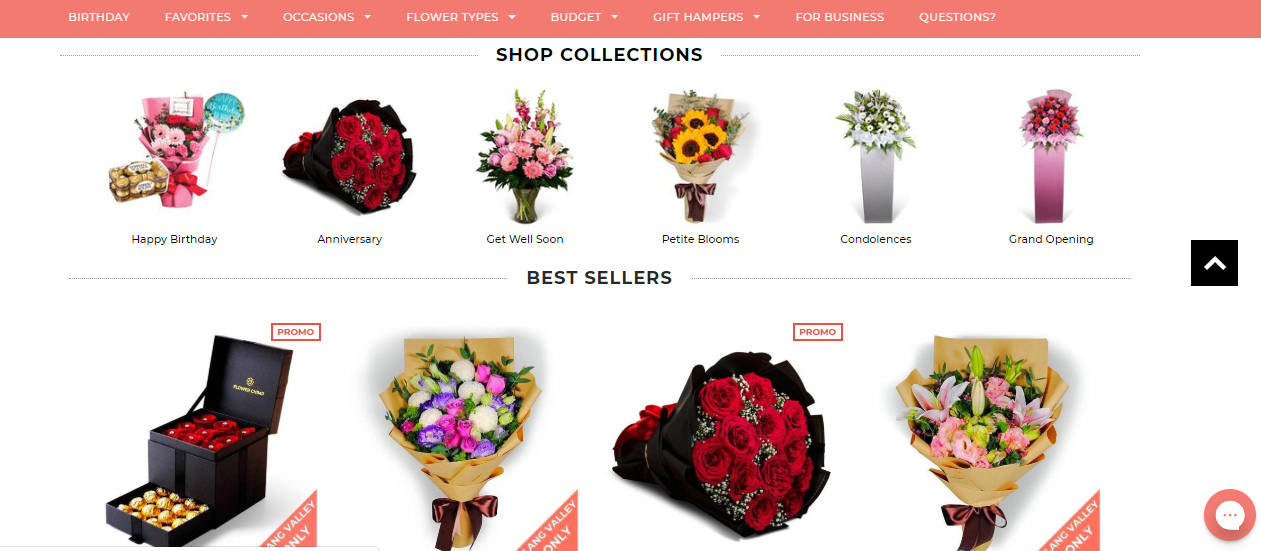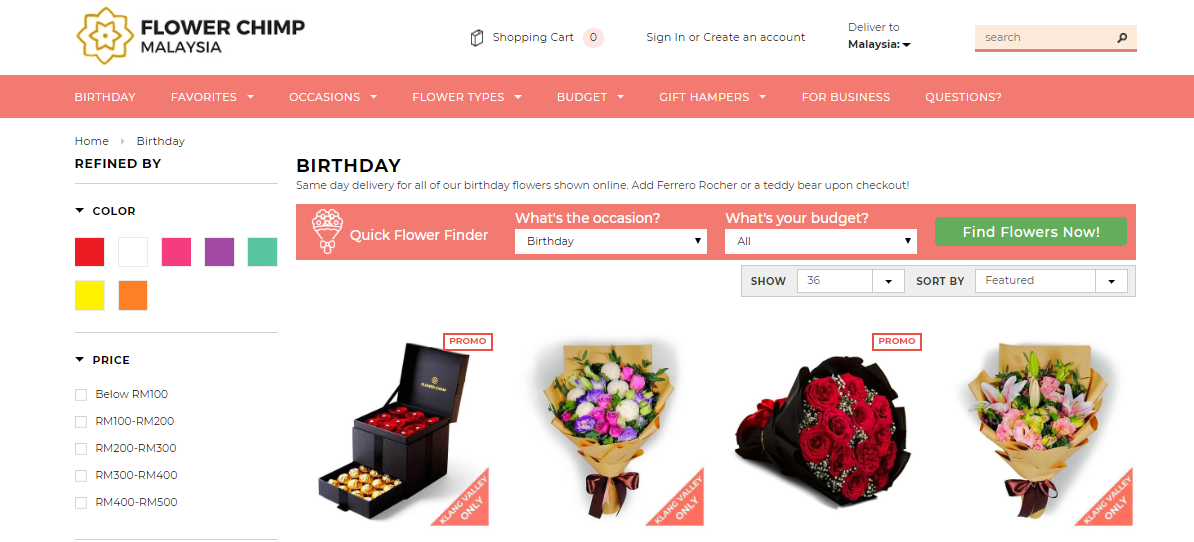 Step 2: Click on the arrangement you like best to view additional details. If you like the bouquet, click on Add to Cart. Here you will also be able to add optional items such as a vase or chocolates to your delivery.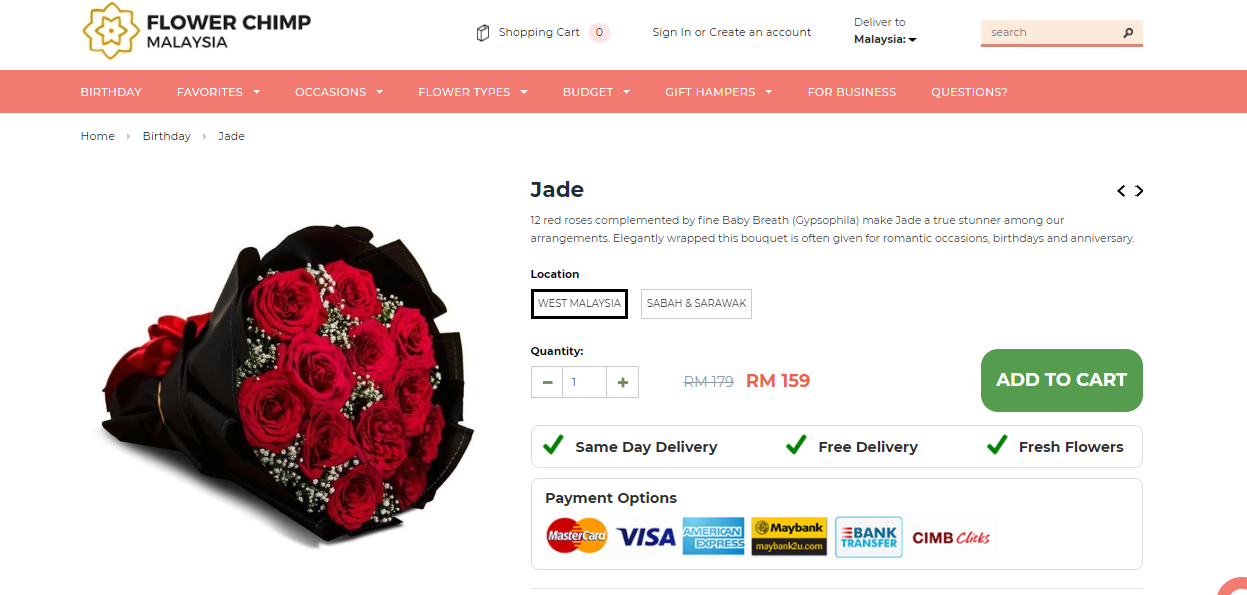 Step 3: Open your shopping cart. Here you can enter details regarding when to deliver your bouquet, type a personal message, and enter a sender's name.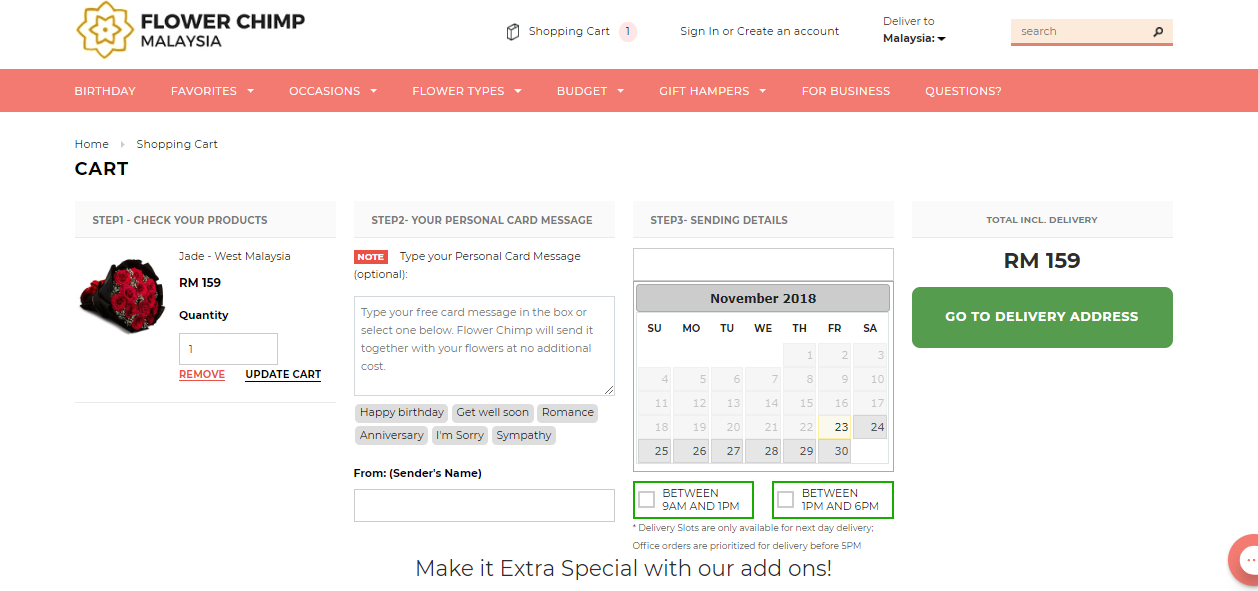 Step 4: Once everything is in order, click on Proceed to Checkout. Enter your email address, the recipients address and a contact number for Flower Chimp to reach out if there are problems with the delivery.
Step 5: Pick your shipping and payment method for the order. Paypal is a recommended choice for payments due to its quick transfer and safety. In case you have a Flower Chimp discount coupon or Flower Chimp promo code, be sure to enter it in the space provided to claim your discount.
Note that for bank transfer payments, Flower Chimp will only fulfil your order after payment has been received by them. To speed up the process it is advisable to send across a screenshot as payment proof to info@flowerchimp.com.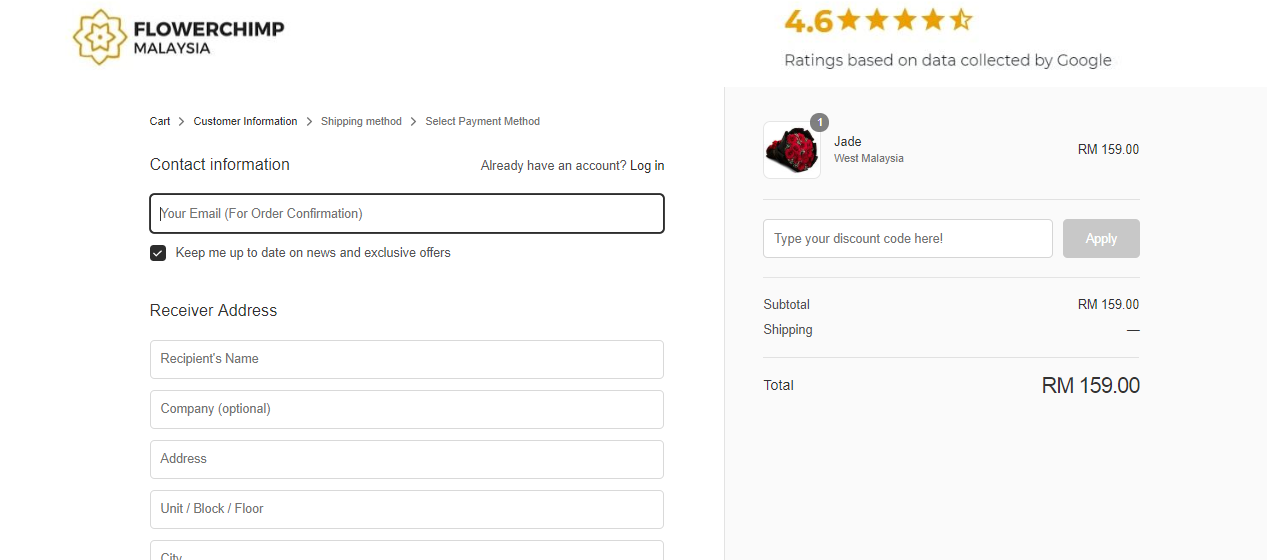 Payment options available on Flower Chimp
The site offers payment via VISA and Master Card credit card (using MOL Pay or PayPal) and bank transfer. They recommend payment via credit card since payment processing will take place automatically so that they can proceed directly to fulfilling your order. The acceptable payment partners include:
Visa
MasterCard
Visa Checkout
FPX
Maybank
CIMB Clicks
RHB Now
UOB
Hong Leong Bank
Bank Islam
AmOnline
Alliance Online
For bank transfer, kindly provide a screenshot showing your transfer confirmation.
Flower Chimp coupon codes and discount deals
In order to make gifting flowers an even more enjoyable experience, the site also offers customers several deals and discounts via a Flower Chimp discount voucher and Flower Chimp promo code. To ensure you don't miss out on any exciting deals, be sure to sign up for the company's newsletter.
How to redeem Flower Chimp coupons:
To take advantage of a Flower Chimp discount code, you have to fill in the code on the payment page (after you filled in all the required delivery information).
Choose your flower bouquet
Hit the Continue button. Fill out all of the required information - recipient's address, card message.
When you reach the Payment page where you choose your preferred payment method- enter the Promo Code in discount code box
The discount will be applied to your order.
How to shop on Flower Chimp using ShopBack
ShopBack offers up to 7.5% cashback on various arrangements if you order from Flower Chimp Malaysia. Here are the steps you need to follow to earn cashback from ShopBack:
Step 1: Visit the ShopBack website and click on the Flower Chimp store at the bottom of the homepage. You can also use the search box to find the link to the store.
Step 2: Click on "Activate Cashback" button on the top left corner of the page.
Step 3: Look for the latest Flower Chimp discount code or Flower Chimp voucher in the voucher codes, discount codes, promos and coupons section.
Step 4: You will be redirected to the Flower Chimp website to browse and select the flower arrangements.
Step 5: When you place the order, you will be eligible to earn cashback from ShopBack. The cashback rates differ based on product categories and based on whether you are a new or an existing customer.
Shipping and delivery policies on Flower Chimp
Shipping is free for all regions that covered by Flower Chimp. Even same day delivery is possible if the order is made online before 1PM. The company delivers flowers on any day of the week, including Sunday. Delivery takes place during business hours before 5PM. If flowers need to be delivered on Sundays you need to place the order latest by Saturday 1:00pm. Please note that Flower Chimp cannot provide the exact time of delivery since every day they are covering different routes to deliver the bouquets.
Care instructions to keep the Flower Chimp bouquet fresh longer
Simple care tips can help keep your bouquet looking fresh for a longer period of time. Some of the care tips include:
A clean vase for flowers: Upon receiving a bouquet, your first intention will be to place it in a vase. This vase needs to be - especially the interior - not just clean, but one hundred percent pure. Only then you can make sure that those bacteria, that reduce the lifespan of the flowers, have no chance. A dishwasher can be of great use, but precious types of vases should always undergo a diligent wash by hand. A few drops of chloride can come in handy during the cleaning.
Please note: Those who are keen on placing the flowers in a metal pot, should make use of an inlet made of glass or plastic.
Flower Nourishing Care: Special nourishing fertilizers have proven themselves useful and should not be neglected, especially in hot environments that can often be stressful for the flowers. Fertilizers further prevent bacteria from growing in the pot or vase.
Bouquet in great shape: In order to preserve the bouquets floristic design, one should in no case open the binding tape at the stalks. This tape ensures the bouquets condition and aesthetic appearance.
Clear unwanted elements regularly: Remove leaves reaching into the water and individual, overly matured blossoms. Those would otherwise increase the process of wilting.
Make a great cut: Before placing the bouquet into a vase, make sure to cut off the tips of the stalks diagonally by using a sharp knife. This allows the flowers to better absorb the water and its nutrients.
Place flowers in the shadow: For lasting joy it is crucial that the bouquet is placed in a suitable location. Direct sunlight is not ideal as flowers will evaporate more water than they can absorb via their stalks. The consequence is accelerated wilting. Draught is just as disadvantageous. Ideal is a shaded, slightly chilly spot.
Water flowers daily: Especially in a hot environment one needs to pay attention to the water level of the vase. It can fall rapidly as cut flowers are really thirsty. If water is replaced on a daily basis, do make sure that the vase remains perfectly clean to prevent bacteria from spreading.
Don't place flowers next to fruits: Ripe fruits are a joy for humans, however not so much for cut flowers. They diffuse ethylene, which accelerates ripening of the flowers - thus the durability of the flowers shortens a lot unfortunately.
Also note: If there is intensive smoking taking place near the flowers, this will also result in ethylene affecting the ripening of the flowers.
Connect with the customer care team
In case you have any additional concerns or queries you can reach out to the customer care team at Flower Chimp via the following methods:
Whatsapp - Simply click on the WhatsApp button on your left on the website.
You can also call the team on the below numbers from Monday to Friday between 9 am to 6 pm.
General enquiries 03-6411 7235
Delivery related calls: 03-6411 7235
Alternatively, you may send an email anytime to info@flowerchimp.com. The team will answer within an hour during business hours.
In addition, to know about exciting offers and latest deals, be sure to follow the brand on social media. You can also learn exciting tips on their blog which is updated regularly.
Similar services in Malaysia