Forever 21 Malaysia Discount Codes, Promo Codes & Coupons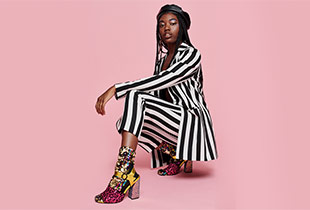 Free shipping within US over US$50 & Shipping to MY available
Shipping fees to Malaysia vary according to order amount, from US$38. Forever 21 T&Cs apply.
ShopBack must be the last link you clicked in order to get Cashback. If other website links are clicked after clicking through ShopBack, Cashback will not be tracked (E.g. coupon and deal websites)

If for some reason your payment made on merchant page has failed, do click through ShopBack again and re-do your purchases to ensure tracking is still active

Return to ShopBack and click through to the merchant every time you are making a new transaction.

If you are making 3 separate transactions on the merchant, you should click through ShopBack 3 times, each time before making a new purchase.

For more details: www.shopback.my/terms-and-conditions
Recent Articles
More about Forever 21
Get sales, promo codes and coupons from Forever 21!
The first time Forever 21 opened its doors to customers in 1984, it was in a small shop in Los Angeles measuring 900 square feet named Fashion 21, owned by Korean immigrants Do Won Chang and Jin Sook Chang. It brought in nearly $700,000 in its first year of operations, and it has since expanded to more than 600 stores across the world, bringing in $3.7 billion in sales in 2013.
Known for its trendy designs and extremely affordable offerings, men and women alike have grown to rely on Forever 21 to provide the solutions to all their fashion problems, with products for sale across all clothing types and categories. Want a top to go with those shoes? Or a nice necklace to go with your earrings? Forever 21 has everything you need - and with Shopback here to to offer you exclusive sales, promo and codes with this giant fashion retailer, you are most definitely assured of a fantastic time at Forever 21's online store.
Shop through an affordable, wide range of items
Over at Forever 21's online store, everything has been sorted to ensure that you can find what you're looking for at the click of a button. With features such as "Best Sellers", "Top Rated", and "Shop by Outfit", Forever 21 not only presents you with what's trending and popular with all the shopping fashionistas of the current moment, it also allows you to picture that perfect outfit in your mind and turn it into reality. Get your Forever 21 purchases with Shopback's exclusive sales, promo codes and coupons today!
With a whole row of gorgeous looks available for wholesale purchase, click on the bohemian stylings of the High-Slit Longline Woven Top ($19.90) paired with Flat-Front Chinos ($14.90) and the Keds Double Up White Tennis Shoes ($50), or scroll towards the summery yet cool Heathered Varsity-Stripe Tee ($12.90) with Distressed Denim Cutoffs ($12.99), Mirrored Round Glasses ($5.90), Half Cutout Cuff ($6.90) and Faux Leather Pointed Booties ($29.90) - or settle on the dynamic and sporty Medium Impact City Print Sports Bra ($14.90) with City Print Capri Leggings ($19.90) and Ankle Socks Pack ($3.90). With Shopback's sales, promo codes and coupons, buying entire outfits won't sound as ridiculous as it is your head - buy everything you've ever wanted, and more!
Over at the men's section, what used to be a brand exclusively tailored to females have found Forever 21 steadily building up their menswear over recent years. They have tees and tanks for the hot Malaysian climate, from the 21 Men Basic Heathered Tee for $3.80 to the Denim Baseball Shirt by Civil for $120; they have shirts and polos, from the 21 Men Classic Fit Pocket Shirt at $12.80 to the Bandana Print Shirt by Jaded London for $90; they have sweaters, from the 21 Men Marled Stripe Cotton Sweater for $14 to the Colorblock Chevron Sweatshirt from INTD for $78; they also have sweatshirts and hoodies, formal wear, jackets and vests, denim options, pants, shorts, socks, underwear, and a bunch of accessories ranging from hats and scarves to shoes and swimwear.
Offering everything from the most affordable pieces to items from higher-end brands, to even options for kids and people in plus sizes, fashionistas looking to mix and match high- and low-brow pieces will have the best time at Forever 21's online store - and with Shopback's sales, promo codes and coupons, you can be rest assured that you won't even feel like you're spending that much money.
Get more with Forever 21's sales and web exclusives!
Shopping at Forever 21's online stores also has some added benefits on top of shopping at your local retailer - and we're not even talking about what happens when you include Shopback's promo codes and coupons on top of your purchases.
As an online customer, you get access to all of their items while being able to apply all sorts of filters to see what's cheapest, what's most expensive, and what's the hottest item at the current moment. Their online store also does lookbooks for customers needing a little sartorial inspiration, categorised into themes such as "Subtle Statements", "Find Your Balance", and "Into the Dark". Under "Men: The Good Sport", top Brazilian model Francisco Lachowski poses in the Metallic Faux Leather Moto Jacket ($49.90), the Botanical Print Collared Shirt ($11.94), Zippered Sweatshorts ($17.90), Heathered Crew Socks ($2.90), with a dab of Musk Eau De Toilette ($12.90). With Shopback's promo codes and coupons, get closer towards your dream of looking sharp and chic and sophisticated today.
Customers looking for even cheaper bargains can finally head over to the Sale section on Forever 21's online store, where they have deals starting at $4 with new styles added weekly, buy-one-get-one-free swimwear promotions, and slashed prices across an entire assortment of pieces. And customers looking for limited edition, one of a kind pieces can head over to Forever 21's Web Exclusives section, where items only available online are all available for your perusal. So what are you waiting for? Start shopping with Shopback's exclusive sales, promo codes and coupons with Forever 21 today.
Gain additional earnings with Shopback's sales, promo codes and coupons
With Shopback's exclusive sales, promo codes and coupons with Forever 21, shopping at Forever 21's online store couldn't be more of a joy - or a breeze. By shopping through our website, you can get cash back rebates on all your purchases, ensuring that you gain greater savings with every dollar you spend.
If you'd like to stay connected to Forever 21, be sure to follow them on their social media to stay updated on all their latest news and fashion offerings:
Do note however, that Forever 21 unfortunately does not ship to Malaysia. Nevertheless, we at Shopback would advise you to hire third party vendors and freight forwarders to help arrange for international deliveries between Forever 21 and your home. Finally, if you'd like to look at our other merchants on Shopback, be sure to head over to SSENSE and Missguided for more fashion and beauty offerings. Get more out of your online shopping experience with Shopback's sales, promo codes and coupons!
Forever 21 Black Friday Season
Shop Forever 21 Black Friday fashion online and receive exclusive promo codes to offset your purchases! It's a sale like none other and happens only once a year. Stay tuned for more information