One of the fastest growing e-commerce platforms, GearBest offers customers in Malaysia a wide selection of high-quality products at wholesale prices online. Their tagline 'Best Life, Best Gear: GearBest showcases their mission in providing customers with the very best of products to improve their daily lives. The items sold here are sourced from several individual store sellers along with GearBest originals.
The site is well-known for consumer electronics, gadgets and men s fashion. Their online catalogue is constantly expanding with the very latest and coolest gadgets added every day to ensure every customer gets their tech fix.
GearBest was founded in 2013 with its headquarters located in Alicante, Spain. The company s main motive was to offer the widest selection of cool and fun gear at the best prices online. With the leading choice of electronics and items across categories, the company soon earned global recognition. This success translated to Malaysia, where hassle-free shipping and latest gadgets have made GearBest a popular household name.
Products sold on GearBest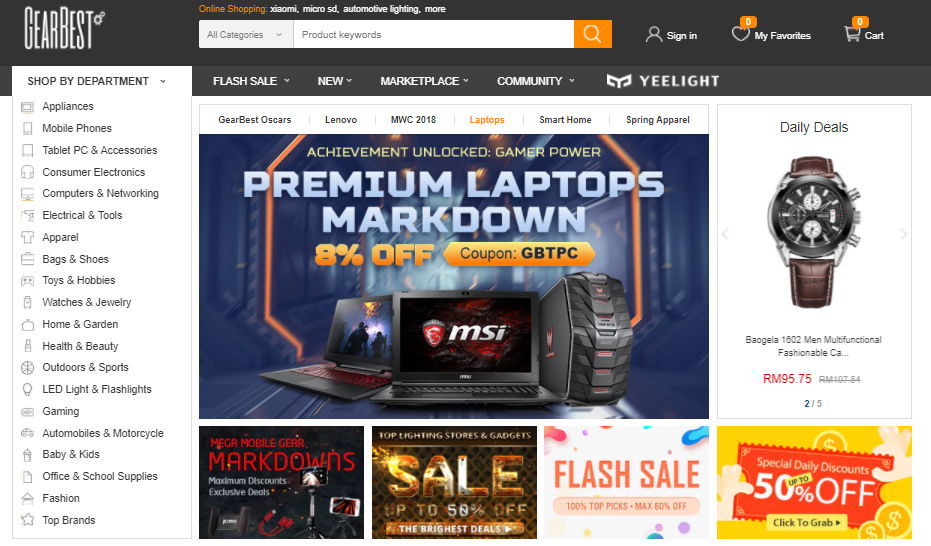 The GearBest online store is a shopper s delight. The site offers a vast array of products across categories in a user-friendly layout. One can browse through the well-organised sections or even take advantage of a GearBest coupon or promo offer by checking out the Flash Sale section. Whether you are looking to buy the latest Android phone, Bluetooth accessory or digital camera, GearBest brings you the best brands for every need.

Below is a preview of the categories and products available on GearBest.
| Appliances | Mobile Phones | Tablet PC and Accessories | Consumer Electronics |
| --- | --- | --- | --- |
| CLEANING SUPPLIES | Cell Phones | Tablet PCs | Smart Watches |
| Robot Vacuum | Featured Phones | Laptops | Smart Watches Accessories |
| Robot Vacuum Accessories | Smart Watch Phones | Tablet Accessories | Amazfit |
| Steam Cleaners | Unlocked Phone | Computers | Xiaomi Miband |
| HOME APPLIANCES | 4G LTE Smartphone | All-in-One Computers | No.1 Smart Watches |
| Power Strips | CELL PHONE ACCESSORIES | Teclast X22 Air | Action Cameras and Accessories |
| Doorbell | Power Banks | GETWORTH R12 Gaming | Headphones |
| Water Filter | Screen Protectors | DIY PC | Virtual Reality |
| Laundry Appliances | Case & Leather | Gaming Computers | Video Game |
| KITCHEN APPLIANCES | Batteries | | MP3 & MP4 Players |
| Blender & Mixer | Stands & Holders | | Security & Protection |
| Cooker & Steamer | Apple Accessories | | Surveillance System |
| | Chargers & Cables | | Baby Monitor |
| | Samsung Accesories | | Photography Accessories |
| Computers and Networking | Electrical and Tools | Apparel | Bags and Shoes |
| --- | --- | --- | --- |
| TV Box & Mini PC | 3D Printers | Men s Clothing | Men s Bags |
| Projector & Accessories | Hand Tools | Outdoor Clothing | Handbags |
| Network Devices | Measurement & Analysis | Sports Clothing | Waist Packs |
| Computer Components | Temperature Instruments | Swimwear | Men s Shoes |
| TV accessories | Power Tools | Accessories | Women s Shoes |
| Laptop Accessories | Arduino & SCM Supplies | Women s Clothing | Women s Bags |
| Televisions | 3D Printer Accessories | | |
| Watches and Jewelry | Home and Garden | Health and Beauty | Outdoors and Sports |
| --- | --- | --- | --- |
| Men s Watches | Home Improvement | Health Care | Knives & Tools |
| Women s Watches | Kitchen & Dining | Shaving & Hair Removal | Exercise |
| Jewelry | Home Decor | Hair Extensions & Wigs | Cycling |
| | Housekeeping & Organization | Makeup | Camping & Hiking |
| | Home Textile | Nails & Manicure | Fishing |
| | Bathroom | Beauty Care Tools | Scooters and Wheels |
| | Umbrella & Raincoats | | Guns / Hunting Supplies |
| | Home Furniture | | LED LIGHT AND FLASHLIGHTS |
| | | | LED Flashlights |
| | | | Smart Lighting |
| | | | Indoor |
| Fashion | Office and School Supplies | Automobiles and Motorcycle | Gaming |
| --- | --- | --- | --- |
| Clothing | Office Electronics | Car DVR | PC Gaming |
| Fashion Accessories | School Supplies | Car Electronics | Gaming Laptops |
| Bags | Office Supplies | Car Decorations | Gaming Desktops |
| Shoes | Painting Supplies | Motorcycle Accessories | PC Components |
| Watches | Desk Organizers | Car Repair & Maintenance | |
| Fine Jewelry | | Car DVD Players | |
| Beauty | | Car Lights | |
Step 1:
Sign up (if you are a new customer) or Log in (if you are an existing customer) for an easier checkout by clicking on the tab on the top-right corner of the page.

Step 2:
Browse through the categories or search for a specific product (such as a portable GPS system, Lenovo tablet) using the search button.

Step 3:
Click on the product you like and review the information. Any applicable GearBest coupon codes and promo codes can also be seen here. If you like the product, click on the 'Add to Cart button.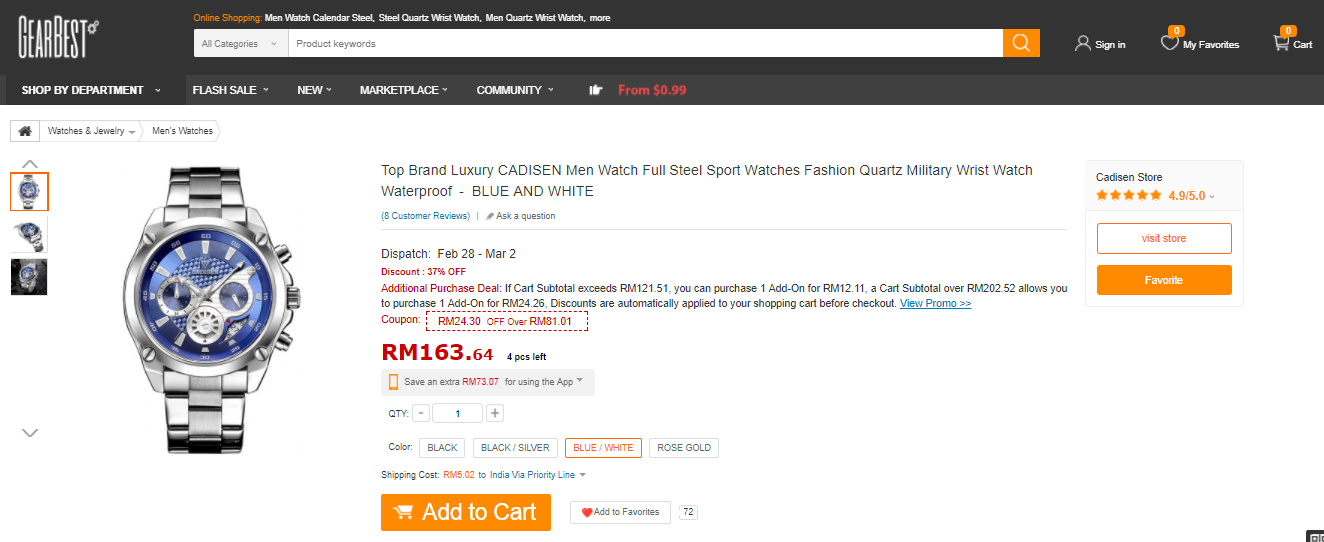 Step 4:
Add as many products as you d like and when done, click on the cart icon on top right corner of page.
Step 5:
Review cart products. In case you have a GearBest promo code add it in the box given at the bottom for more discount.
Step 6:
Checkout and Pay and place your order.
Payment options at GearBest
Shopping on GearBest is safe, fast and convenient. The site accepts a number of secure payment methods designed to be completely safe and friendly. When you shop at GearBest, your privacy and online security are always guaranteed. The accepted payment methods are:
PayPal: GearBest primarily uses PayPal to process secure payments. Through PayPal, they accept MasterCard, VISA, American Express, Discover, and bank transfer (debit card).
Secure Credit Card payment: GearBest can also accept Credit Card payment using Mastercard or Visa.
Earn points for added discounts on GearBest
GearBest offers customers various opportunities to earn points and redeem them for products. Some of the ways you can earn points include:
● 5 Points - Submit Order Feedback
● 10 Points - First time you subscribe to Newsletter or post Text Reviews for purchased items
● 20 Points - First time you upload your Profile Picture in My Account or post reviews with photos for purchased items
● 50 Points - Register to be a member of GearBest or post reviews with videos for purchase items
● 70 Points - Post Reviews with Photos and Videos for purchased items
● 250 Points - Recommended videos on the video community.
2. You can use points for discount if you have at least 50 points.
3. The discount (from the Points) cannot exceed 30% of the item sub-total cost. (Note: Selected promos may have a different cap.)
4. Points cannot be used with Coupons, Special Offers, Email-Only prices, or Flash Sale prices.
GearBest coupons, deals and cashback with ShopBack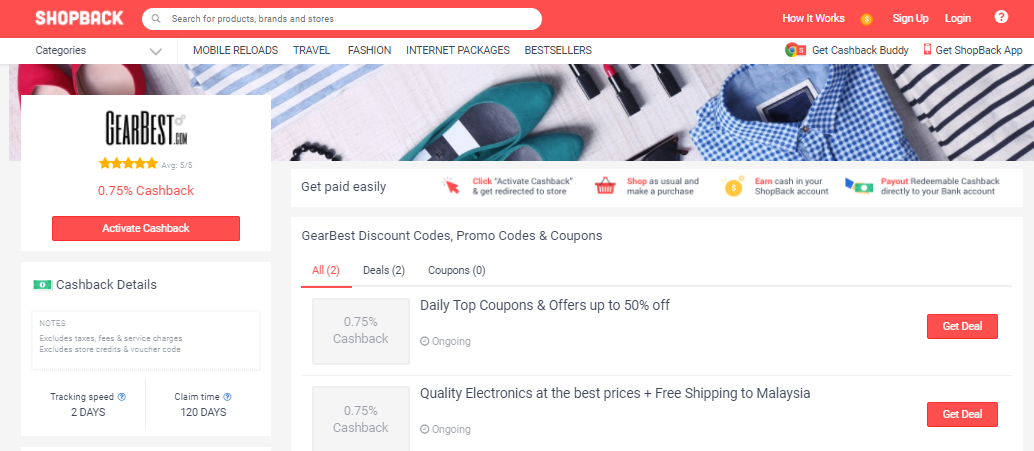 | Offer | Deal | Terms and Conditions |
| --- | --- | --- |
| Top Coupons | Up to 0.75% Cashback | Valid on Daily Top Coupons & Offers up to 50% off |
| Electronics | Up to 0.75% Cashback | Get Quality Electronics at the best prices and enjoy Free Shipping to Malaysia |
How to Shop on GearBest using ShopBack
ShopBack offers up to 0.75% cashback on various items if you shop from GearBest. Here are the steps you need to follow to earn cashback from ShopBack:
Step 1:
Visit the ShopBack website and click on the GearBest store at the bottom of the homepage. You can also use the search box to find the link to the merchant store.
Step 2:
Click on "Activate Cashback" button on the top left corner of the page.
Step 3:
If you are interested in finding attractive deals and coupons, check out the GearBest Promo codes, coupon codes, vouchers and Discount Codes section.
Step 4:
You will be redirected to the GearBest website to browse and select the items.
Step 5:
When you place the order, you will be eligible to earn cashback from ShopBack. The cashback rates differ based on product categories and based on whether you are a new or an existing customer.
Warranty and return policy at GearBest

7 Day Dead on Arrival (DOA) Guarantee
In case your item arrives damaged or is not working, please follow the warranty process and contact the Support Centre for RMA authorization within 7 days of the order being received. After returning the product to the address provided by the support team, you will receive a new item free of charge (the return shipping cost will be reimbursed), or you can choose to receive a full refund.
1. Customers must first send a clear photo or video of the damaged or defective product and the shipping packaging for issuing RMA authorization. Attachment size must be under 2MB for the Support Centre, please send larger attachments to: support@gearbest.com.
2. After GearBest has received the returned product and confirmed the product is faulty, the return shipping cost will be refunded based on a valid return receipt.
3. Product returns must be via one of GearBest s approved shipping methods.
30 Day Unconditional Refund Guarantee for Unopened & Unused Items
In case for whatever reason you do not want your item within 30 days of receiving it, you may also contact GearBest for a return and refund. Kindly note that in such cases the return shipping fee is the customers responsibility and is non-refundable. Items must be returned in their original packaging, unused and unopened in order to qualify for a product refund.
45 Day Money Back Guarantee
For most items, in the unlikely situation that your product is faulty, you can send it back for a refund or item exchange within 45 days of receiving it. Return shipping reimbursement is not available for this.
Unless otherwise noted on the product page, the default product warranty period is one year starting from the date you receive the goods, during which you are eligible for free repair. Any free repair needs to be confirmed with the manufacturer via Customer Service. Customers must pay the shipping fees for returning the item accordingly, while GearBest will cover the shipping fees to send the repaired item back to the customer. If the buyer has damaged/misused the item(s), it will not be eligible for free repair, however customers can return it at their own cost and pay a fee for the repair. Return shipping fees will be the customers responsibility in such cases.
How to request warranty (return, repair and refund)
Step 1:
In case your item has an issue, please first submit a ticket to the Support Centre
Step 2:
Be sure to describe the problem with your item in detail: What happened? When? How? Please also state your full order number and product code (SKU number). Also provide the item code indicated on the outer packaging.
Step 3:
Send a clear photo or video showing the defects; these should be taken under good lighting.
Within 30 days of receiving the item, if you are dissatisfied with the order, please follow the warranty process and contact the Support Centre for RMA authorization stating:
2. The item codes you wish to return.
3. The reason for return.
The Customer Service team will review your case and offer a return back. Upon receiving, the item will be exchanged with a replacement or will be refunded.
Items that can be returned/refunded or exchanged within 30 days of receiving must follow the criteria as below:
1. Faulty items damaged/broken or stained upon arrival.
2. Items received in the incorrect size/colour.
3. Unwashed, unworn and unused items that have not met your expectations within 30 days of receiving.
1. Items outside the 30 day warranty time-frame.
2. Washed, worn, used or misused items.
3. Items under the following categories: Sale, Swimwear, Lingerie, and Earrings. These items are not covered by the warranty for hygiene reasons.
All returns must be confirmed via the ticket centre. Returned items without Return Merchandise Authorization (RMA) will not be accepted.
Shipping policy at GearBest
GearBest has 4 different shipping methods: unregistered, registered, priority line and expedited shipping. For Malaysia, the company uses Unregistered Air Mail or Registered Air Mail with an average delivery time of 19 days.
The shipping cost depends on the weight of product, the origin, the destination, the shipping method and warehouses, and other considerations. Detailed pricing information is visible when placing an order. Choose the correct destination and warehouse, then select the shipping method, to obtain an accurate shipping cost.
Get in touch with GearBest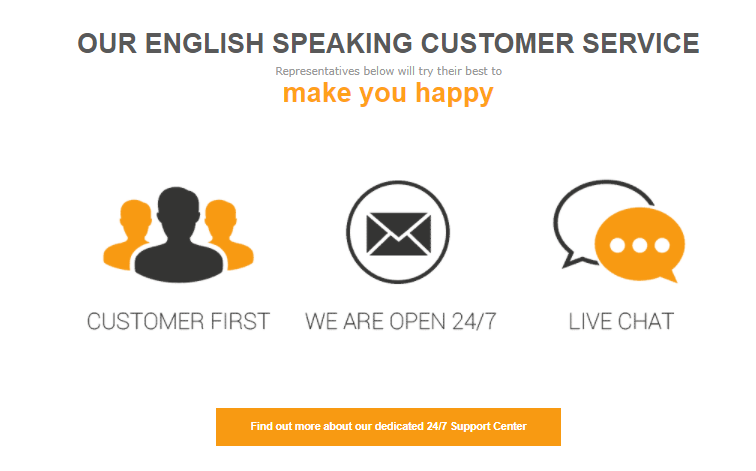 For any queries or concerns you can easily get in touch with GearBest by clicking on the Contact Us tab given at the bottom of the page. In addition, you can also stay updated on latest GearBest deals and products by following them on social media or scrolling through their blog.
ilar merchants do check out Asos and Zalora on ShopBack.