Hotels.com Discount Codes, Coupons & Promo Codes
Up to 50% discount on 290,000 Hotels Worldwide
Resort getaways Up to 70% off
Up to 70% discount on Asia, Europe, Americas destinations & more. Promotion for a limited time only. Hotels.com T&Cs apply.
Up to 50% discount on 290,000 Hotels Worldwide
Available on hotels.com for a limited time only.
Cashback will reflect an RM0 amount initially, but will reflect the correct amount within 60 days after stay has been completed

Orders made on external partner pages or using external partner voucher or discount codes (eg. banks, telcos, loyalty networks) are not valid for Cashback.

Cashback is only paid on legitimate transactions
Recent Articles
More about Hotels.com
Hotels.com — the smarter way to book your holidays.
Let's be real here — don't we love a little time off now and again? It really doesn't matter if traveling to you means a time of rest and relaxation or a period of vehement adventure and exploring a strange foreign land. Whatever your intentions of travelling are, it is indeed a healthy luxury that you deserve at the lowest discounted price possible. Enter Hotels.com, the leading provider of hotel accommodation worldwide. Hotels.com offers booking services through its own network of localised websites and telephone call centres. Hotels.com also gives travellers the widest selections of accommodation on the internet, including both independent and major chain hotels and self-catering homes (think airbnb style!) in over 240,000 properties worldwide. Hotels.com also offers a one-stop platform for hotel pricing, amenities and availability. Therefore, if you're intending to travel during peak periods where hotels around the world tend to be sold out, Hotels.com can help you out with that as well! So, really, it's entirely possible to get a room even during the busy June and December periods. Book a hotel through Hotels.com today and you'll never look back.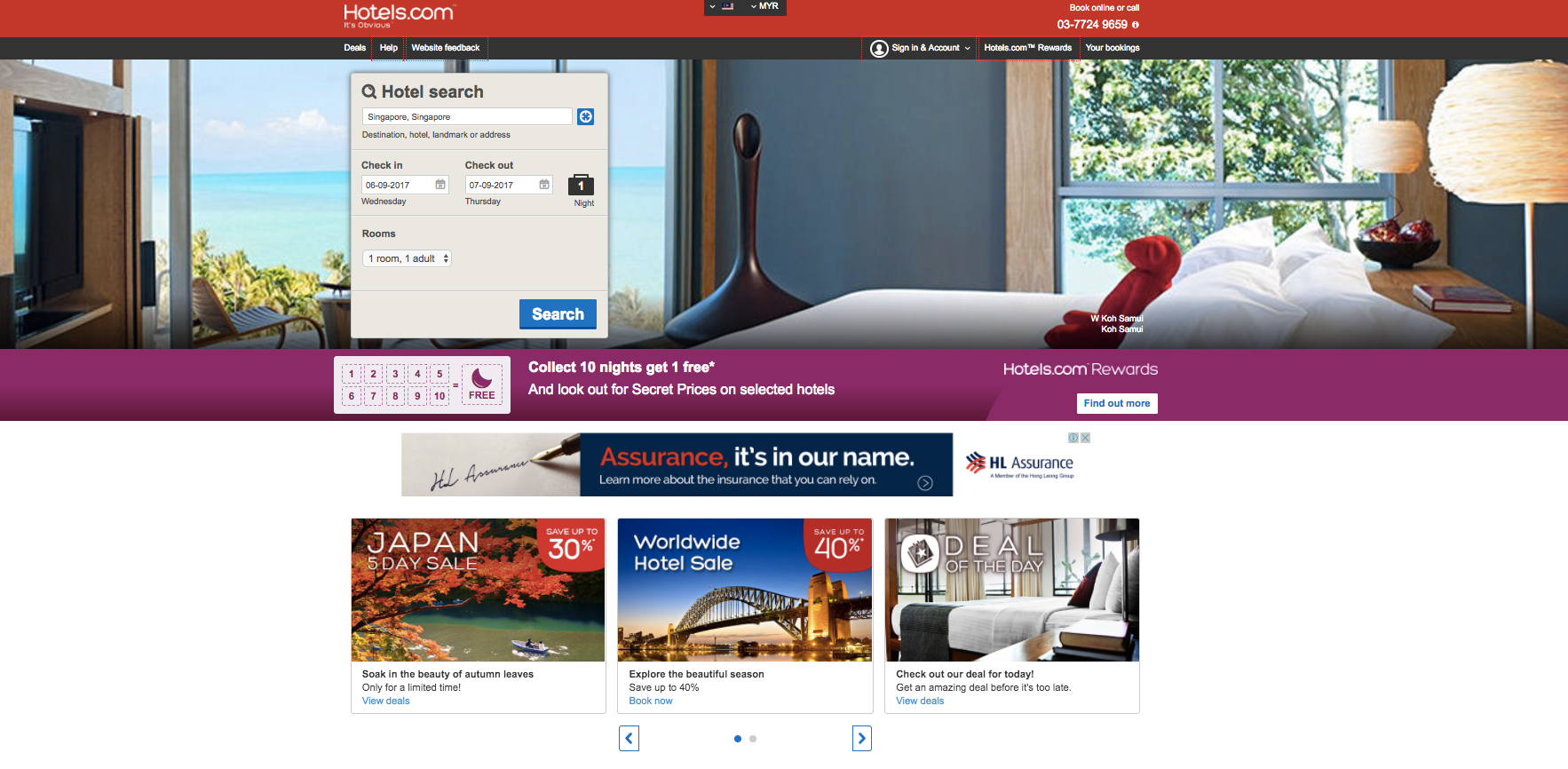 Travel happy during CNY with ShopBack Malaysia's discount and promo codes
Are you looking take advantage of the long-awaited Chinese New Year 2016 holiday with a short holiday to kick start the year on the right note? Wait no more because Hotels.com has several exciting CNY discounts and promos to relieve the burn in your pocket, especially after giving away those ang paos! Fancy a short trip to nearby Phuket — to gobble down their yummy food, or Singapore for some high street shopping? Do so at a great discount with a promo code when you purchase via ShopBack Malaysia after you sign up for an account! Get up to 40% discount PLUS 3% cashback to really save big with abundant discounts! Indeed, travelling at a peak period need no always be costly.
Indulge your other half with a romantic hotel stay during Valentine's Day
Yes, Valentines' Day may seem extremely far away right now but it's never too early to plan for it! Plus, nothing shows your sincerity more than careful and meticulous planning. Forget the typified version of V-Day with its red roses and Royce chocolates in heart-shaped boxes — but really spoil your other half with a great hotel with Hotels.com to spend a romantic day in.
Indulge yourselves and choose amongst the loveliest hotels around Paris, New York and more or, for somewhere nearer to us Malaysians, Koh Samui or Phuket. Don't forget about transport, in that case! Expedia provides great flight deals for low prices, and if you're travelling internally within the country, ShopBack Malaysia has got you covered too.
So go on, book yourself a hotel! You'll get a 55% discount if you use ShopBack Malaysia's special discount and promo codes, and get a 3% cashback coupon on top of that!
Huge savings and discounts at your favourite boutique hotels!
Boutique hotels are basically smaller hotels that often contain luxury facilities in unique or intimate settings with full service accommodations. They're stand-out in the sense that they're usually decorated in a certain theme — some with different themes for each room!
Want to stay at a boutique hotel? Well, lucky you then! Hotels.com is offering major discounts and promo codes for boutique hotels all over the world — at a promotional discount of up to 45% off! You can enhance this sale when you purchase via ShopBack Malaysia because you can get a great 3% cashback.
Choose from a plethora of exciting destinations like Japan, Korea, Paris — and many, many more! Remember to grab Hotels.com discount code before the promo is over.
Experience beautiful, beachy Maldives with Hotels.com at a big discount!
Sun, sand, and sangria. Maldives is a beautiful place everyone should visit at least once in their lifetime. Imagine leaping off your balcony right into the clear, sparkling sea water — wait, you don't actually have to imagine! With Hotels.com, you can now visit Maldives without breaking the bank. When you book your Maldives accommodation with Hotels.com via ShopBack Malaysia, you'll be able to get 50% off your hotel and 3% cashback on top of that.
So what are you waiting for? With just a few simple clicks, you can get yourself an amazing sun-soaked and wind-swept holiday at one of the most beautiful places in the world!
Head over to our closest neighbour & stay at splendid hotels amazing promo codes!
Though no doubt most of us have already visited Singapore, it's always fun to tour the country again. With an array of new attractions springing up in the ever-changing cosmopolitan city, a trip there is always worth the money! But best of all? The discount codes you can apply when you book your favourite hotel with Hotels.com via ShopBack Malaysia. When you purchase through ShopBack Malaysia, you'll get a discount code worth up to a massive 60% off AND 3% cashback — the little cherry on the cake! Who said hotels were expensive, anyway?
Now you can save on flight costs and have an enjoyable holiday in the comforts (but way, way more luxurious!) of your own home.
Last minute planning? Don't worry — these last minute discounts will still float your boat!
No worries if you were tight for time and are just beginning to plan your trip. It might actually even be a good thing as there various promotions and last minute discount codes — you'll get 50% off and 3% cashback. And the best part? It never expires! So what are you waiting for? Embrace spontaneity and book an impromptu holiday through Hotels.com with ShopBack's awesome cashbacks — it'll definitely be a trip you'll remember fondly in years to come!
Other great Hotels.com promos, discounts & coupon codes you must not miss out, especially during Hotels.com Black Friday
And guess what folks — that's not all. Here are some other deals from Hotels.com to you:
Hotels.com loyalty programme — sign up for their loyalty programme and get 3% cashback!
Up to 50% off hotels WORLDWIDE. Yes, you heard it. Travel the globe cheap with this awesome discount code when you book your hotel via ShopBack Malaysia.
DEAL OF THE DAY — be sure to check out the daily deals to get the best Hotels.com discount codes, coupons & promos!
Stay connected to Hotels.com
For more details and to stay to date with the latest Hotels.com promo codes and discounts, don't forget to join their loyalty programme! Alternatively, you can also follow them on their various social media to ensure you're the first to know about the best Hotels.com deals and promos that are on offer!