iHerb Coupons, Discounts & Promotions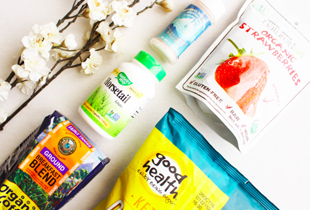 [ShopBack App only] Deals of the Week up to 15% off - Refreshed Weekly!
Download the ShopBack App and enjoy Cashback on iHerb!
As of 23 Sep 2017 4.30 PM onwards, Cashback for iHerb MY has resumed. You may now enjoy 3% Cashback on your purchases as per normal.

From 20 July 2017, 00:00 onwards, Cashback on iHerb orders will only be available via the ShopBack app. No email forwarding will be required for your purchases made from 20 July onwards.

For orders made before 20 Jul, please forward your Order Confirmation Email to iherb@shopback.com with your ShopBack email address within 7 working days from order date. Your Cashback will still be processed and credited to you.

If you face any errors (eg. payment rejected, incorrect details) during checkout, close the window, return to ShopBack and click through iHerb again to make your purchase. Cashback will be rejected if you face errors but still continue with payment

Please make your payment in MYR. Return to ShopBack and clickthrough to iHerb every time you are making a new transaction. Complete your order within the same window to qualify for Cashback.
Recent Articles
More about iHerb
Start a healthy lifestyle with iHerb vouchers
When was the last time you had something healthy to eat? As our workload starts piling up, there seems to be no more time left for healthy living. It's almost too easy to sacrifice mealtime when you're so tired after a long day of work. We are forced to grab burgers from the nearby Macdonald's instead of having a hearty lunch 'cause it seems ain't nobody got time for proper meals these days! Luckily, with iHerb, your oily, non-nutritious fast food days are over.
iHerb the ultimate online retailer of natural products for the health-conscious and eco-friendly. Selling high quality health products and supplements from all over the world, iHerb provides you with all products you need to live a longer life!
iHerb – the trusted supplier of health products
iHerb maintains a strong consumer base based on repeat orders and word-of-mouth. As such, you can be sure that their services are of top quality. Certified by NSF International as a Good Manufacturing Practices facility, iHerb provides you with more than 35,000 trusted products from more than 1000 well-known and respected brands. iHerb has been rated as #1 by ConsumerLab for 7 years in a row for their conscientiousness in meeting the needs of their customers while protecting the environment.
iHerb coupons and discount codes up for grabs
Check out the wide range of health products that iHerb carries:
Skincare products – bring the radiance back
Your skin should be of the utmost importance, 'cause its sticking with you for literally a lifetime! If finding perfect skincare products has always been a problem for you due to your sensitive skin issues, then perhaps you need to get some organic products for a change. With iHerb, you can get great organic products for your skin from Avalon Organics and Aubrey Organics at a whopping 20% discount!
Supplements – give yourself some extra nourishment
Most people think that supplements are not essential to great health, but your body will definitely thank you for all those extra vitamins! Whether you prefer Nature's Way or Now Foods fan, iHerb has vitamins, probiotics and enzymes that you need to give yourself that extra boost.
Sports food/Superfoods – nutrition in every bite
If you're a picky eater and you can't stand the thought of having to change up your old eating habits completely for a healthier one, then consider consuming health products in small amounts. Add a little bit of iHerb into your every meal, like natural sweeteners, spices and seasonings, or even dried fruit, to slowly shift into a healthier diet. You won't even realize it but you'll really start to notice the difference after a while!
Just by entering the iHerb coupon codes provided by ShopBack, you could get a great storewide discount of a min. of 5%! Yes, that's right, eating well is not only good for your body, but for your wallet as well.
ShopBack gives customers cool coupon codes at iHerb
If you're a new customer, you could get up to $10 off storewide with the iHerb Rewards Program just by using the given discount codes or coupons. For returning customers, no worries – there are great iHerb deals for you too. Spending a min. of $40 will entitle you to a great discount of 5% off storewide as well as super discounted shipping rates! These are exclusive iHerb promos that you can take advantage of just by shopping through ShopBack, especially during major sales such as iHerb Black Friday! Just be sure to sign-in or create a ShopBack account before shopping at iHerb, and you're all set to getting a good discount.
Share all that healthy iHerb goodness with your friends!
iHerb Rewards Program is a unique referral rewards system that you and your friends can continue to benefit from for years. Here are the top few interesting and unique things about the iHerbs Rewards Program:
Introduce your friends to all the iHerb promos and discounts so they can get the best value for all natural products!
We consider it to be selfish to keep all the best deals to yourself. Since you now know of iHerb's awesome promos and discounts, it would be almost sinful to not tell your friends!
Rewards are ongoing and don't expire
Through iHerbs Rewards, new customers will save $10 for a purchase of $40 or more, or $5 for a purchase less than $10. Current customers will then earn 6% of the purchases made by your friends in the first year, and 2% for subsequent years. This means that you continue to earn commission from all your friends' purchases for years!
Earn rewards for promoting items to current customers as well
Not only do you get commission from promoting iHerb to new customers, but you can also promote items that your friends have yet to purchase. If they purchase these goods, you can earn rewards similar to those as mentioned above!
Our favourite aspect of the iHerb Rewards is that we can choose to give our rewards to the less fortunate instead. Just by entering the Rewards Codes assigned to either Doctors Without Borders (code: DWB111) or Cambodian Children's Fund (CCF777), iHerb will send $10 to the charity of your choice. We love that shopping at iHerb is not only good for our bodies, but also good for the community.
iHerb Shopping App
If you can't get enough of iHerb like us, then be sure to download the iHerb Shopping App, available on both Android and Apple devices. The iHerb Shopping App makes it easy for you to shop directly on your phone as well as browse through reviews for all your favourite products. You can quickly track all your rewards from iHerb through your mobile device. Download the app today to continue earning more iHerb Rewards!
Connect with iHerb for all the great promos
Follow these social media accounts to keep updated on everything iHerb — deals, promos, coupon codes and more! You don't want to miss out on the awesome iHerb discounts up for grabs.