iShopChangi Promotion, Coupon Code & Voucher October 2018
iShopChangi: Online duty-free shopping at Singapore Changi Airport - Shop up to 18hrs before your flight departure
Shop conveniently across all terminals and pick up your items at your departing terminal before you fly. Shop on the go or at the comfort of your own home 30 days in advance, up to 18 hours before your flight departure.
ShopBack must be the last link you clicked in order to get Cashback. If other website links are clicked after clicking through ShopBack, Cashback will not be tracked (E.g. coupon and deal websites)

If for some reason your payment made on merchant page has failed, do click through ShopBack again and re-do your purchases to ensure tracking is still active

Return to ShopBack and click through to the merchant every time you are making a new transaction.

If you are making 3 separate transactions on the merchant, you should click through ShopBack 3 times, each time before making a new purchase.

For more details: www.shopback.my/terms-and-conditions
More about iShopChangi
With the popularity for online shopping nowadays, e-commerce platforms are an increasingly important tool to enable retailers to reach out to a wider target audience. Realising that the online shopping trend is here to stay, Changi Airport has also been steadily developing its online platform, iShopChangi.
Passengers can take their time and browse on iShopChangi from 30 days prior to their departure date, up to 18 hours before their flight. They can shop from stores across all four terminals and opt to collect their purchases from the terminal they are departing from, or from the baggage claim hall upon arrival.
Shopping on iShopChangi comes with its own set of exclusive perks for travellers too. The digital portal has launched some Changi First products even before they were introduced at the airport itself and the rest of Singapore, such as premium spirit Hennessy X.X.O Cognac, luxury Korean beauty brand Hera, Tiffany & Co fragrances and SKII Magnetic RNA Cream Kit. In addition, the right iShopChangi promo code 2018 or iShopChangi coupon can allow for huge savings adding to one's excitement.
iShopChangi was established in 2013 and since then has grown from strength to strength, as it strives to cater to online-savvy passengers even before they step foot in the airport. From the comfort of their homes, travellers can leisurely scroll through the website's expanding selection of 14,000 products from 500 brands, stretching across categories which include beauty, fashion, alcohol and electronics – all at tax and duty-free prices.
So far, travellers have been embracing iShopChangi with open arms. Sales from the platform rose 60% year-on-year between 2016 and 2017. Come June 2018, shoppers can look forward to an enhanced experience on iShopChangi. The portal will sport a revamped look with new and improved features, including a showcase of customised picks and a section sharing what shoppers are posting about iShopChangi on their Instagram pages.
Products available on iShopChangi
Passengers from Malaysia travelling through Singapore can choose from a range of products available from the website. These include:
| Beauty | Beauty | Electronics | Electronics |
| --- | --- | --- | --- |
| Body Care | Accessories | Audio | Experiential Toys |
| Hair Care | Cleanser & Exfoliation | Earphones | Game Consoles & Accessories |
| Sets | Eye Treatment | Headphones | Mouse & Keyboards |
| Fragrances | Face Cream | Speakers | Healthcare |
| Gift Sets | Facial Spray | Sports Headphones / Mp3 | Measuring Devices |
| Men | Lip Treatment | Cameras & Hardware | Household |
| Unisex | Lotion, Serum & Essence | Action Camera & Drones | Home Appliances |
| Women | Mask | Binoculars | Kitchen Appliances |
| Makeup | Sets | Camera Accessories | IT Peripherals |
| Accessories | Sun Care | Compact Digital Camera | Presenters & Voice Recorders |
| Eyes | | Instant Cameras | Mobile & Smart Devices |
| Face | | Interchangeable Lens Camera | Accessories |
| Lips | | Video Camera & Camcorder | Phones |
| Sets | | Computers, Gaming & Toys | Tablet |
| Fashion | Fashion | Food | Food |
| --- | --- | --- | --- |
| Bags | Necklaces | Chocolates | Coffee |
| Casual | Rings | Assortment | Twg Tea |
| Handbags | Wallets & Accessories | Biscuits | Delicatessen |
| Luxury | Accessories | Candy | Bak Kwa |
| Footwear | Cardholder | Dark & Mint | Cookies |
| Flats | Sunglasses | Fruit | Health Foods |
| Heels | Wallets | Liqueur | Local Flavours |
| Jewelry | Wristlet | Local Flavor | Salted Egg Snacks |
| Bangles | Writing Instruments | Merchandise | Milk Powder |
| Bracelets | | Milk | Baked Goods |
| Brooches | | Nuts | Pastes & Instant Meals |
| Charms | | Premium | |
| Diamond | | Souvenir | |
| Earrings | | Wafer | |
| Health | Kids | Kids | Kids |
| --- | --- | --- | --- |
| Food Supplements | Accessories | Purses & Wallets | Personal Care |
| Beauty Supplements | Goggles | Totes | Shoes |
| Weight Management | Hair | Trolley Bags | Stationery |
| Well Being | Hats | Bedding | Toys |
| Personal Care | Raincoats | Feeding | Construction Toys |
| Balm | Sunglasses | Bib | Craft |
| Family Planning | Travel | Bottles | Education |
| Massagers | Towels | Food Storage | Experience |
| Ointment | Umbrellas | Utensils | Figurines |
| Spray | Baby Carriers | Food | Plush Toys |
| | Bags | Milk Powder | Puzzles |
| | Backpacks | Health | Health |
| | Crossbody | Health Supplements | Health Supplements |
| | Pouches | Personal Care | Personal Care |
| Souvenirs | Travel | Watches | Wine and Spirits |
| --- | --- | --- | --- |
| Changi Exclusive | Accessories | Fashion Watches | Beer |
| Fashion | Essentials | Men | Spirits |
| Accessories | Locks | Kids | Armagnac |
| Apaprel | Neck Pillow | Women | Bourbon |
| Bags | Notebooks & More | Unisex | Brandy |
| Gifts | Packing Organizers | Fine Watches | Canadian Whiskey |
| Cards & Notebooks | Passport Holder | Men | Cognac |
| Desk Accessories | Towels | Women | Gin |
| Keychains, Magnets & Others | Bags | Other Whiskey | Japanese Whisky |
| Singapore Books | Backpacks | | Liqueurs |
| Writing Materials | Crossbody | | Rum |
| Health | Duffel | | Scotch |
| Balm & Ointment | Foldable | | Single Malt |
| Plasters & More | Laptop / Briefcases | | Tequila |
On the homepage, one can also find popular products, latest arrivals and iShopChangi promo offers for easy access.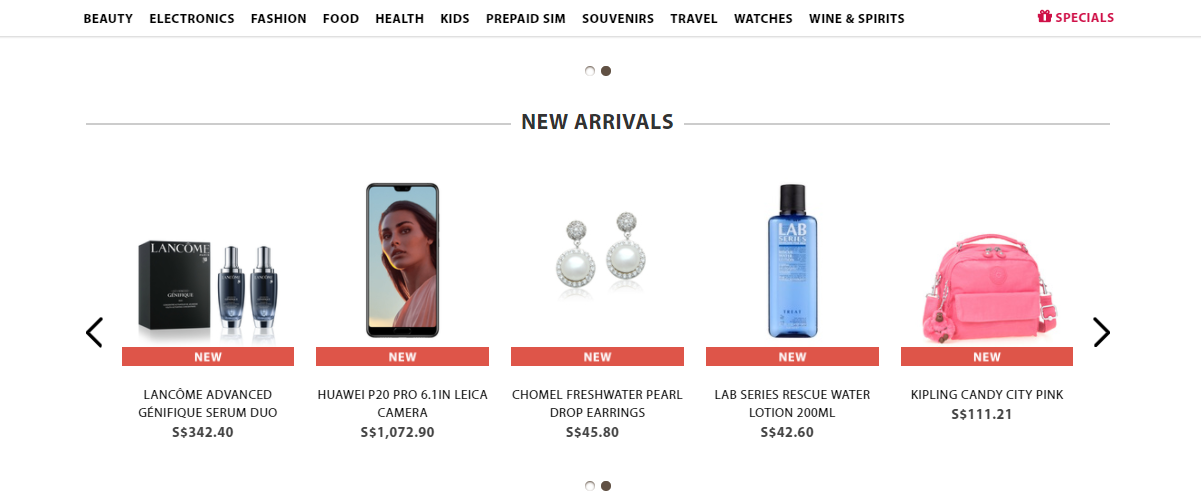 How to shop at iShopChangi?
Step 1: Visit the online store 30 days in advance of your travel dates and latest up to 18 hours before your flight.
Step 2: Browse through the product categories or search for something specific using the search bar.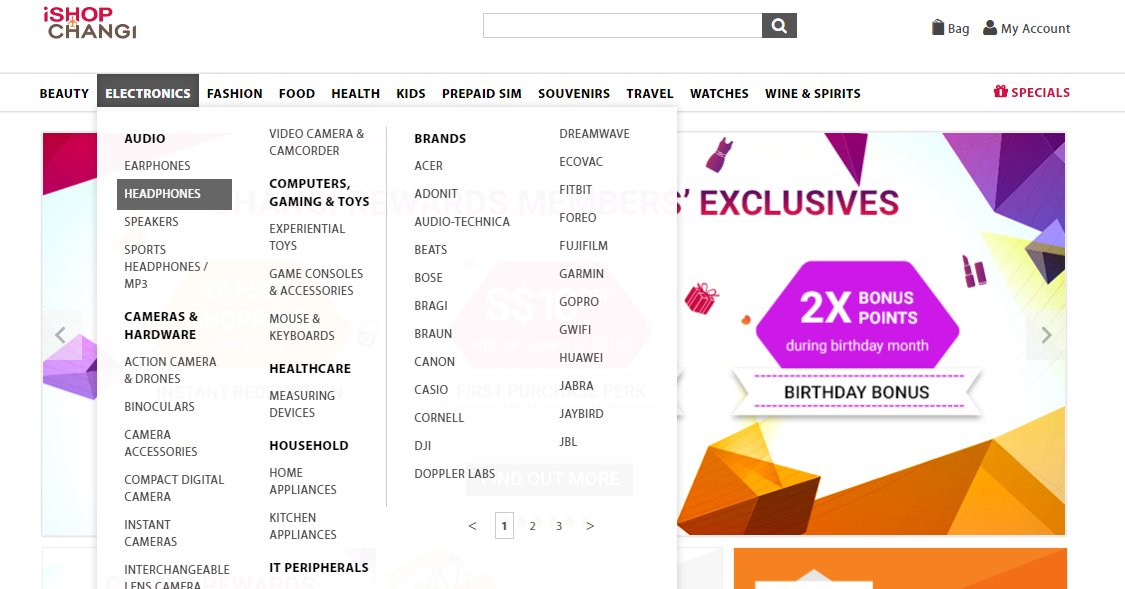 Step 3: Click on the product your like to view additional information and product features. To buy, click on "Add to Bag". Before you add products to your shopping bag, there will be icons to indicate if the products can be collected at departure and/or arrival. Also, do have both your departure and arrival flight details with you before you make the purchase.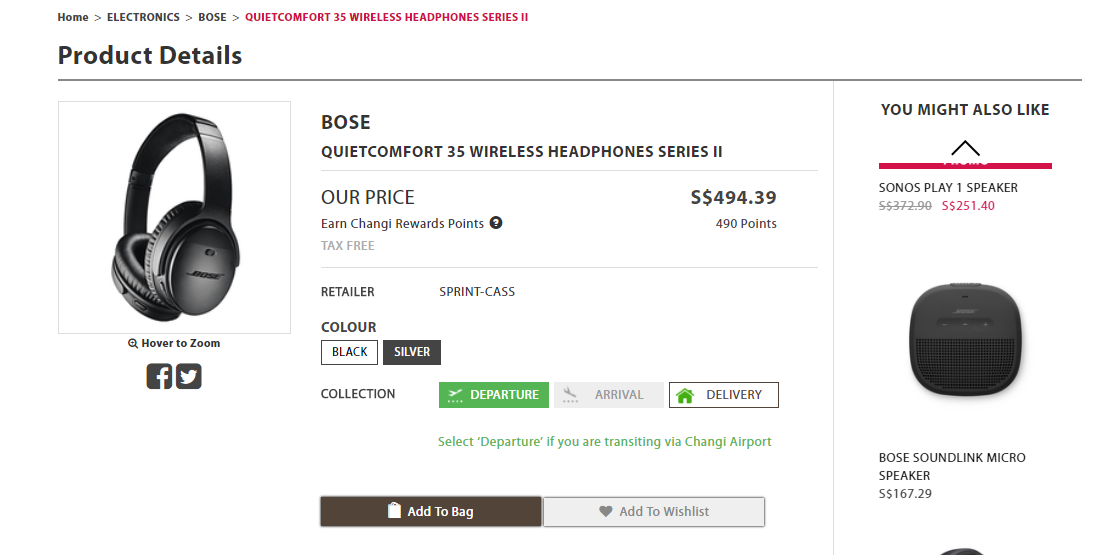 Step 4: Review your cart to check all product details and the final price. In case you have an iShopChangi promo code or iShopChangi coupon code, be sure to enter it in the box given to claim your discount and click on "Checkout".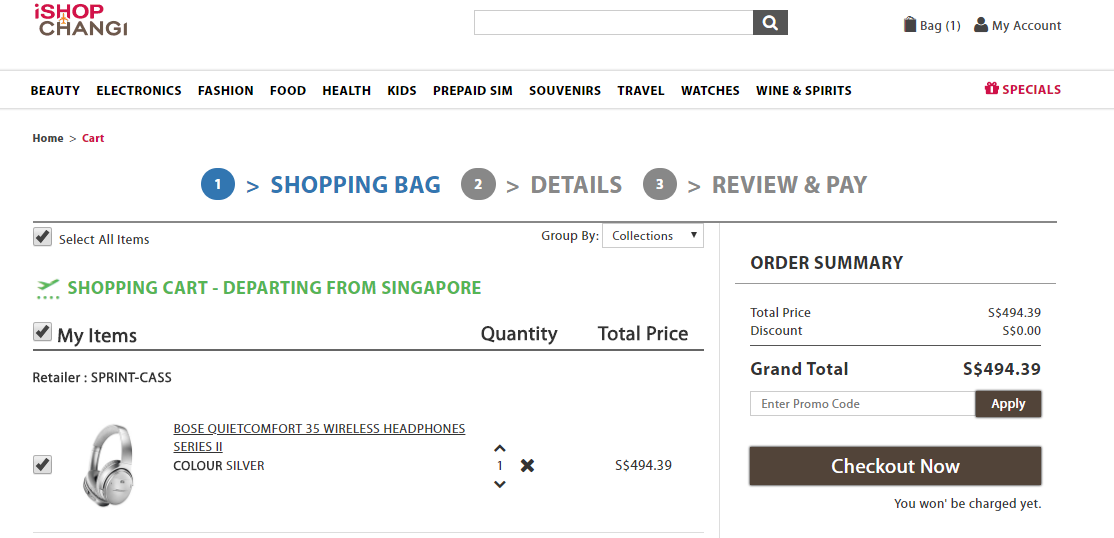 Step 5: Confirm your payment and other details as requested to confirm your purchase. You will be able to collect your items at designated collection points when you arrive at Changi airport. Note that you will be required to present your collection slip, passport and boarding pass to pick up your products.
For collection before departure, you can pick up your purchases at iShopChangi Collection Centres located at your departing terminal. For collection when you arrive, you can pick up your purchases at the respective DFS and The Shilla Duty Free stores located at the baggage claim halls.
Payment methods available at iShopChangi
To enjoy additional discounts and benefits, be sure to keep a lookout for any latest iShopChangi promotion offer. For more details about these deals you can refer to the home page or sign up for the eNewsletter to receive the latest news on promotions.
Guidelines when using an iShopChangi promo code
● Each promo code issued will have a validity period
● iShopChangi discount codes are not exchangeable for cash, and they are not refundable in part if not fully redeemed.
● Only 1 promo code can be used in each transaction.
iShopChangi coupon codes, deals and cashback on ShopBack Malaysia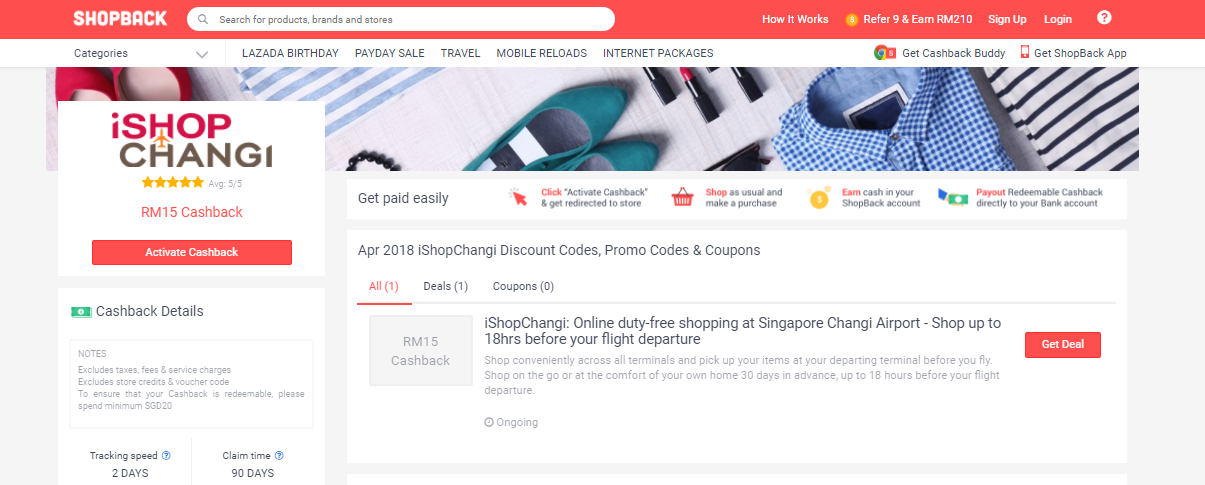 | Offer | ShopBack Deal | Terms and Conditions |
| --- | --- | --- |
| Cashback | Up to RM15 Cashback | Shop conveniently across all terminals and pick up your items at your departing terminal before you fly. Shop on-the-go or at the comfort of your own home 30 days in advance, up to 18 hours before your flight departure. |
How to shop on iShopChangi using ShopBack
ShopBack offers up to RM15 cashback on various items if you shop from iShopChangi in Malaysia. Here are the steps you need to follow to earn cashback from ShopBack:
Step 1: Visit the ShopBack website and click on the iShopChangi store at the bottom of the homepage. You can also use the search box to find the link to the store.
Step 2: Click on "Activate Cashback" button on the top left corner of the page.
Step 3: Look for the latest iShopChangi discount code in the iShopChangi voucher codes, discount codes and coupons section.
Step 4: You will be redirected to the iShopChangi website to browse and select the items.
Step 5: When you place the order, you will be eligible to earn cashback from ShopBack. The cashback rates differ based on product categories and based on whether you are a new or an existing customer.
Order processing and flight change concerns
iShopChangi will need at least 18 hours to process your order and thus accept orders up to 2 weeks in advance of your flight's departure/arrival. The orders will be awaiting collection 2 hours before your departure time, or upon your arrival. You will receive an email notification when the transaction is completed.
In case of change in flight details
The systems at iShopChangi will be updated accordingly. Therefore, continue to check-in and enter the immigration area at the revised timing before proceeding to the Collection Centre at your departure terminal to collect your purchases.
Change in flight details by customer
If you have rescheduled your flight, please update your flight details at your earliest convenience at My Account > Transactions. If you are unable to edit your flight details as your order has been dispatched, you can cancel and re-order with your new flight details. The amount paid will be refunded.
In the event you are unable to collect your order, iShopChangi will refer to the no-show policy and initiate a refund for your uncollected purchases.
Returns and refunds at iShopChangi
eturn policy
If you are not satisfied with your purchase, you may request for a full refund within 30 days of collection. Please indicate your order number in your request. Products must be in its original condition, with all tags attached, and must be returned in the original undamaged box and/ or packaging. Once your request is processed, you will receive the refund via your mode of payment.
In case you have received a faulty item in your order, you can inform the team via their online form at and the team will get back to you as soon as possible.
Order cancellation on iShopChangi
Before your order is being prepared by the retailers, you can cancel your order by clicking on [CANCEL ORDER] on the Transactions page.
If you are unable to cancel the order, it means that the retailers are already processing and preparing your order. Please contact the iShopChangi customer care team via the web form and they will process the cancellation for you.
Alternatively, you may also request for a full cancellation at the Collection Centres on the day of your departure, or at the retailers' store on the day of your arrival.
Refund process on an order with a promo code
If the promo code used entitles you to a discount with a minimum spend condition within a transaction, you can request for a partial refund at the collection centre, which will be processed as follows:
● If the net spend (after deducting the partial refund) is above the minimum spend stipulated for that particular promotion, the full value of the partial refund will be returned to the Customer;
● If the net spend falls below the minimum spend in such a case, the discount value will be deducted from the partial refund.
Contact the iShopChangi customer care team