| Top Promos | Validity | Code |
| --- | --- | --- |
| 5% off on Travel Activities (capped at RM35) | Still Valid | WAHRAYA5 |
| (Klook App Only) 8% off on Travel Activities with min spend of RM800 | Still Valid | WAHRAYA8 |
| HK$10 off your first booking on Klook mobile app | Still Valid | MOBILE10 |
| Get US$2.5 Discount on Your First Booking. | Still Valid | SBFIRSTT2 |
| Enjoy Up to US$4 OFF on Tours and Activities | Still Valid | SBKLKT2 |
Klook Birthday Promo for Klook Birthday
as Klook turns 5 this year and that means Klook birthday promotion for all Klook users! Be sure to claim Klook promo codes on your favourite deals and explore the places that you have been wanting to visit with Klook tour promotions. Enjoy Klook flash deals for the best prices on all time favourite Klook packages as well as country specific deals like Klook Bangkok, Klook Japan. Save even more when you shop Klook promo with ShopBack cashback for up to 9% cashback. Check out more travel deals on ShopBack and earn more cashback.
Klook coupons, deals and cashback with ShopBack
Along with an extensive range of tours and activities, Klook Malaysia also offers customers huge rewards on their bookings in the form of Klook promo codes, coupons and other special offers. In addition, when you shop via ShopBack, you can also enjoy additional Klook cashback as an added benefit. You can also follow the brand on social media (Facebook, Twitter and Instagram) for the latest offers and discounts.
ar services, be sure to check out the following Trip.com and Adventoro.
Some of the best deals for Klook Malaysia on ShopBack have been detailed below.
| Offer | Deal | Terms and Conditions |
| --- | --- | --- |
| Penang Food Tour | Up to 3.5% Cashback | Get 14% off Heritage on a Plate Food Tour in Penang |
| Holiday discounts | Up to 3.5% Cashback | Enjoy discounts up to 60% off on your next holiday destination |
| Travel experiences | Up to 3.5% Cashback | Discover and book amazing travel experiences with Klook! |
Klook is a leading travel and tour online platform that offers travel enthusiasts a simple way to discover activities, attractions and things to do wherever you travel. Klook enables you to discover and book in-destination services at the best prices. With a few taps or clicks, you can be ready to hop aboard the Hong Kong Airport Express, set your inner child free at Tokyo Disneyland, or marvel at the breath-taking world under the waves in Bali.
At Klook, their mission is to make it simple for everyone to enjoy everything a destination offers. The company believes that travel should be all play and no work. With so many activities waiting to be discovered, their goal is to connect travellers with the experiences they want and need.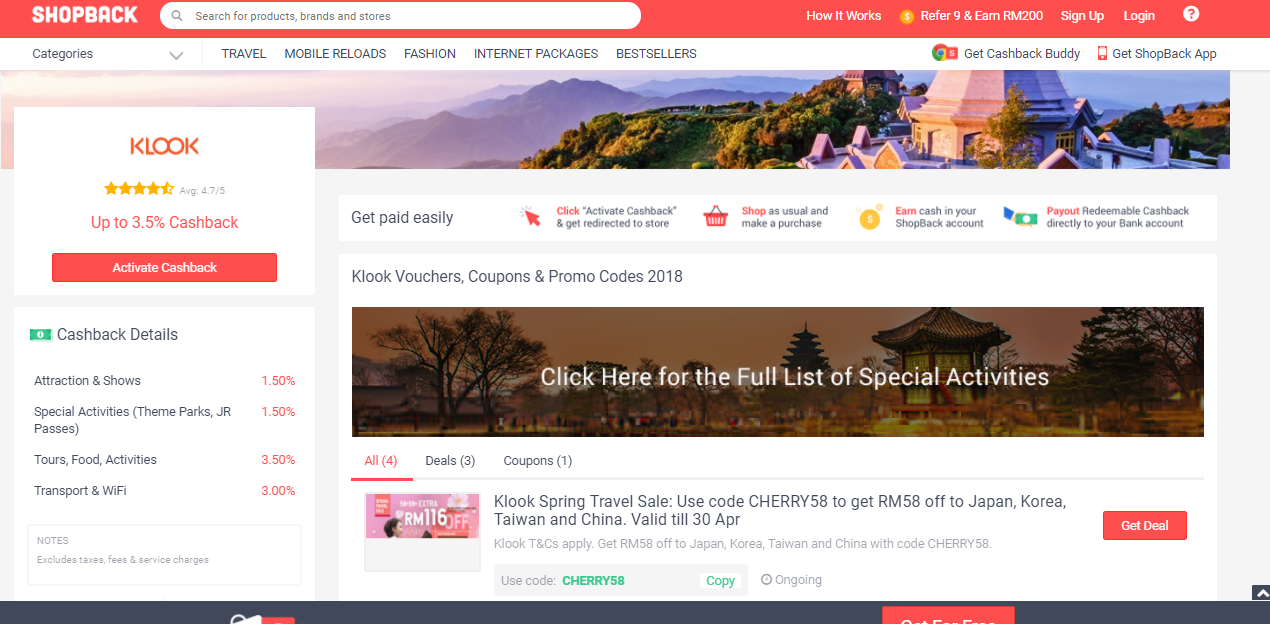 The journey of Klook began in 2014 and is the brainchild of founders Eric Gnock Fah, Ethan Lin, and technology engineer, Bernie Xiong. They realised that when it comes to planning travel, there were several solutions to book flights and hotels but not for itinerary planning or booking specific tours and attractions available in the local area.
With an influx of funds from Sequoia Capital, the company was able to realise its dream and now operates in over 100 destinations worldwide.
Klook experts all over the world uncover and curate the best experiences every day. They have over 2,000,000 user reviews on their site allowing new users an option to get an authentic look at the experiences.
As the official partner of top attractions and operators worldwide, Klook ensures all their offerings deliver quality experiences at the best price. In case any user can find a better deal, they will refund the difference.
Seamless & Safe Booking
The Klook platform s intuitive design and strict security measure ensure that every customer has a seamless and secure booking experience.
How to book a tour on Klook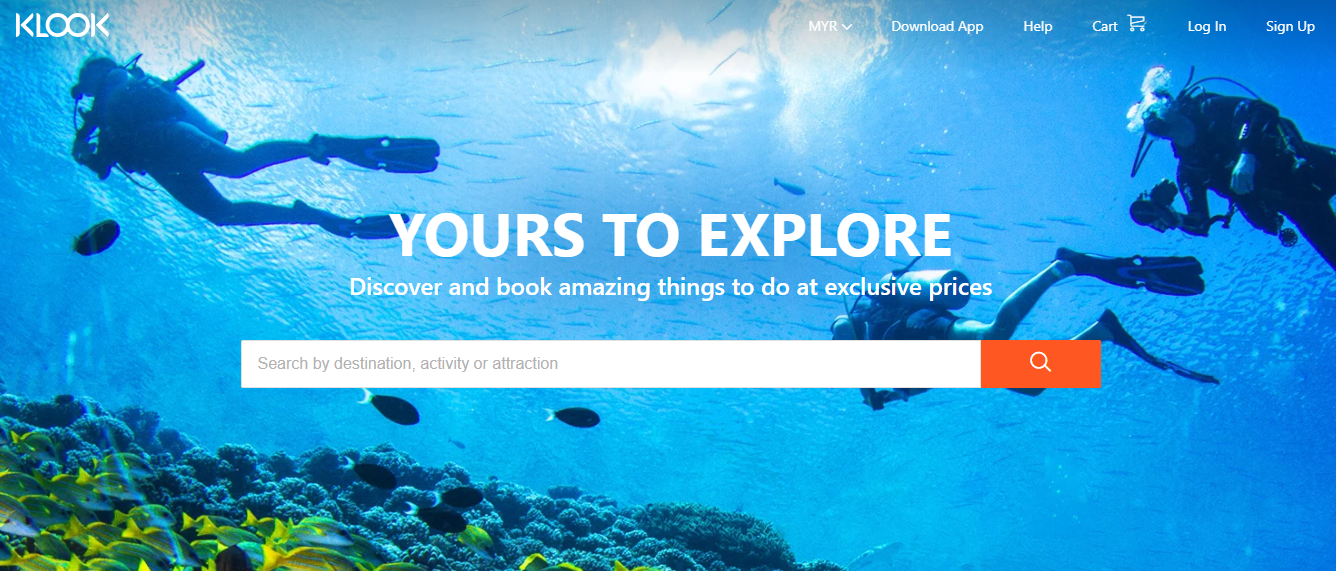 Planning a trip or deciding on a spontaneous getaway has never been easier. With Klook, travel enthusiasts are just a click away from booking their adventure at the best price. To book a tour on Klook, simply follow the steps outlined below.
Step 1:
On the website, enter the destination or activity you are interested in. You can also choose from the hot and popular destinations on the drop-down menu.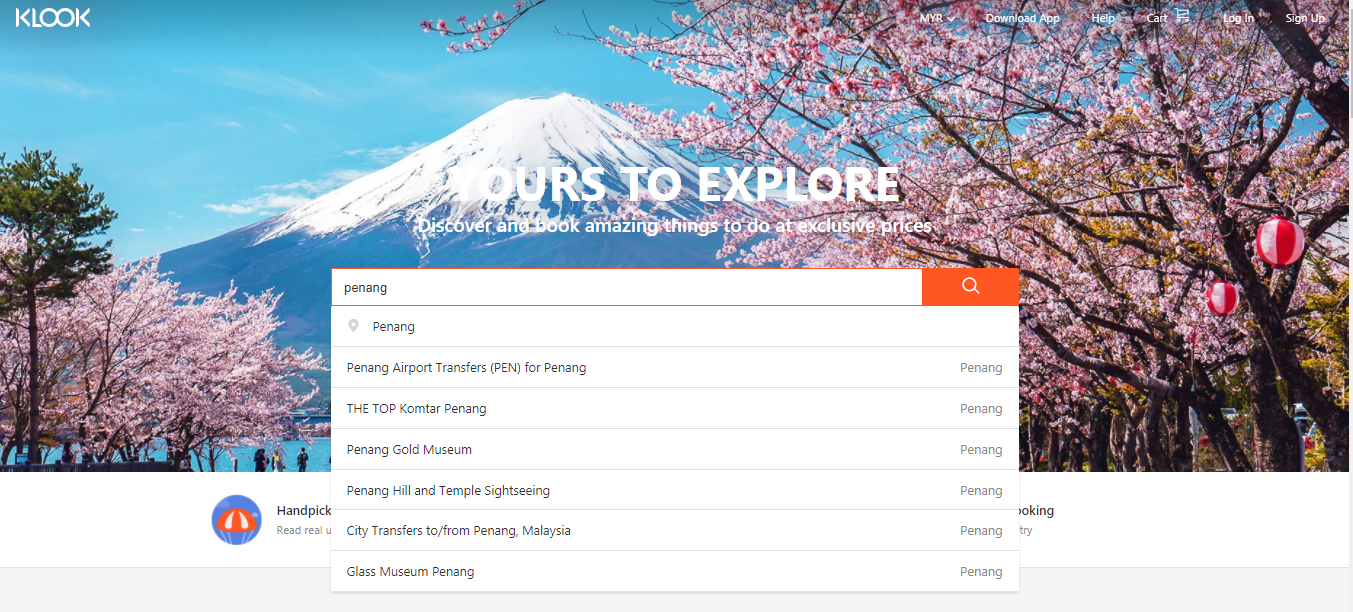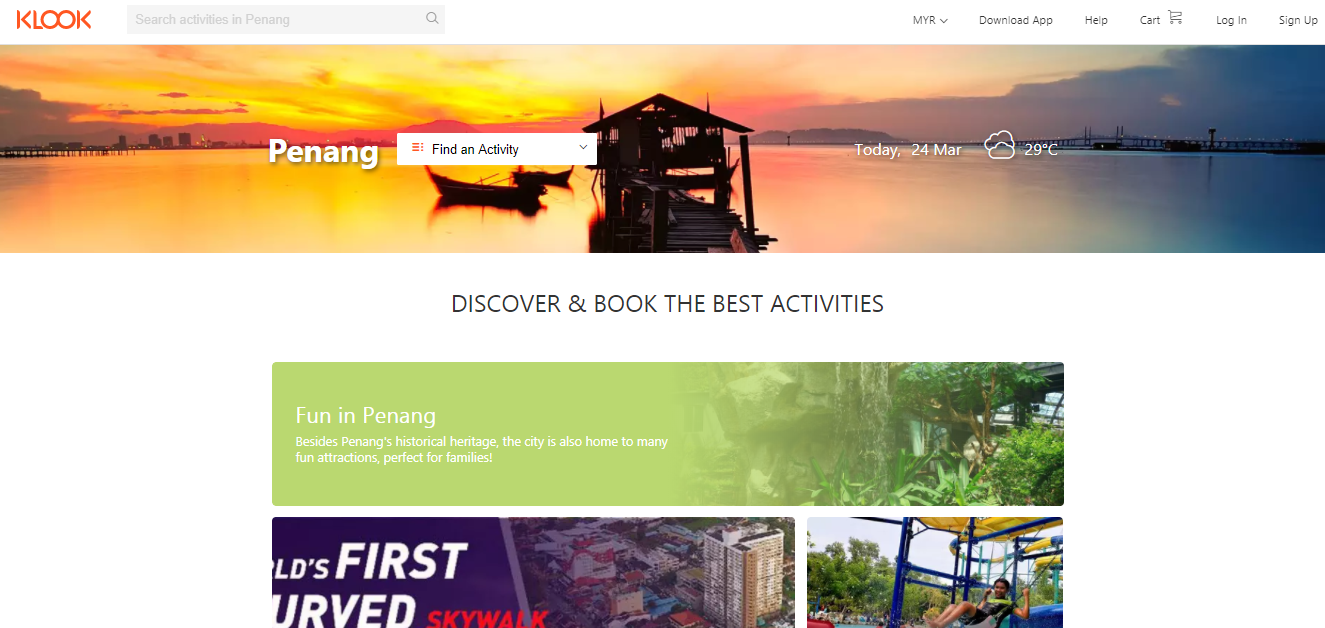 Step 2
: You will be redirected to the best travel experiences for your destination. You can also filter the search by choosing relevant options from the left-hand side menu such as Attractions or shows, food, Wi-Fi, activities etc. In addition, you can also sort the results according to Klook suggestions, Popularity, Ratings or Price, by selecting from the tab on the top-right hand side of the page.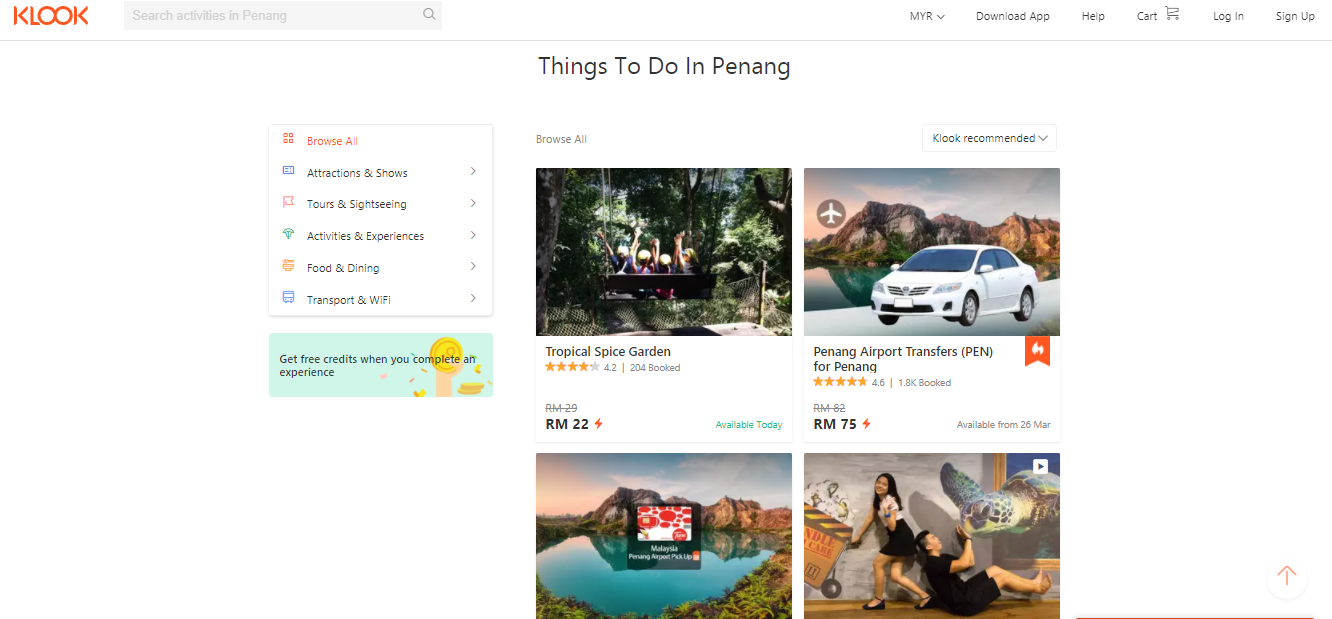 Step 3:
Click on the experience that you like to see detailed information. Here, you will be able to read reviews written by other travellers as well as see all important information regarding the experience. In case all the details are suitable, click on 'Book. You can even add the experience to your wish list to plan it at a later date.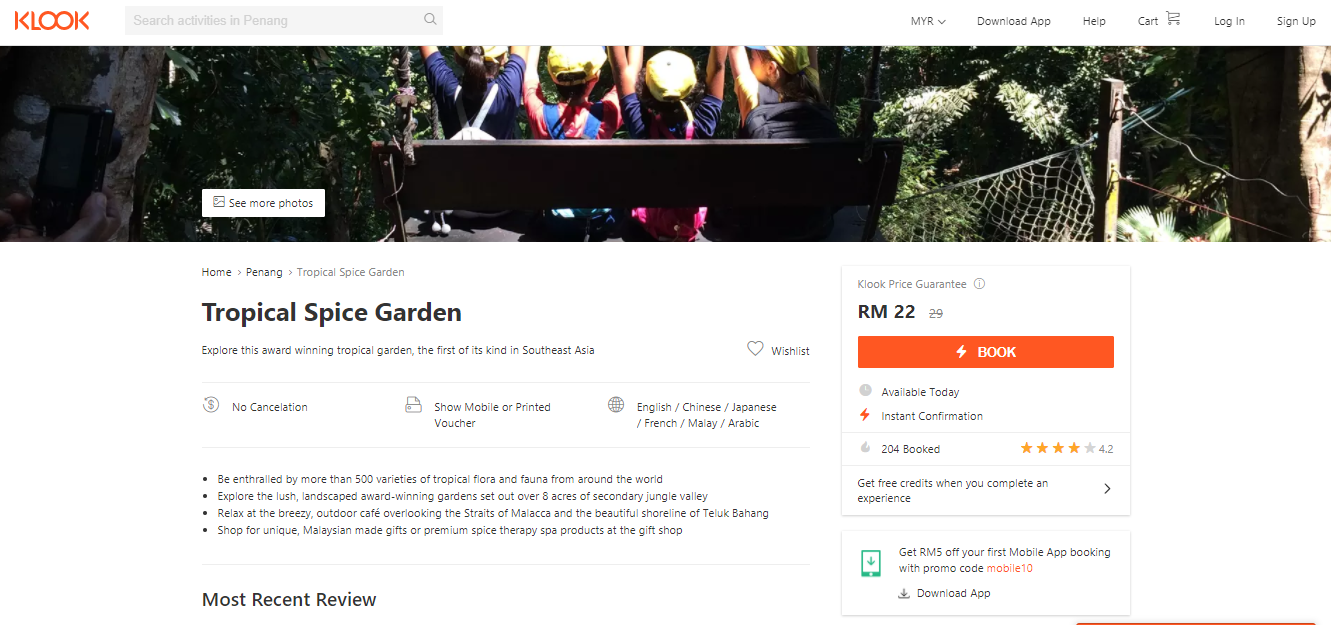 Step 4:
Enter the date and number of travellers to finalise your booking. Be sure to check all the details carefully before proceeding to payment. In case you have a Klook Malaysia promo code, don t forget to enter it in the box provided for a discount with Klook deals.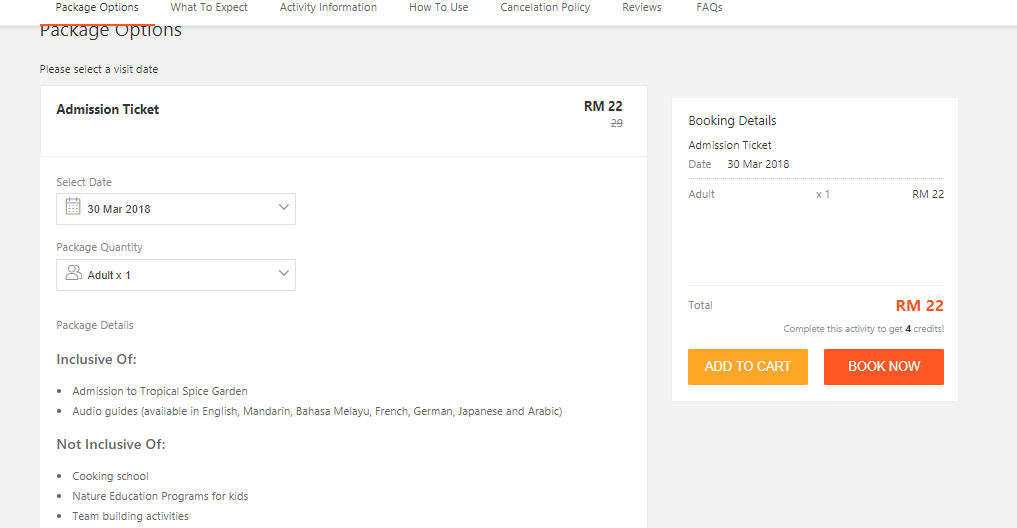 Step 5:
You will then be redirected to a page where you will need to enter traveller details as well as finalise the payment to make the payment. Once the payment has been processed, you will receive an Order Summary email, listing the activities you booked, as well as a separate email with your e-voucher attached. It will also be accessible within your account on the website and within your app account.
When you see Instant on an activity, it means that when you complete the payment, you will receive your booking voucher within 5 minutes. If you do not receive a voucher please first check your Spam folder before contacting Klook. In a rare case that you haven t received the e-voucher immediately after you book an instant activity, the Klook Support staff will generally be in touch within 24 hours to assist you.
Choose a pre-planned tour on Klook
The website also lists several travel experiences across major categories enabling customers to find their next vacation in an easier manner. These include:
In this section travellers can find tour packages for the most popular tourist destinations as determined by the travel community. Be it Macau, Singapore or Hong Kong, Klook has a host of exciting tours and deals to get you to your dream destination without breaking the bank. A lot of these are also inclusive of Klook coupons for added savings.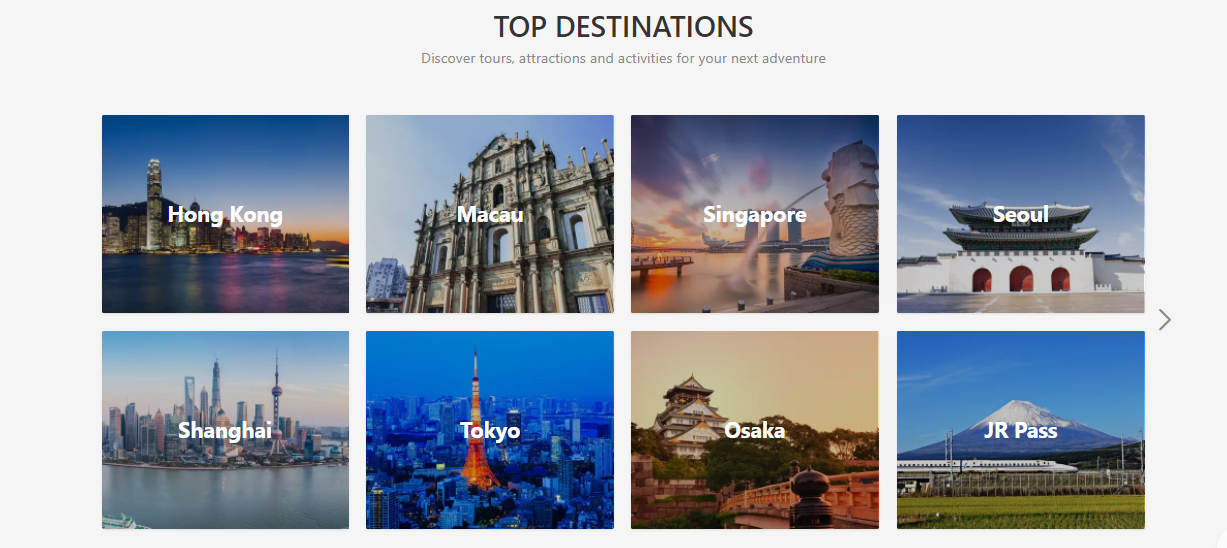 These are a list of the favourite experiences booked by travellers. Here, one can find a wide range of exciting activities and experiences at a discount with Klook deals. Also, don t forget to look for a Klook promo code to enjoy more savings.
This section comprises of specially curated suggestions based on seasons, festivals and interests. If seeing the cherry blossom in Tokyo or some other seasonal activity is on your wish list, then this is the section for you. Amazing tours and activities that offer seasonal experiences can be found here. Whether one spontaneously decides to take a vacation or plans ahead, these seasonal exclusives are a once-in-a-lifetime experience that should never be missed. With exciting Klook deals or a latest Klook voucher, you can save your money and book your tickets for a dream vacation.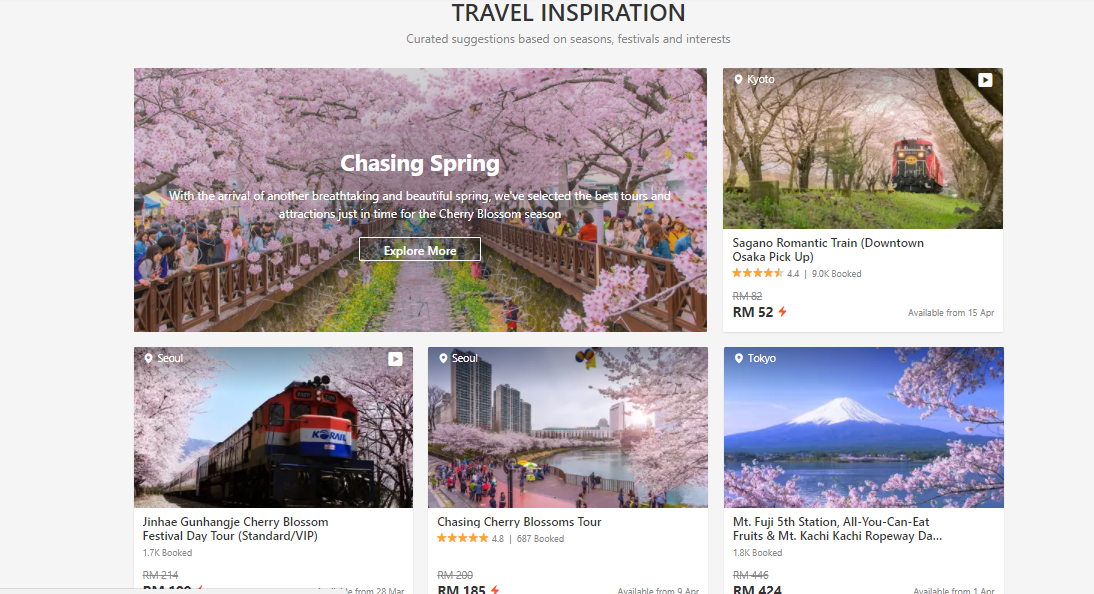 Comprising of the best activities handpicked by Klook s travel curators, this section combines innovative activities at popular destinations for an added charm. Along with regular tourist activities and sight-seeing destinations, travellers can book their holiday here for an exclusive experience.
In order to facilitate unique experiences along with comfortable travel, Klook has also partnered with several service providers for a seamless experience. A host of rigorous checks and due-diligence help ensure that they only work with the most trustworthy and credible service providers so that you can explore and experience the world with more confidence.
To ensure complete safety and security of payments, travellers pay through Klook when they make a booking. At present when booking a tour on Klook, customers can choose to pay by credit/debit card, or PayPal.
Exciting offers and savings with Klook promotion offers and credits
You get Klook credits every time you book an activity. In addition, Klook offers a rebate in the form of Klook Credit at 5 - 10% of the booking value for each activity completed. The conversion for credits is considered as 10 Klook Credits = 1 HKD (the currency is adjusted when booking). The more activities you complete, the more credits you will earn. Once you have collected more than 10 credits, you may use these credits towards your next purchase.
Customers can apply their credits by ticking the box in the Promotion section of the checkout page when making a booking on the website.
When making a booking on the app, after entering the relevant Traveller s Information, you can choose to Redeem Klook Credits on the following page. Choose Select Credits to determine the amount of credits you wish to apply to the booking.
Credits are valid until 31st December the year following the year you received the credits. For example, credits received on 1 Jan 2017 will expire on 31 Dec 2018. Credits received on 31 Dec 2017 will expire on 31 Dec 2018.
Earn Klook credits by inviting friends
You can share your unique referral Klook code or link to invite friends to sign up to Klook. Every friend you invite will receive HK$25 (US$3.2) in Klook credits. When that friend books and completes a Klook experience, you will also receive HK$25 in Klook credits.
You will receive your Klook credits only after your friend completes the experience. For example, if your friend books a tour today for a date in 2 weeks time, you will receive your credit in 2 weeks after your friend finishes the tour. Please allow 24 hours for the credit to appear in your account.
Redeeming a Klook promo code or deal
On the website, you can click to enter a promo code in the Promotion section on the checkout page. The discount will be deducted from your order before the payment page, please check the correct discount has been applied before you confirm payment.
On the app, after entering the relevant Traveller s Information, you can tap Apply Promotion Code on the following page, enter the Klook coupon code and tap Redeem to apply the special offer that is applicable to your booking. Alternatively, you may access your account by click the icon in the bottom-right corner of the app, then tap Promotions , where you can enter and save the Promotion Code for future use.
On the Klook App, when you enter a promotion code into the Promotions section of your account, you will be issued a coupon which will be saved in your account. You can apply this coupon at check out on future bookings (within the redemption period).
How to book on Klook using ShopBack
ShopBack offers up to 3.5% Klook cashback on various items if you book a travel experience from Klook. Here are the steps you need to follow to earn cashback from ShopBack:
Step 1
: Visit the ShopBack website and click on the Klook store at the bottom of the homepage. You can also use the search box to find the link to the merchant store.
Step 2:
Click on "Activate Cashback" button on the top left corner of the page.
Step 3:
If you are interested in finding a Klook discount code, check out the Klook coupons, vouchers and promo codes section.
Step 4:
You will be redirected to the Klook Malaysia website to browse and select the tours.
Step 5:
When you book your travel, you will be eligible to earn cashback from ShopBack. The cashback rates may differ based on tour categories and based on whether you are a new or an existing customer.
Making changes or requesting a refund on Klook Malaysia
Before booking a tour or activity be sure to read the details regarding the tour s cancellation and refund policy. In the rare case that an activity that you have booked is cancelled, Klook will give you the option of booking an alternative date or requesting a full refund.
To initiate cancellation or refund, in case it is applicable, customers in Malaysia can e-mail the customer care team or call their hotline number for the same.
Refund may take time based on your original form of payment. If your initial payment was made via PayPal, the refund will be processed instantly after Klook files the refund. If you paid by credit card, it usually takes 5 - 7 working days, or up to 30 days for certain banks, for you to receive the refund in your account.
Contact the Klook support team
The Klook support team is available to assist you in English, Cantonese and Mandarin, by email at support@klook.com, or via online chat 24 hours a day.