Malaysia Airlines September 2017 Online Booking + Promo, Deals
Fly to over 1,000 destinations in 150+ countries
Enjoy Free Baggage Allowance, Easy Online Check-In, Special Meal Requests and Comfortable Seats only on Malaysia Airlines.
Domestic flights are where departure and arrival take place in Malaysia

International flights are where departure and arrival take place in different countries

Cashback will reflect an RM0 amount initially, but will reflect the correct amount within 90 days after flight consumption
Recent Articles
More about Malaysia Airlines
Malaysia Airlines – comfort and luxury without a hefty price tag
The national carrier of Malaysia, Malaysia air, is one of Asia's largest air carriers, serving 330 flights to over 50 destinations on a daily basis. Their commitment to excellence and quality has made them a popular choice of airline ever since their inception in 1947 when they flew their first commercial flight. Throughout their 60 years of operation, Malaysia Airlines has been developing cutting edge technology for their air fleets, investing in quality materials to ensure the safety of both their passengers and service crew. Without a doubt, Malaysia Air should be the top choice of every traveller looking to travel in both comfort and luxury – but without crazy price tags. On top of being an affordable and luxurious choice, Malaysia Airlines is also an airline with corporate and social responsibility. Since 2004, Malaysia Airlines has been in a partnership with MERCY Malaysia to provide monetary support and relief to the victims of natural disasters around the world, and trains their staff to participate in relief missions around the world. With Malaysia Airlines in the picture, there is really no need to worry about blowing your travel budget – the frequent Malaysia Airlines promotion 2016 and Malaysia Airlines deals that will help you save huge on your air tickets, so you will be free to enjoy the other aspects of your trip. Bid goodbye to scrimping and saving like a scrooge – the Malaysia Airlines promo available on ShopBack Malaysia will entitle you to the best deal you can ever get, so go ahead and book your tickets now for the adventure of a lifetime!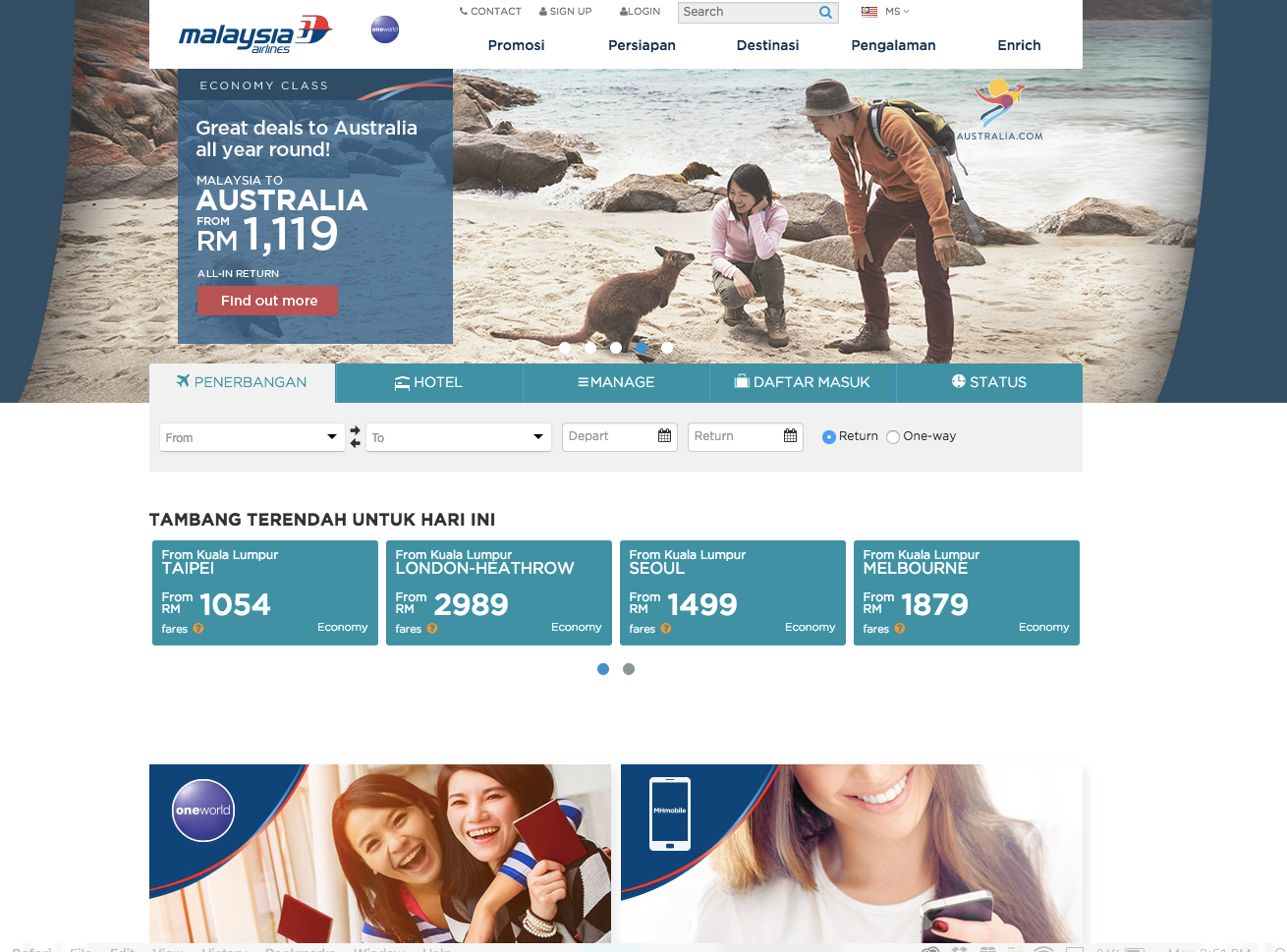 Lose yourself in the endless possibilities of adventure with Malaysia Airlines deals
Are you sick of always heading to Indonesia or Philippines for your holidays? If you're getting bored of always going to the same old places and doing the same old things, it's time to spice things up a little! Think about exploring the United Kingdom, a world of rustic old charm and traditions – or New Zealand, every nature lover's heaven. There's a world of possibilities waiting for you out there – so don't stick to the same old places that you are already so familiar with! Travelling should be about discovery and exploration – not about visiting the same old place again and again. If you're worried about the bomb that comes with travelling to places further away, fret no more. Malaysia Airlines has a page specially dedicated to their deals of the day, which will help you save tremendously on your air tickets.
In Europe, there is a smorgasbord of things for tourists to do – ranging from art appreciation at renowned museums, watching football matches or appreciating the picturesque scenery are one of the many things to do in Europe. Furthermore, the standardized currency only makes transactions even easier for tourists like us! Save huge on your Malaysia Airlines booking by using the Malaysia Airlines deals available on site and prepare to experience the rustic and laid back lifestyle of the Europeans! Be sure to check out Expedia for affordable accommodation and earn up to 10% cashback!
Malaysia Airlines online booking opens doors to a world of exploration and adventure
If you haven't heard of the Enrich program on Malaysia Airlines yet, you're missing out big time. Enrich is the frequent flyer program of Malaysia Airline. The Enrich program enables its members to earn and accumulate Enrich Miles when they choose to fly with Malaysia Airline, oneworld member airlines or Enrich partner airlines. Credit card expenditures, car rentals and shopping with their lifestyle partners also entitle Enrich members to accumulate Enrich miles. Here's the best part – registration is free! These Enrich miles can be exchanged for flights with Malaysia Airlines and its member airlines, which only means more savings on those pesky air tickets. With such an amazing membership program that offers so many perks to its loyal customers, it is no wonder that Malaysia Airlines has earned themselves such a strong and large customer base.
Catch amazing discounts with Malaysia airlines promo
It goes without saying that flying budget is cheap – but the cramped leg space and lack of in-flight entertainment system makes flights exhausting and unbearable. Furthermore, flying budget comes without checked in baggage, which usually costs a bomb. Unless you are able to stuff everything in your handcarry luggage (props to you!), it's best to opt for a full service airline like Malaysia Airlines. This way, you will be able to fly in comfort and still enjoy the best price possible, what with the plethora of Malaysia airlines promotion 2016 and Malaysia Airlines deals available both on site and ShopBack Malaysia. Thus, you no longer have to save by surviving on food from the convenience store (or even worse, cup noodles) just to be able to afford a vacation – holidays are about enjoyment (aka gorging yourself on food)! Go ahead and book your Malaysia Airlines tickets now – you're just a few clicks away from satisfying your wanderlust!
ShopBack Malaysia helps you get the best Malaysia Airlines promo on your Malaysia airlines online booking
The frustration of trying to find a cheap flight is one that I believe every single traveller can attest to – the relatively cheaper ones are timed awkwardly, while the ones with a more humane timing will cause you to blow your travel budget immediately. Fret no more, fellow travellers – ShopBack Malaysia is here to help you get the best deal on your Malaysia Airline booking! Just by signing up for an account with us, you will be given access to an entire list of Malaysia Airlines promotion 2016 and Malaysia Airlines deals on your Malaysia Airlines booking! On top of these amazing offers, you will also be entitled to cashback on your air tickets, so you can rest assured that you're getting the best deal possible when you use ShopBack Malaysia to book your Malaysia Airlines tickets. Hesitate no more and snap up these deals – fasters fingers first!
For more airlines applicable for ShopBack Malaysia's cashback offers, click here!