Manchester United Sale & Vouchers in Malaysia
Get your favourite jerseys from Manchester United Direct
Manchester United Direct T&Cs apply
ShopBack must be the last link you clicked in order to get Cashback. If other website links are clicked after clicking through ShopBack, Cashback will not be tracked (E.g. coupon and deal websites)

If for some reason your payment made on merchant page has failed, do click through ShopBack again and re-do your purchases to ensure tracking is still active

Return to ShopBack and click through to the merchant every time you are making a new transaction.

If you are making 3 separate transactions on the merchant, you should click through ShopBack 3 times, each time before making a new purchase.

For more details: www.shopback.my/terms-and-conditions
More about Manchester United
Manchester United Online Store
The Manchester United online store (United Direct) website is managed by Fanatics International Ltd. As the global leader in licensed sports merchandise, Fanatics delivers to over 180 countries, runs stores in over 12 languages and supports multilingual call centres incorporating 11 languages.
The Manchester United FC or Football Club is a professional football club based out of Manchester, well known for its participation in the Premier League. With a huge fan base, this club has witnessed immense popularity owing to certain Manchester United players and their long-storied success in the Premier League and Champions League.
Sports channels and media can be seen scouring for the latest Manchester United news, Manchester United transfer, Manchester United fixtures, Manchester United live scores, Manchester United game results, and more such details to appease fans.
History of Manchester United
The Manchester United club was founded in 1878 and since then has gone on to be one of the most popular clubs in English football. Every Manchester United match, whether it is Manchester United vs Chelsea or Arsenal vs Manchester United, will have fans grappling for details regarding the Manchester United schedule or Manchester United latest news.
In the UK, Fanatics extended the reach of its licensed sports merchandise business by acquiring UK-based international sports e-commerce company, Kitbag on February 2nd, 2016.
Products available on Manchester United Direct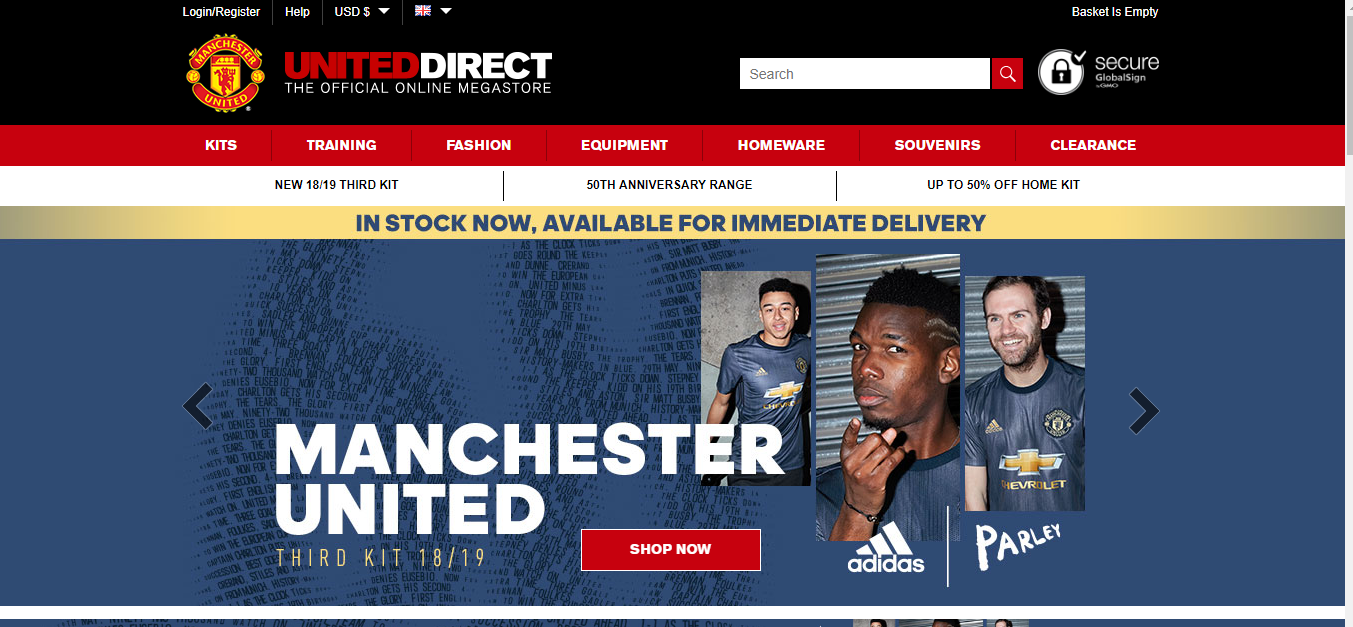 | Kits | Training | Fashion | Fashion |
| --- | --- | --- | --- |
| HOME | AWAY | THIRD KIT | MEN'S TRAINING | MEN'S FASHION | BOY'S CLOTHING |
| Men's Kits | Training Tops | T-Shirts | T-Shirts |
| Women's Shirts | Jackets | Polos | Polos |
| Kids Kits | Pants and Shorts | Hoodies & Sweats | Hoodies & Sweats |
| Infant & Baby Kits | Polos | Jackets | Jackets |
| GOALKEEPER KIT | Baselayer | Knitwear | Knitwear |
| Men's Kit | Accessories | Pants & Shorts | Pants & Shorts |
| Kids Kit | KIDS TRAINING | Nightwear | Nightwear |
| Infant & Baby Kits | Training Tops | Retro Shirts | Fleeces |
| | Jackets | Footwear | Footwear |
| | | WOMEN'S FASHION | GIRL'S CLOTHING |
| | | T-Shirts | T-Shirts |
| | | Polos | Polos |
| | | Hoodies & Sweats | Nightwear |
| Fashion | Souvenirs | Homeware | Equipment |
| --- | --- | --- | --- |
| Accessories | Stationery | Kitchen | Luggage |
| Headwear | Flags & Pennants | Bathroom | Footballs |
| Scarves | Badges & Keyrings | Bedroom | Football Boots |
| Gloves | Car Accessories | Office | Accessories |
| Slippers | Toys, Teddies & Games | Prints & Posters | |
| Socks | Novelty | | |
| Ties | Player Souvenirs | | |
| BABYS & INFANTS | Mugs, Glassware & Ceramics | | |
| Baby & Infant Boys | Personalised Gifts | | |
| Baby & Infant Girls | Executive Gifts | | |
| Accessories | Electronics | | |
| | UEFA Champions League | | |
| | Books & DVDs | | |
How to shop at United Direct
Step 1: On the homepage, browse the category and then select the subcategory to locate your product. You can also use the search bar to find a specific product. United Direct uses a powerful search tool that enables you to find the products you want quickly and efficiently. When you make a search, (or when you browse via the navigation) the left-hand side of the page will show the categories and search refinements available to you.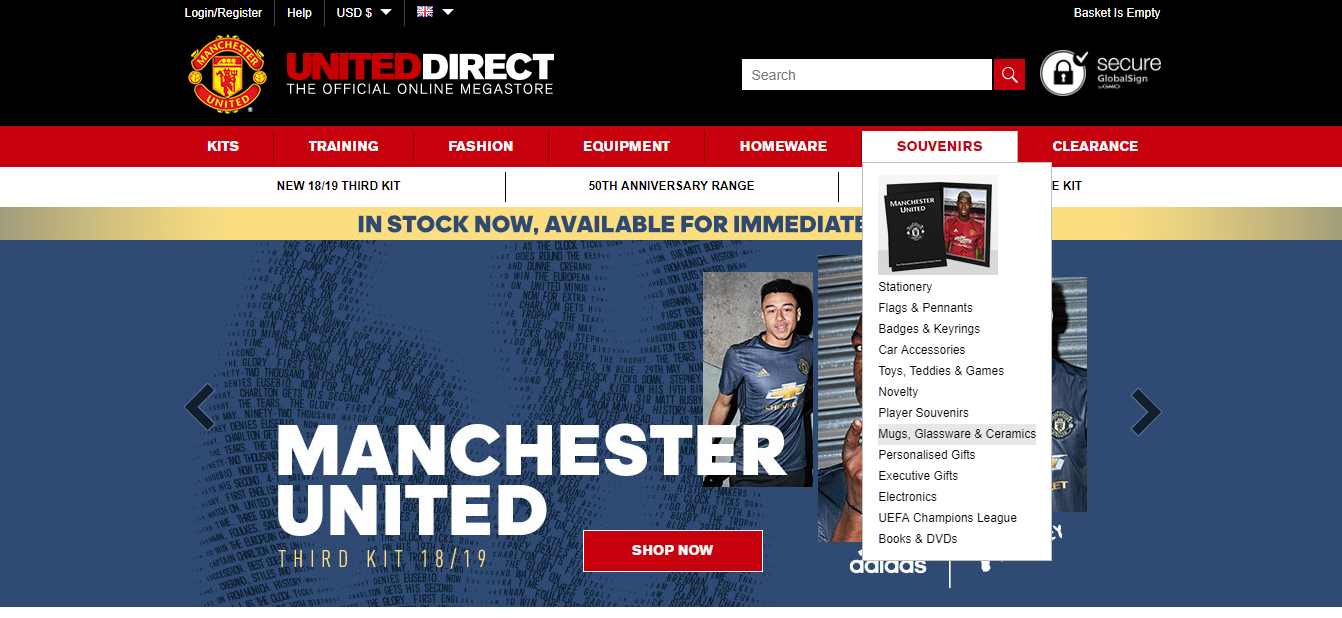 Step 2: Click on the product you like best for important information and product details. If you would like to buy the product, choose your colour and size (if applicable) and click on 'Add to Basket.' You will be able to see a confirmation for the same as a pop-up on your screen.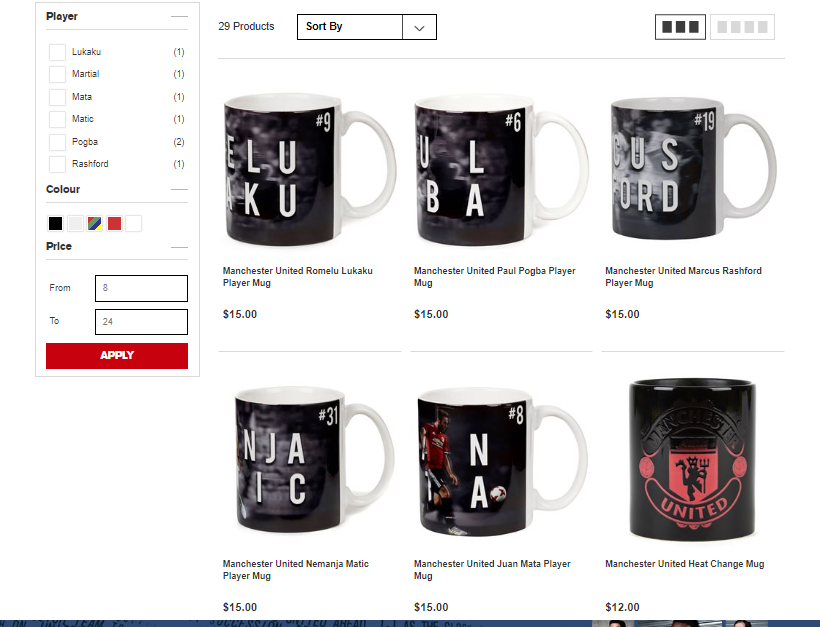 Step 3: If you want to add more products to your cart, you can continue shopping. To buy the products click on the cart icon at the top-right corner of your page and click on the 'Proceed to Checkout' button. At this stage you will be requested to enter your account details, or you can even continue as a guest.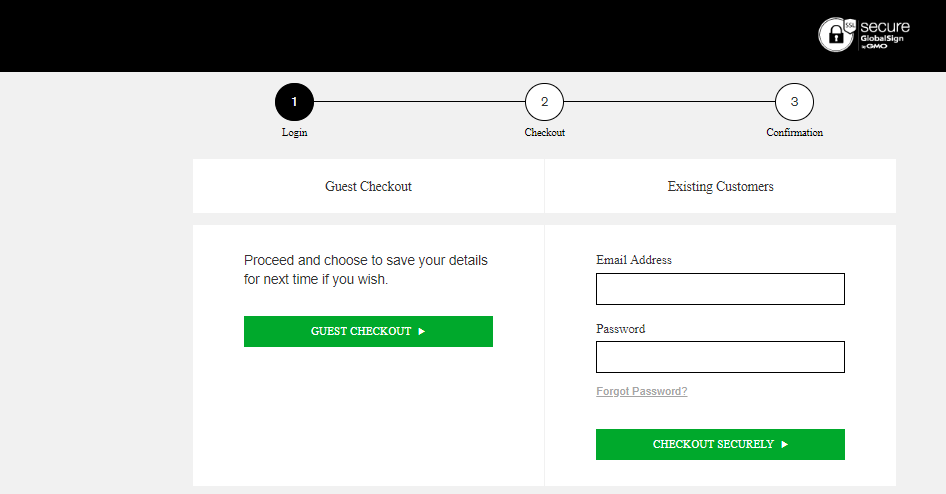 Step 4: Enter your delivery and billing details in the next form. From there, you will be redirected to the payment page. In case you have a Manchester United coupon code or Manchester United promo code, don't forget to enter it in the box provided to claim your discount. Enter your payment details and once confirmed, you will receive an order confirmation for the same.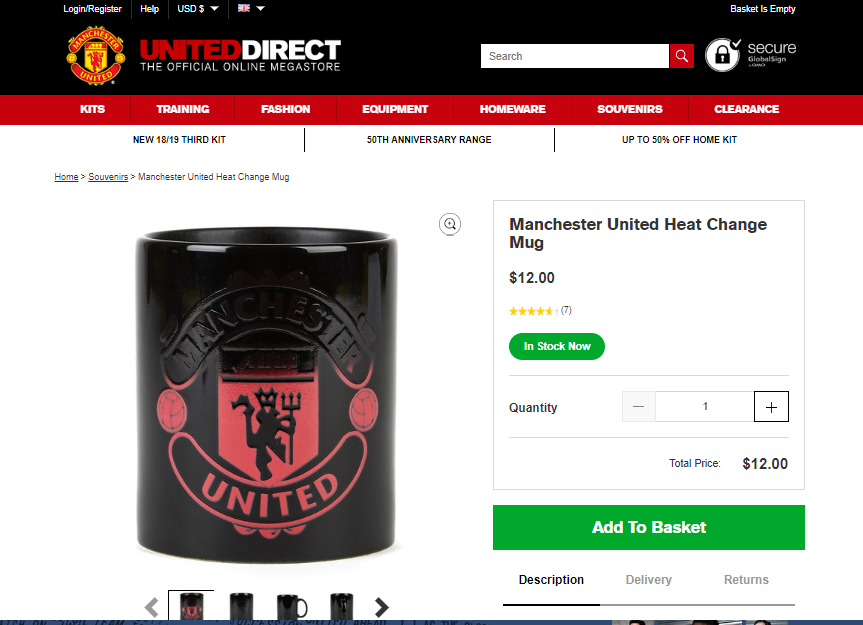 Payment options at United Direct
United Direct currently accepts the following credit cards:
· Mastercard Credit / Debit
· Maestro
· Solo
· International Maestro
· Visa Credit / Debit
· American Express
Payment can be made in the following currencies:
· British Pounds Sterling (£)
· US Dollars ($)
· Euro (€)
To change the currency on the site, click the appropriate currency symbol at the top right of the page. Note that no actual payment is taken until your goods are being packed for delivery. Pre-order items will also not be charged for until your goods are being packed for delivery.
Manchester United promotions and deal offers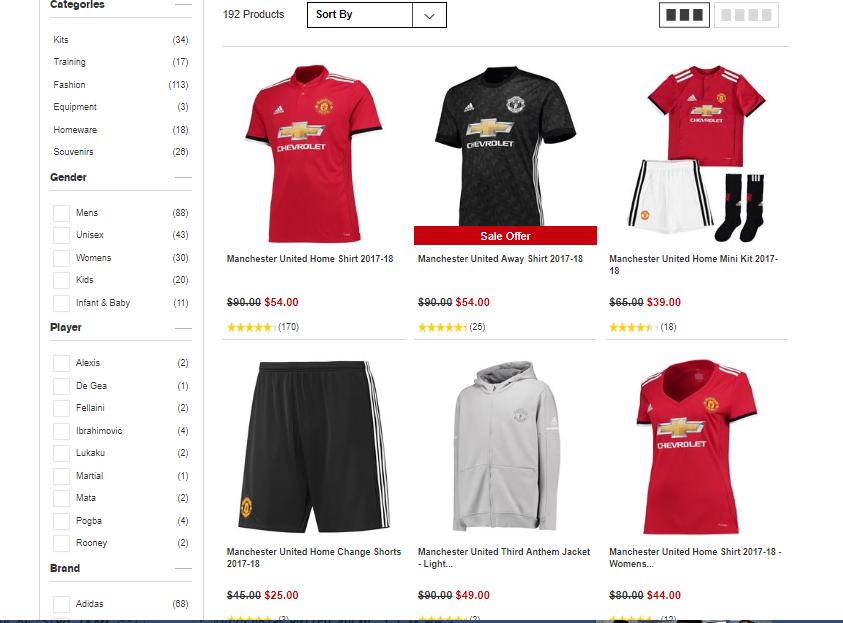 United Direct do not currently sell gift vouchers or certificates. Occasionally, United Direct may provide exclusive Manchester United promo offers, vouchers, and discounts for customers and email subscribers. In addition, a Manchester United sale can also offer huge discounts with the right Manchester United code.
To take advantage of the latest Manchester United deal or Manchester United offer with a valid promotion code, be sure to make a note of the following additional terms and conditions that apply on the discounts:
● When more than one promotion is running at the same time – only the highest value offer will be valid. Multiple promotions or offers cannot be used simultaneously.
● Discounts will only be available on order values over the amount stated in the offer.
● Discounts are only valid until the date published.
● Discounts are only redeemable for purchases made on this website (store.manutd.com).
● Discounts are not refundable.
● Only one discount/promotion/offer may be used per customer per transaction.
Manchester United deals and cashback on ShopBack Malaysia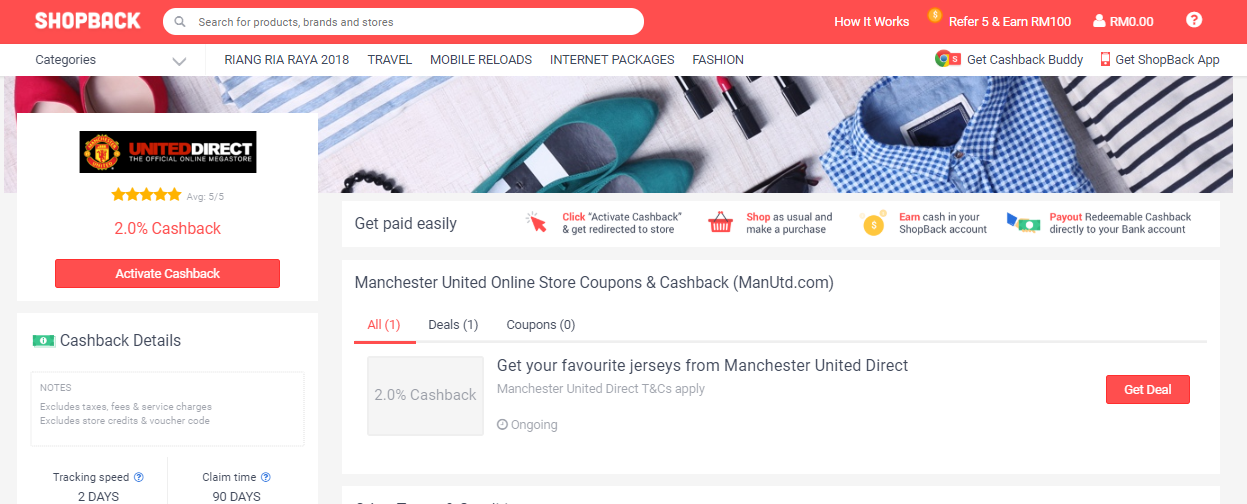 | Offer | ShopBack Deal | Terms and Conditions |
| --- | --- | --- |
| Manchester United Jerseys | Up to 2% cashback | Get your favourite jerseys from Manchester United Direct Manchester United Direct T&Cs apply |
How to shop on United Direct using ShopBack
ShopBack offers up to 2% cashback on various items if you shop from United Direct in Malaysia. Here are the steps you need to follow to earn cashback from ShopBack:
Step 1: Visit the ShopBack website and click on the United Direct store at the bottom of the homepage. You can also use the search box to find the link to the store.
Step 2: Click on "Activate Cashback" button on the top left corner of the page.
Step 3: Look for the latest Manchester United discount code in the Manchester United coupons, voucher codes, discount codes and promos section.
Step 4: You will be redirected to the United Direct website to browse and select the items.
Step 5: When you place the order, you will be eligible to earn cashback from ShopBack. The cashback rates differ based on product categories and based on whether you are a new or an existing customer.
Overseas delivery options and costs
Standard Delivery
The standard delivery cost is dependent on the weight and destination of your order. For this delivery option to be available, your order must be below a certain weight and volume (this will be calculated automatically). Please allow 3 - 15 working days from the time the goods leave the warehouse (you will receive an email or text from us once your order has left the warehouse)
Note that this is an economical international service, which has a longer transit time and this service does not guarantee a specific delivery date.
If you are not offered the Standard Delivery International option then your products have exceeded the weight, volume or order value limits and you will therefore be offered appropriate alternatives.
Express Delivery
Express Delivery cost is dependent on the weight, destination and volume of your order. Please allow 1 - 4 working days from the time the goods leave the warehouse (you will receive an email or text from us once your order has left the warehouse).
Note that some more remote addresses may incur longer transit times, however, this is a fully traceable delivery service.
Despatch of order
United Direct tries to get all the orders despatched on the day of order. However, this may not always be possible, for the following reasons:
Pre-orders Products on pre-order or products that are not in stock at the time of ordering will be despatched according to the time/date specified on the website.
Credit/debit card checks – In case additional checks are required on your credit card, it might delay your order. This could result in a delay an order for up to 36 hours. If this occurs you will be notified by email.
Shirt printing - Shirts requiring personalisation (for example with additional name, numbering and badges added) may take an extra 3 days before they are ready to be despatched.
Items marked 'Available Within' - Occasionally if a particular product is in high demand, United Direct will need to re-order from suppliers. If this is the case, then the number of days that this process will take will be quoted on the product details page. For example "Available within 7 days"
Orders with different stock availability: If you have selected multiple items with different availability times then we United Direct despatch your order when all items are ready.
To know which carrier has been used to deliver your order:
· Click on 'Your Profile' and log in
· Click on the 'Order History' link
· Each order will show the carrier used
Alternatively, check your despatch email where you can also find confirmation of the carrier used.
Should your order be marked as available for immediate despatch and it fails to reach you within the times quoted, then please contact the Customer Services team who will be happy to assist.
Change or return an order
If you wish to change your order, you will need to contact the Customer Services team as soon as possible after placing your order. This is because United Direct starts processing the order as soon as the order confirmation email is sent. This enables the store to provide you with the quickest possible service.
Returns policy:
You may return any item within 30 days of receiving the item in the original condition for an exchange or full refund of the price you paid for the item.
Returns for personalised product will normally only be accepted if the personalisation is incorrect from the receipt of order or if the product is faulty. United Direct accepts no responsibility once a replica shirt or short has been printed, in the event that a player leaves the squad and/or his squad number changes, or if the badge changes in the future.
Please note the following exceptions to the returns policy:
DVDs, videos, PC & video games, underwear, swimwear, pierced jewellery and items specially manufactured to your order can only be refunded or exchanged if the goods returned are faulty. All return and re-shipping charges are the customer's liability.
How to return your order
If your item is defective, faulty or incorrect please contact Customer Services prior to returning it at customer.services@store.manutd.com and they will advise how to proceed with the issue.
To return or exchange an item:
● Wrap the items securely in a suitable envelope or packet
● Complete and enclose the returns form including your order number and the reason for the return
● Please also include your original dispatch note with your return. If you do not have your original dispatch note, please include a cover letter with:
o Your order number
o Your name, email address and billing address
o Details of how you want your return to be processed
o Details of any fault or issue
o Please return your item to the nearest United Direct address depending on your location.
Refund information:
If you return your full order United Direct will refund all payments received from you, including the costs of standard delivery, up to a maximum of £6.95 for delivery charges. United Direct will process your refund or exchange within 14 days of receiving the items back to the warehouse.
The company will make the refund using the same means of payment as you used for the initial transaction, unless you have expressly agreed otherwise. If an electronic refund is not possible, they will process your refund by cheque.
Get in touch with United Direct
The customer care team at United Direct is happy to answer queries on products, orders, the website and anything else via the following methods:
Email: customer.services@store.manutd.com
Phone for International customers: +44 (0) 333 014 4543
The team is available from 8am to 8pm Monday-Friday and 9am to 4pm at weekends.
In addition, you can also follow the brand on social media for latest news and updates.
Similar services in Malaysia