Melissa Shoes Sale & Vouchers in Malaysia
Free shipping on all orders within Malaysia + 14-day returns
For Klang Valley, delivery within 2-5 working days of your order confirmation; other areas, 3-7 working days after your order confirmation.
ShopBack must be the last link you clicked in order to get Cashback. If other website links are clicked after clicking through ShopBack, Cashback will not be tracked (E.g. coupon and deal websites)

If for some reason your payment made on merchant page has failed, do click through ShopBack again and re-do your purchases to ensure tracking is still active

Return to ShopBack and click through to the merchant every time you are making a new transaction.

If you are making 3 separate transactions on the merchant, you should click through ShopBack 3 times, each time before making a new purchase.

For more details: www.shopback.my/terms-and-conditions
Recent Articles
More about Melissa Shoes
A leading online retailer for all kinds of footwear, Melissa Shoes, is an iconic, pop-luxury and eco-friendly brand. Melissa's concept of bringing luxury for all the reason the brand constantly seeks new ways of expressing ideas. To further this, Melissa has collaborated with celebrated and famous designers, architects, stylists and artists including Vivienne Westwood, Jean Paul Gaultier, Zaha Hadid and upcoming talents Jason Wu and Pedro Lourenco.
Each pair of Melissa shoe is a covetable piece of art; they are easily recognisable from their modern designs and rich colours. The shoes are comfortable, fashionable, express individuality and are eco-friendly encouraging many stylish women and celebrities to become huge fans and advocates of the brand – from the likes of Victoria's Secret supermodel Alessandra Ambrósio with whom Melissa has recently collaborated with and launched a capsule collection, to Hollywood stars such as Katie Holmes, Vanessa Hudgens and Anne Hathaway.
The original "jelly" shoe brand from Brazil has revolutionised the footwear industry with its avant-garde designs since its introduction in 1979. With over 4,000 points of sales in more than 70 countries worldwide, and 32 million pairs of shoes sold in the last decade, Melissa jelly shoes have gotten around.
Melissa's creative director, Edson Matsuo, is the creative genius behind the brand by Brazilian footwear manufacturer, Grendene. Prior to joining the company in 1984, Edson had no experience in designing shoes. Since then, he has dreamt up over 2,000 designs for the company's various brands including Melissa. His greatest impact was revolutionizing plastic footwear which led to Melissa becoming an International icon for design and fashion.
Products available at Melissa Shoes Malaysia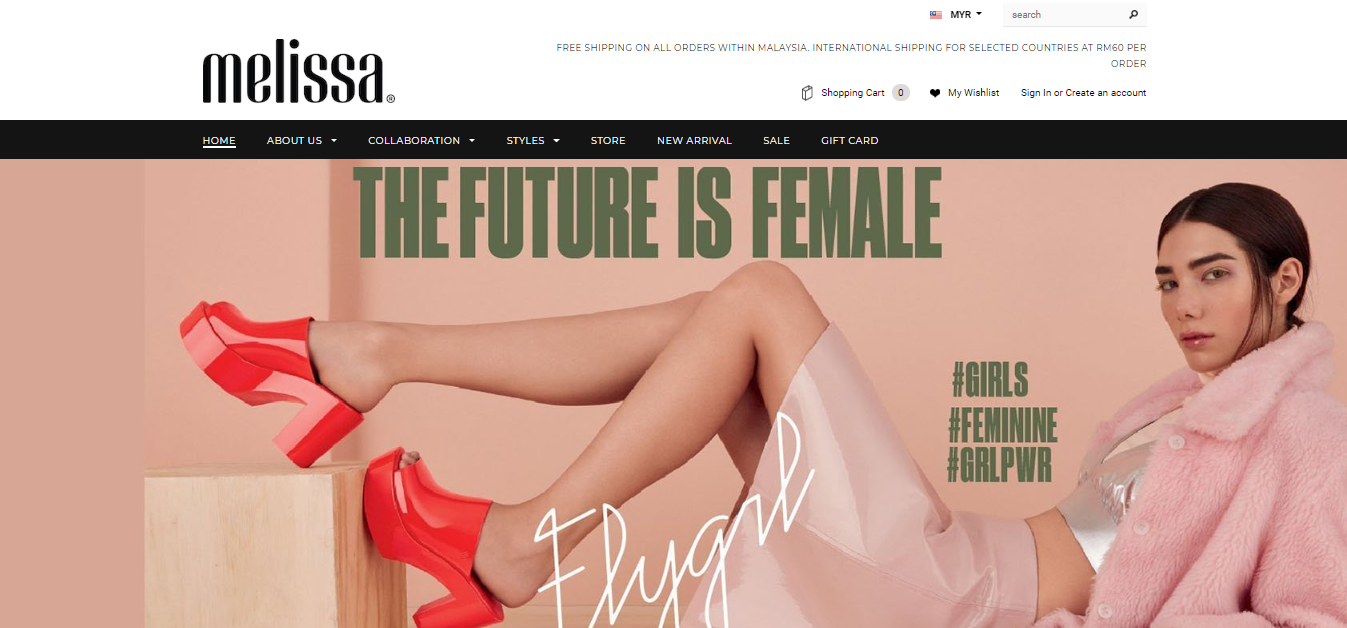 Melissa jelly shoes are made from a unique, patented plastic material called MELFLEX which was created to improve the flexibility and quality of PVC. MELFLEX is a form of PVC that provides improved elasticity, permeability and resistance. Also, the footwear of this brand is hypoallergenic, odourless and 100% recyclable. Further, all the shoes are infused with a sweet bubblegum scent that makes the Melissa Shoes kids section an exciting range for the young.
In addition, a Melissa Shoes discount code or Melissa Shoes coupon during a Melissa Shoes sale can allow for massive savings while looking stylish. Here we look at the products available for sale at Melissa Shoes Malaysia.
| Collaborations | Styles |
| --- | --- |
| Jeremy Scott | Flats |
| Campana Brothers | Heels / Wedges |
| Jason Wu | Sandals / Fit Flops |
| Vivienne Westwood | Mini Melissa Shoes |
| Disney Collaborations | Kids |
How to shop on Melissa Shoes Malaysia
To place an order, you must first register yourself by creating an account on the site. Once you are signed in, simply follow the steps outlined below to place your order.
Step 1: On the homepage, browse the category and then select the subcategory to locate your product. You can also use the search bar to find a specific product.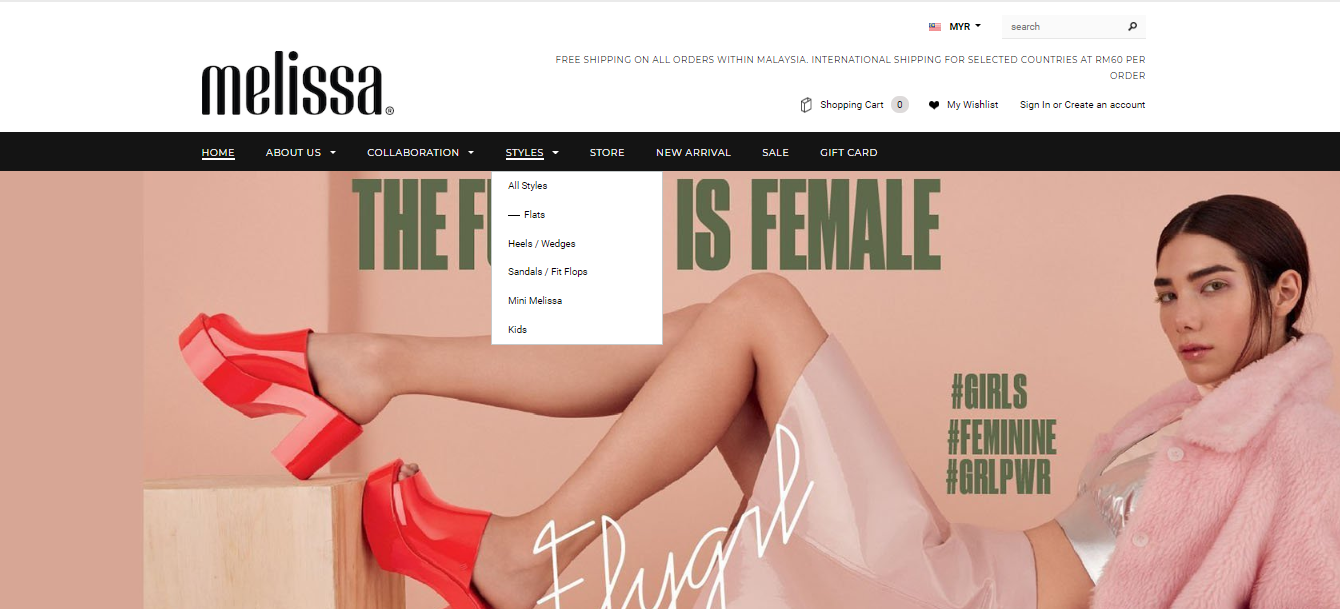 Step 2: Click on the product you like best for important information and product details. If you would like to buy the product, choose your size, colour and quantity (as applicable) and click on 'Add to Cart.' You will be able to see a confirmation for the same as a pop-up on your screen. You can also read the Melissa Shoes reviews available for popular products.

Step 3: If you want to add more products to your cart, you can continue shopping. To buy the products click on the cart icon at the top-right corner of your page and click on the 'View Cart' button. Review the items in your cart, choose a delivery option and click on 'Proceed to Checkout'.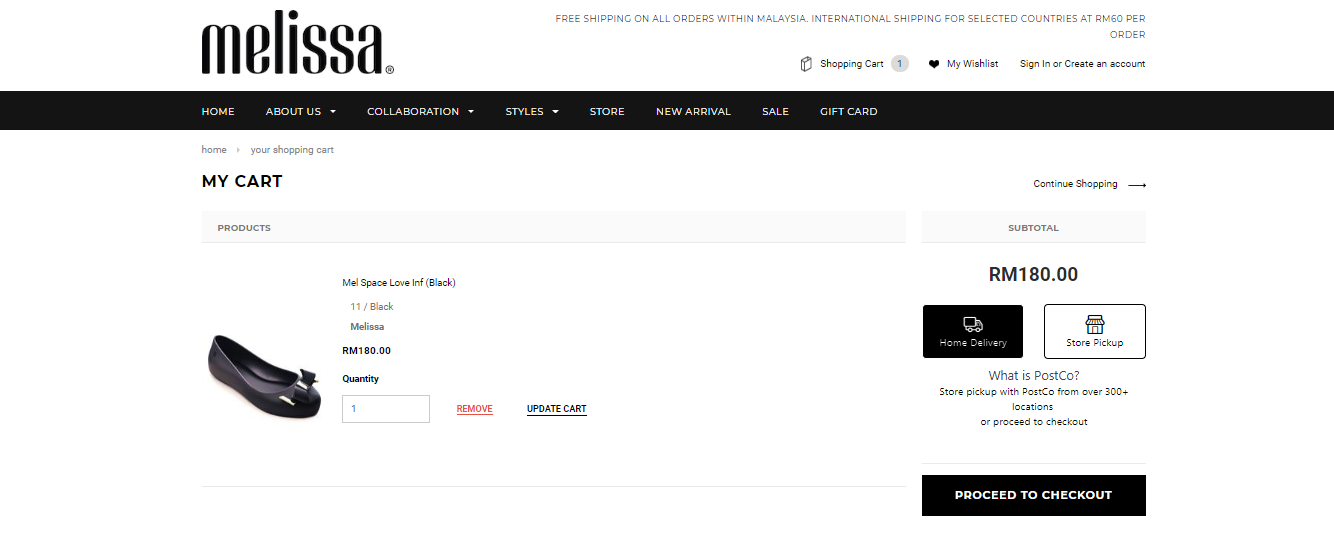 Step 4: Enter your billing and shipping details in the next form. From there, you will be redirected to the payment page. In case you have a Melissa Shoes coupon code, don't forget to enter it in the box provided to claim your Melissa Shoes discount. Enter your payment details and once confirmed, you will receive an order confirmation via email.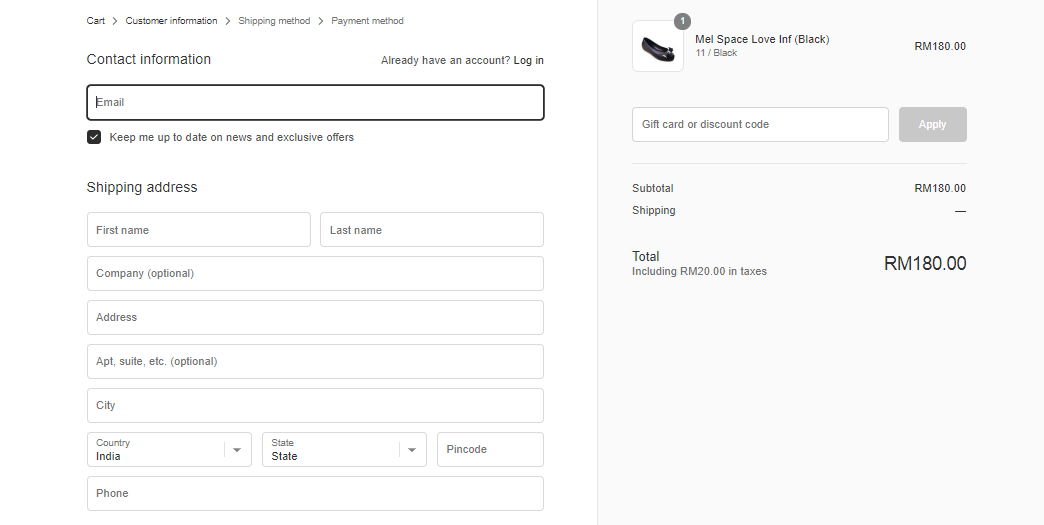 Once you have successfully completed your order and payment, you can check the current status of your shipment by checking 'Your Store Account' or by sending an email to info@melissa.com.my with details of your order transaction. Melissa shoes will send you a reply after obtaining details of your shipment from the shipping agent.
Payment options on Melissa Shoes
All transactions prices are inclusive of GST and made in Malaysian Ringgit (MYR) via Ipay 88. Please note that delivery costs will be charged in addition where applicable; such additional charges are clearly displayed and included in the 'Final Total'.
· Credit cards: Visa, Mastercard
· PayPal
· Maybank2u
· CIMB Clicks
· RHB Online
· AM Bank
· Alliance Online
· Hong Leong Online
· FPX (Bank Islam, CIMB Clicks, Maybank, Hong Leong Online, PBeBank)
· Bank Rakyat
· Affin Bank
· Cash on delivery
· E-gift card
· Store credit or a promotional voucher
Melissa Shoes promotion offers and deals
The site also hosts several promotions along with the popular Melissa Shoes sale that allow you to buy stylish footwear at added discounts. You can check out the latest offers by clicking on the 'Sale' tab in the homepage.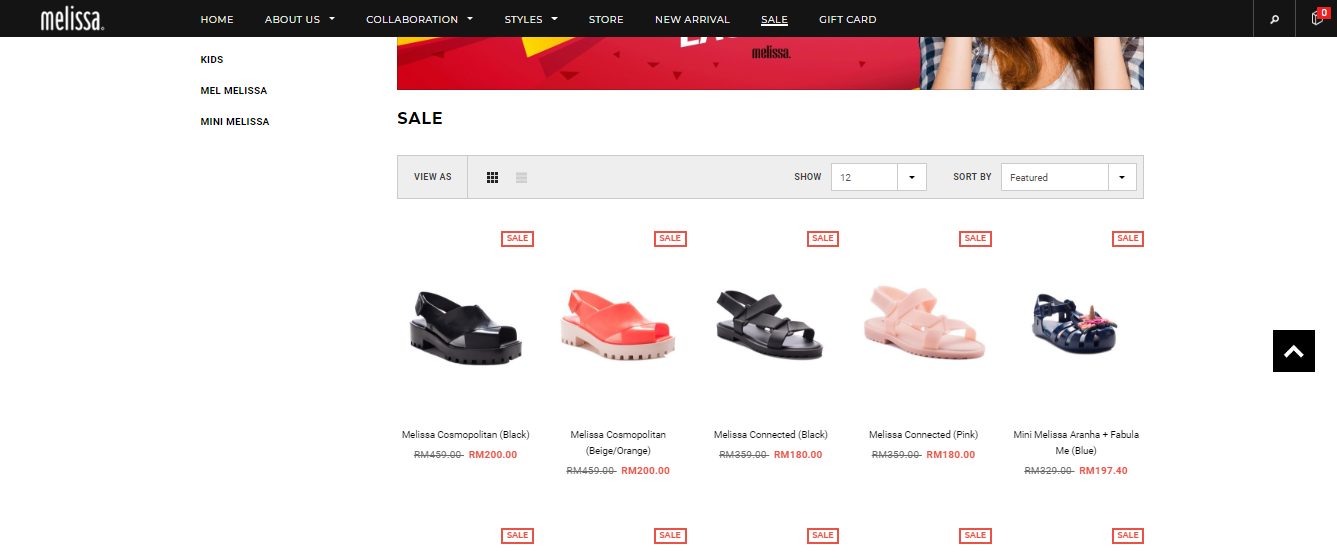 Melissa Shoes deals and cashback on ShopBack Malaysia
Step 1: Visit the ShopBack website and click on the Melissa Shoes store at the bottom of the homepage. You can also use the search box to find the link to the store.
Step 2: Click on "Activate Cashback" button on the top left corner of the page.
Step 3: Look for the latest Melissa Shoes promo code in the voucher codes, discount codes, promo codes and coupons section.
Step 4: You will be redirected to the Melissa Shoes website to browse and select the items.
Step 5: When you place the order, you will be eligible to earn cashback from ShopBack. The cashback rates differ based on product categories and based on whether you are a new or an existing customer.
Melissa Shoes shipping and delivery
Delivery time for all orders within Malaysia is as below:
· For Klang Valley - 2 to 5 working days from your order confirmation
· Other destinations in Malaysia - 3 to 7 working days from your order confirmation
Delivery with Postco:
With Postco, you can also request to self-collect your parcel from either the One Utama or Pavilion store. Alternatively, you can collect your parcel from a local cafe or pharmacy near you with PostCo. Here's how.
Step 1: Shop as usual and before checkout, on the Cart page, select "Store Pickup".
Step 2: Search and select your preferred Melissa store or PostCo location.
Step 3: Complete checkout and payment as usual.
Step 4: You will be notified when your parcel has arrived at your selected Melissa store or PostCo location.
Step 5: Present your Collection Code to collect your parcel. You have up to 14 days to collect your parcel.
International deliveries:
For international countries, delivery varies depending on countries from 15 - 25 working days from your order confirmation. Note that there will not be any courier services on Saturday, Sunday and Public Holidays. Your order will arrive between Monday and Friday.
Your final and confirmed delivery charges will be shown clearly to you in the Check Out page before you proceed to PayPal gateway for payment. Please note that due to the dynamic nature of shipping and freight, the delivery timings may be subject to change from time to time. In any case, the delivery indicated in your Check Out page can always be taken as correct and final for any completed transaction.
Please contact info@melissa.com.my if you should have any questions or encounter issues with delivery.
Cancel, return or refund your Melissa Shoes order
Change of order or cancellation is not allowed after confirmation by Melissa Shoes. In case you are unhappy with your order, you can schedule a return for the same.
Returns policy
If you are not completely satisfied with your purchase, you may return the product to Melissa Shoes within fourteen days of receipt. The company will do their best to accommodate all reasonable return requests, however they reserve the right to refuse or deny any or all requests for return at their sole discretion.
Note that MDREAMS.COM.MY does not provide direct/immediate exchange of returned products. Instead, upon the successful return and acceptance of your returned product, Store Credits will be issued to you via 'Your Store Account' for you to make any new orders on MDREAMS.COM.MY.
The Store Credits issued for returns will be based on your original order transaction amount less any shipping costs that was included. Unless otherwise indicated by MDREAMS.COM.MY in writing, customers are responsible for any cost of sending their return product back to the company for assessment.
To initiate a successful return, items should be returned unused, and with any price or brand tags still attached. Returns that are damaged or soiled may not be accepted and may be sent back to the customer (at the customer's expense) and the request for return refused. Where provided, belts or any designer packaging such as authenticity cards, dust bags and leather tags should be included with your return.
Please note that request for returns made after 5 days upon receipt of products will only be granted at the company's discretion. Please seek to send items within 14 days of the date of official acceptance of your request for return.
Return process
● Send an email to info@melissa.com.my within 5 working days upon receipt of products. Your request should include the reason for the return.
● You will be notified by email once your request has been received and approved. This should generally be done within 1-2 working days.
● Returns will require that the products in question be sent, in their original condition of receipt within 14 days, to the following address:
Attention: MDREAMS/Melissa Returns Department
FM Global Logistics (M) Sdn Bhd
Level 1, No 14, Lorong Keluli 1C
Kawasan Perindustrian Bukit Raja Selatan
40000 Shah Alam, Selangor
Malaysia
For customers in Klang Valley and Johor, Postco allows for easier returns processing. The return process is as below:
Step 1: Email to info@melissa.com.my to request for a return.
Step 2: Once your return is approved by Melissa, visit www.postco.com.my/return to book a return.
Step 3: Choose Melissa as the retailer and select your preferred PostCo location to drop off your parcel
Step 4: Fill in the fields with information such as your return order reference and reason for return. Print the return form and securely attach it on your parcel.
Step 5: Drop off your parcel at your chosen PostCo location, free of charge.
Please note that any items that are damaged due to purchaser's fault or due to normal wear and tear are not considered to be faulty. This assessment will take 3-7 working days upon Melissa Shoes receipt of the returned item.
Refund policy and timelines
For refund requests that have been accepted, Melissa Shoes will issue online Store Credits in the form of E-gift cards for your replacement order or your next purchase on MDREAMS.COM.MY. You can check the status of your refund request or Store Credit update via Your Store Account.
Note that Store Credits/E-gift cards issued for returns will be based on your original order transaction amount less any shipping costs that was included.
New orders that are made with Store Credits, which have previously been issued for your returned products, are not eligible for any subsequent returns. Please ensure to order the right item when you are re-ordering a replacement for your returned product.
Note that these Store Credits will be available for your use up to 6 months from the date of issue and will be expired thereafter. Please email info@melissa.com.my if you have any questions on your Store Credit or need assistance in assessing your store account.
Contact the Melissa Shoes customer care team
For any assistance you can reach out to the customer care team via the following methods:
Email: info@melissa.com.my
Call: 03-33583115 for online orders enquiries
Web form available at https://mdreams.com.my/pages/contact-us
In addition, you can also follow the brand on social media or latest product updates.
Similar services in Malaysia