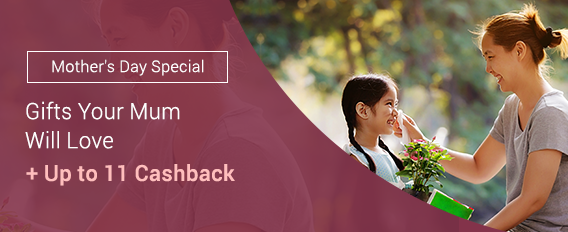 Beauty & Relaxation Deals with 12% Super Cashback!
Mother's Day
Mother's Day is about celebrating the joys of motherhood and about giving thanks for the wonderful women in life that have taken it upon them to create life. It is about celebrating and showing your appreciation for all that your mothers have done for you, from watching you take your baby steps to changing your nappy, sending you to school, paying for your studies, cooking for you, washing your clothes, and teaching you to grow up. All the little things in life that mothers have done for us often go under-appreciated, so use this Mother's Day 2018 to celebrate and thank your mother for all the tiny moments in your life.
ShopBack Malaysia wants to help you celebrate this wonderful day with all the mothers in our lives. By collating a list of the best Mother's Day promotion, Mother's Day special offers and Mother's Day deals, we help you to find the perfect inexpensive gift that celebrates and gives thanks to our mothers in a sweet and meaningful manner.
For the mothers who love to bake and eat
If you're blessed with a mother who loves to cook, bake and eat, you've probably one of those kids who have been pampered with great food all your life. Make her day by getting her a KitchenAid standing mixer or a Happy Call pan from Lazada, or perhaps spoil her with a thoughtful home-prepared meal. Foodpanda gives you access to great fresh ingredients, sent directly to your home, so you can We feature Foodpanda vouchers and Lazada promo codes to help you knock your bill down when you shop with them, so you won't have to worry about breaking the bank! The Mother's Day special offers featured on ShopBack helps you to collate the best food deals online, so you don't have to worry about breaking the bank anymore.
For the mothers who love to travel
Pamper your mum with a short getaway stay. Allow her to escape her busy schedule, take time out from the strenuous activities, and simply relax and feel youthful again. Whether you're planning a trip to the luxurious resorts of Bali, an adventurous foodie visit around Taiwan or visiting the sunny lagoons of Krabi, the wide array of travel deals on ShopBack Malaysia will guarantee a great experience for both you and your mother. We give you access to cheap flights and affordable hotels by giving you exclusive Expedia promo codes, Hotels.com vouchers and more, so book a vacation for your mother today, and treat her to a lovely getaway. Show her how much she means to you with this short simple trip overseas, guaranteed to put her in a good mood! Check out our Mother's Day promotion for travel today!
For the mothers who are learning to use technology
If your mother is just beginning to grasp how to use the camera on her smart phone, or doesn't quite know how to use the keyboard on her new touch-screen phone to type you a coherent text, a simple intuitive technological gadget may be the perfect gift for her to allow her to explore and understand more about today's gadgets. From a simple point-and-shoot camera, to a wide-screen touch pad phone, simple things will make her life so much easier, and she will be infinitely grateful for the thought you put into the gift. Spend great mother-child bonding time teaching her how to use the gadgets, and grow closer to your mother on this year's Mother's Day 2018. Check out Lazada promo codes and Apple vouchers to get great Mothers Day tech deals today.
For the mothers who like exercise
Some mothers love to keep fit, so exercise balls and group workout classes will be a great gift for them. Whether you're looking for some exercise gear like a bellyfat burning wobble board, a stationary bike, or whether you're looking for more interactive classes like group yoga sessions, kickboxing and the like, ShopBack Malaysia has collated great Fave by Groupon deals for you to find great package deal classes and exercise equipment. Shopping with ShopBack earns you cashback, so remember to check out our great Mother's Day promotions!
For the fashion-forward mothers
Every mother will be concerned about growing older and how to maintain their soft supple skin. Even if they haven't invested into good quality skincare products because they've been busy with so many other things like bringing you up, bringing in money and cooking for you, every lady likes to look good. Pamper her with exclusive skincare product sets from Sephora and get her the makeup & skincare products she has always been secretly lusting over. Click here to shop through ShopBack today!
Whether you're looking for travel deals, food inspirations, exercise classes, fashion products or beauty care stuff, ShopBack Malaysia has collated a list of the top online deals to help you save more on all that you buy through us. We operate on a cashback model; that is to say that out of the orders that we bring to merchants, we get a commission which we split with you as cashback. So you get a part of your money back (rightfully so), when you shop through us. On top of that, we also collate great deals and coupons to help you save more and knock more off your total shopping cart bill, which can be stacked on top of ShopBack Malaysia's cashback. What are you waiting for? Find the perfect Mother's Day gift today!