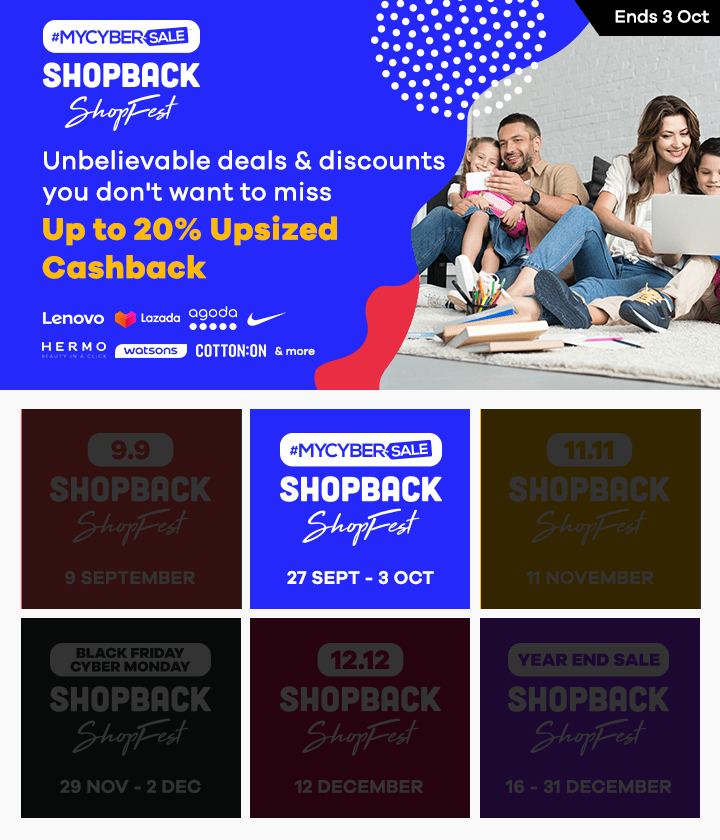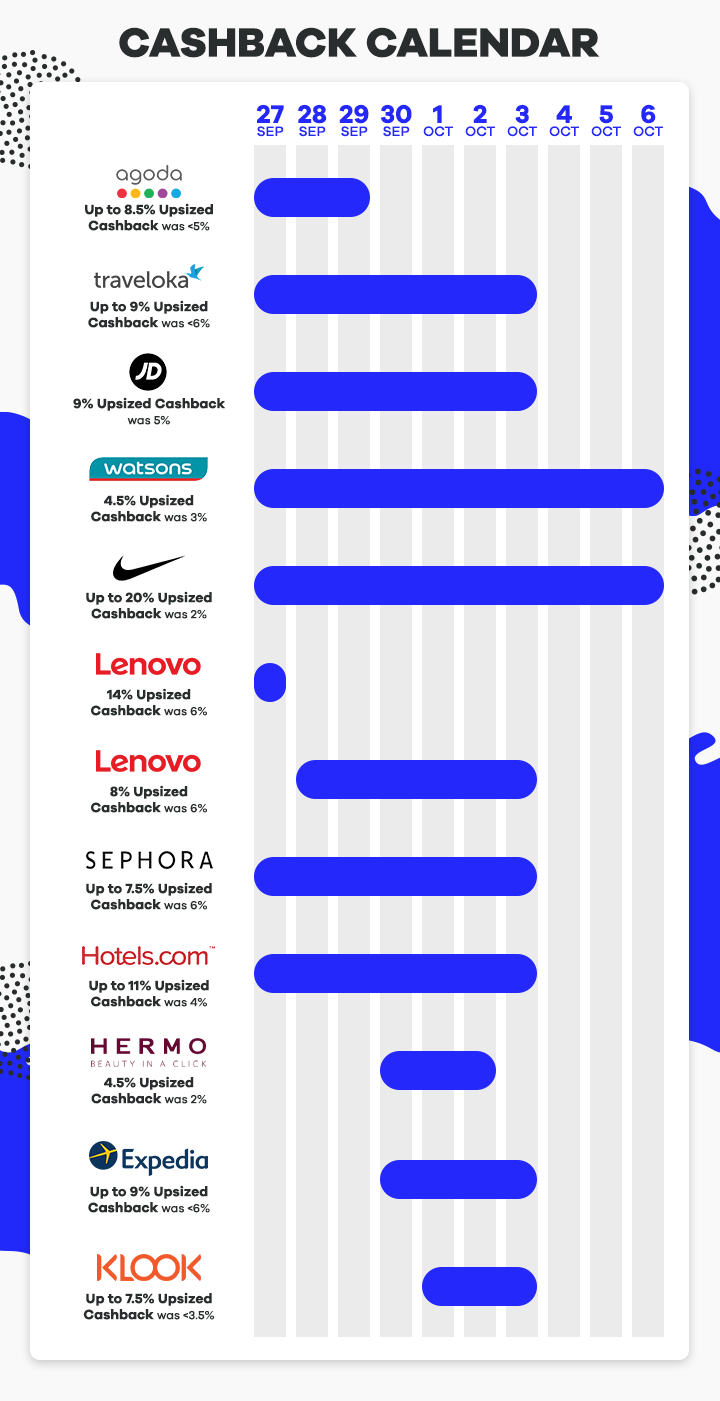 Don't Miss These Deals
- 🔥 Top deals you don't want to miss! 🔥 -
Marketplace & Lifestyle
- 🛍️ Your go-to places for the best #MyCyberSale deals! 🛍️ -
Travel
- 🏖️ Year end holiday, anyone? 🏖️ -
Fashion & Beauty
- 👗 Dress to impress! 👗 -

Electronics & Appliances
- 📱 Itching for a new phone? Looking for a new gadget? 📱 -
Food & Groceries
- 🍔 Yummylicious deals on food delivery, groceries & more! 🍔 -
Services
- Great deals on internet packages -
What is MYCYBERSALE and when is it?
MYCYBERSALE is the largest cyber sale Malaysia has ever seen. Organised by the Multimedia Development Corporation, and supported by many other organisations, MYCYBERSALE aims to bring together different online e-commerce companies (e-Tailers) to promote e-commerce in Malaysia and to provide a cyber sale for Malaysians and regional customers. MYCYBERSALE 2020 will see more than 400 e-Tailers taking part!
The "Malaysia Cyber Sale" (stylised as "MYCYBERSALE"), runs for five days, from 27 September to 3 October 2020.
MYCYBERSALE-ception: The Pre-MYCYBERSALE sale
Before MYCYBERSALE officially begins, enjoy some great Pre-MYCYBERSALE cyber discounts. Many e-Tailers are providing great deals for your cyber shopping even before MYCYBERSALE even begins! So do check out the different attractive cyber sale promo codes already provided for you by the different e-Tailers on MYCYBERSALE's website; you can save some precious time during the best cyber sales making sure you get what you want instead of searching for those voucher codes.
Some e-tailers also require you to purchase some shopping credits to use when the sale begins, to enjoy even more attractive prizes, do take a look at all the different deals available—you definitely would not want to miss them! So, be sure to join the largest Malaysian cyber sale of 2020!
Stand to win more than RM50,000 worth of prizes in the Lucky Draw!
To spice things up, MYCYBERSALE is offering you RM50,000 worth of lucky draw prizes! Stand to win anything from Prestomall shopping credits to a Gintell massage chair. Besides, those are not even the top prizes you can win from MYCYBERSALE! Ten lucky people stand to win RM1000 in cash, and another 20 stand to win a Samsung A8 mobile phone. So yes, you won't only get great deals for the things that you have been eyeing for so long, you get a chance at winning additional things you never knew you needed.
This lucky draw would be conducted throughout the sale, so check back every day and make more purchases to maximise your chances of winning your dream gift from the lucky draw! Are you excited for MYCYBERSALE 2020? Because we sure are!
Use ShopBack Malaysia to great cashback on top of great MYCYBERSALE deals!
ShopBack Malaysia will award you with cashback with every purchase you make with any of our merchants taking part in MYCYBERSALE. Just do your cyber shopping through ShopBack, and we will give you some cashback on your final purchase price! So feel free to use as many MYCYBERSALE coupons, vouchers, or promo codes as you want. Just remember to click through ShopBack to the e-Tailer (that you want to make a purchase from) before you go through with the transaction, and we will give you your cashback!
So in order to optimise your shopping experience, check out MYCYBERSALE's website for more details about the cyber sales voucher codes and more. Also, follow them on Facebook and Twitter for more up-to-date details about MYCYBERSALE—you might even get some exclusive coupons there!
Stay tuned for October deals on ShopBack Malaysia's 10.10 Sale coming this October 10th!