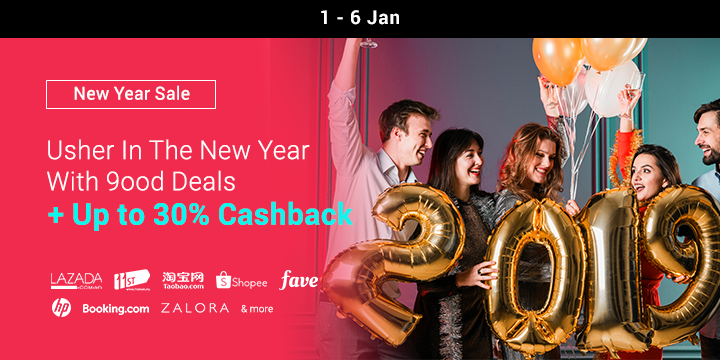 🔥 Hot Deals 🔥
- Start the year with epic deals! -
🛍️ Marketplace & Lifestyle 🛍️
- New Year shopping spree starts here -
🌴 Travel 🌴
- New Year, new destinations.

👗 Fashion & Beauty 👗
- What's your 2019 fashion goal? -

📱 Electronics 📱
- Start the year with new gadgets. -
🍜 Food, Dining & Groceries 🍜
- Delicious deals at your fingertips -
⚡ Internet Services ⚡
- Say hello to blazing fast internet speed! -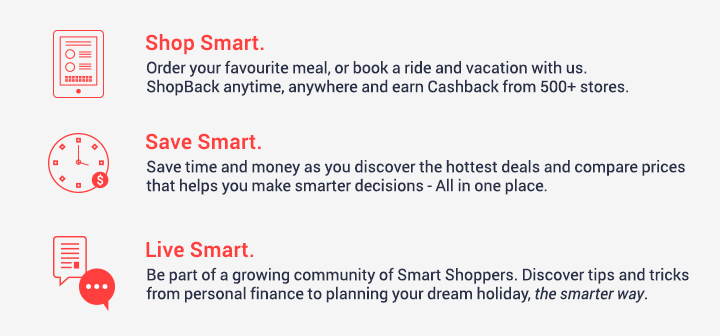 Massive savings this New Year Promotions!
Rejoice for our annual ShopBack Malaysia New Year sale is here! With over 500 merchants providing the widest range of products, and low prices guaranteed throughout because of our exclusive New Year discounts and cashback rebates, you can start the New Year off with a bang. Whether you are looking for gourmet champagne for your New Year party, or a new set of business wear for work, you are sure to find the right New Year special offer for you!
The great ShopBack Malaysia list of New Year offers
We know you are always looking for the most substantial amount of savings you can get out of your own online shopping. This is why we have one of the most comprehensive New Year special offers all lined up here for you! With fashion merchants such as Zalora, you can expect New Year discounts for everything from smart blazer jackets to the poshest patented leather shoes. As for electronics, we've got merchants such as Lazada to give you the very best in smartphones, computers and tablets, at prices only our New Year discount codes can provide you.
Awesome fashion New Year offers await!
ShopBack provides some of the best New Year promotions and one of the greatest selections of fashion products you can find online. You can find everything from awesome smooth-leather jackets, to pretty high heel boots, so you can always be at the top of your fashion game. When you take a look at our amazing New Year deals, you will definitely be surprised at how lowly priced the highest-end fashion clothing can cost right here at ShopBack. So, as you are celebrating the arrival of the new year, don't wait to get in on all our New Year offers, when you could be getting a great pair of Dr. Martens for even below 100 dollars. Don't forget: ShopBack Malaysia gives you cashback rebates on top of all our amazing New Year special offers for fashion merchandise as well!
Tremendous New Year vouchers await for your lifestyle items
If you are looking to spruce up your home a little, or simply your office desk, don't miss out on our awesome New Year promotions for the best lifestyle merchants like Gearbest or eBay. You could be looking for great-looking t-shirts or bobbleheads, and we would just have the greatest ShopBack New Year coupons to help you save tremendous amounts of money on your lifestyle shopping. And even if you are getting the cheapest products you would be getting cashback rebates on top of all of them. Don't miss out on all our tremendous New Year discounts for terrific lifestyle items today!
What about New Year special discounts for food?
If you are really looking to bring smiles to your guests with great finger delicacies and alcoholic beverages, you will be glad to know that we have the New Year special offers for you, so you can be getting a huge value out of getting food for your New Year party. With such great food intermediaries as Foodpanda and awesome online stores to find great beverages, you will definitely be saving lots of money while still managing to hold a great New Year party that you and your friends would absolutely love. Get your favourite catered food delivered to your home or to any location you see fit for cheap with our New Year vouchers.
The greatest New Year sale at ShopBack Malaysia!
We here at ShopBack always looks to help you save as much as possible on your online shopping. So, we will always give you the most attractive New Year coupons and vouchers to help you make a bang for the New Year! Don't miss out on our great combination of New Year special offers for absolutely everything you need for the brand new start!